Shade-Grown Coffee Finds a Home in The Village
Mary Ellen Amato on shade-grown beans, Alta Gracia plantation and Jack's customers.
All comments are moderated, your comment will not appear on the site until it has been approved.
No comments yet.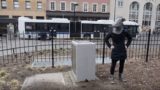 Spring is coming, and so are the rats. Here's how to keep them out.
How your food scraps are transformed into super soil