Posts in: Audio
What is causing dengue fever to spread? How scientists hope to develop an HIV vaccine. Why a 'goldilocks' planet is not 'just right' for life.
How is the tracking technology in passports used in other ways? Science is letting kids play with snow all year round. Ancient viruses lie dormant in frozen lakes.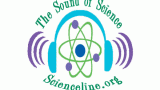 In episode one of The Sound of Science, find out how air bags relate to video games, which predator might dethrone polar bears as the top of the food chain in the Arctic, and how a dust cloud circumnavigates the globe.