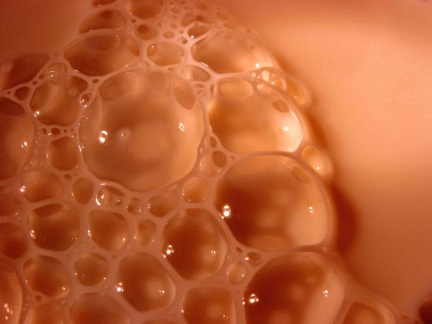 Our bubbly beginning? [CREDIT:SXC]
Once upon a time, 14 billion years ago, a cosmic explosion released an immense amount of heat and pressure. All the particles and energy in our universe, once confined to a space about the size of a dime, raced away from one another at tremendous speeds. As the hot particles cooled and continued to expand into space, matter formed and the stars and galaxies of our universe were born. And so, the story of our universe began… or did it?
Maybe something came before the Big Bang. Physicists have tried for decades to write the mathematical prelude to our universe's fiery birth, but Einstein's theory of general relativity stopped them short. An immense amount of matter and energy were built up in an infinitesimally small point at the moment of our universe's birth, and the laws of general relativity that govern large bodies and systems in the universe are no longer appropriate on such a small scale. Instead, quantum theory, which deals with the quirky properties of the very small subatomic particles in the universe, takes over. Traveling to the beginning of it all, at least our all, requires some way of reconciling general relativity with quantum theory.
"The unification of these two is the only thing that allows us to look before the Big Bang," says Michio Kaku, a theoretical physicist at City University of New York. So far, the leading theory of unification, according to Kaku, is string theory—the idea that tiny strings vibrating in unseen dimensions of space make up all matter, light, energy, everything. If our universe is described in eleven dimensions filled with these subatomic strings, physicists believe the fundamental physical forces can be unified and they can get closer to describing the instant of our universe's birth and maybe even what came before it.
Armed with string theory, Kaku and others speculate that before our Big Bang, there were simply more universes. "Our universe could have either popped into existence or collided with another universe," he says. Imagine a bubble bath where each bubble represents a universe. In this multiversal tub that existed before our Big Bang—and still exists today—universe bubbles are colliding, popping, budding new bubbles, expanding and contracting. If this scenario really exists, "Big Bangs happen all the time," says Kaku.
Some physicists believe our universe was created by colliding with another, but Kaku says it also may have sprung from nothing: a completely empty eleven dimensional universe with no spin, no charge and no energy. This seemingly tranquil nothingness universe was actually unstable and some physicists believe that a fluctuation in the vacuum caused our universe to pinch off from its empty existence without time and space to a universe that was large enough to expand. Like a bubble in a bath, our universe had to grow instantaneously in order to survive and escape the collapsing fate of small bubbles.
This "quantum leap" involved four of the dimensions of the empty universe, which now frame the universe we live in. Expanding suddenly, this event sparked the Big Bang and caused the further expansion which created matter and continues to push the galaxies apart today. Meanwhile, the seven remaining dimensions shrunk to an almost inconceivable size, much smaller than an atom.
String theory is so far a purely mathematical journey back to these primordial moments, and some physicists are considering different explanations. The higher dimensions of our universe, if they exist, cannot be directly explored because today's instruments are not powerful enough to measure their small size. But there are experiments—both Earth-bound and space-based—that may provide evidence to support string theory.
Next year, the Large Hadron Collider (LHC) will be turned on outside Geneva. Physicists hope that it will begin to create supersymmetric particles (a.k.a. "sparticles") that Kaku says are a vibration of strings. If and when another new apparatus called the Laser Interferometer Space Antenna goes up into space, physicists will use its three laser-connected satellites to look for vibrations of space and time, known as gravitational waves, left over from the Big Bang. Kaku is confident these experiments and others will provide physical evidence for higher dimensions and string theory.
But results from these new experiments are many years away, and until then, physicists will continue to speculate about what might have existed before the Big Bang. Many hope that these experiments will finally shed some light on the mystery. While we're all waiting, perhaps the best we can do is slip into a bubble bath and contemplate the unknown.
About the Author
Discussion