Environment
Sunbathers Take Out the Trash
A beach may replace the sanitation department in Manhattan's meatpacking district.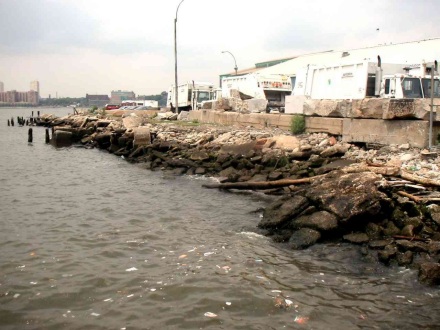 Don't forget your towel! [Proposed beach site at Pier 52. CREDIT: MELISSA MAHONY]
Wholesale meat warehouses, sewage overflows, and garbage trucks don't typically conjure images of a pleasant day at the beach. But that's not stopping the city from proposing a swimming beach in Manhattan's meatpacking district. The beach would be a part of the Hudson River Park that is currently under construction.
After centuries of industrial pollution, the Hudson River has recovered remarkably. In fact, environmental groups are the beach's most enthusiastic proponents. Though some are willing to dive in, many New Yorkers balk at swimming in the river. After all, the beach's biggest obstacle may still be managing water quality through repeated testing and a sorely needed upgrade to the city's sewer system.
"There will definitely be a beach there, but whether we'll get permission for people to swim there is the question," says Albert Butzel, President of Friends of Hudson River Park.
Proposed beach site Pier 52 is presently home to the New York City Department of Sanitation. Although trucks, salt and an old incinerator reside there now, the city has ordered the department to relocate its facilities by 2012. The city will then clean the six acres of Gansevoort Peninsula, southwest of 14th Street, sparing future sunbathers the current stench of garbage. Butzel estimates that by 2014, Hudson River Park will be beach ready.
But will the Hudson be safe for beachgoers to swim in? Floating debris, currents, and sewage present serious dangers to swimmers. To determine water quality, the Department of Environmental Protection tests levels of Enterococcus and coliform, intestinal bacteria that indicate the presence of fecal matter. By coming into contact with raw sewage, bathers could catch anything from diarrhea to hepatitis A.
Like many older cities, New York's sewage system combines its raw human waste with storm water runoff, and the mixture is funneled through a treatment plant before being discharged into local bodies of water. During a rainstorm, however, there may be so much extra runoff in the sewers that the treatment plants cannot keep up. When this happens, in order to prevent sewage from flooding the streets or backing up into homes and businesses, the excess untreated wastewater is channeled directly into the local waterways. According to Butzel, just a quarter of an inch of rain can overwhelm the system and dump raw sewage into the harbor.
There are 700 combined sewer outfalls, CSOs, in the New York Harbor region, according to New York's Department of Environmental Protection. Two of these CSOs discharge near the proposed beach.
Catching storm water before it enters the sewage systems helps reduce CSO discharge. The 2003 New York Harbor Water Quality Report states that 72 percent of rainfall was captured and treated by the city's 14 Water Pollution Control Plants, including the Hudson's North River plant at 145th Street. The plants caught only 18 percent in 1989.
According to Butzel, the solution to the CSO problem involves closing the beach for a few days after rainfall. This would allow time for the Hudson's strong currents to sweep the sewage out into the Atlantic. He also said testing the water before each reopening may be mandatory.
Other approaches include installing a polypropylene/polyester floating curtain around the swimming area that would prevent pathogens and floating objects from entering.
Many New Yorkers, however, are willing dive into the Hudson without these measures. "There are places where people jump off the pier. That's how people swim in the river now," says Butzel. He cautions that these activities are not adequately supervised. Swimming is not legal alongside Hudson River Park, except for in Coast Guard approved races, which run throughout the summer.
About the Author
Discussion