Environment Blog
Community Stewardship of St. Lucia's Treasured Site
By the time I reached the summit of Gros Piton, about 2,600 feet above sea level, my legs felt like Jell-o. But there I was, standing on one of St. […]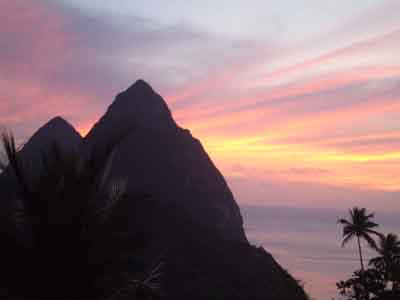 Pitons, Sunset [Credit: Natalie Peretsman]
By the time I reached the summit of Gros Piton, about 2,600 feet above sea level, my legs felt like Jell-o. But there I was, standing on one of St. Lucia's landmark pointy peaks, looking at Petit Piton, its slightly smaller partner.
It was a thrilling day, but what impressed me more than the lush green vista and the difficulty of the hike was the management of the trail, which is part of a UNESCO World Heritage Site that includes the other Piton and bubbling sulfur springs and coral reefs below.
Also part of a consortium of St. Lucia attractions developed by The Heritage Tourism Association of St. Lucia, the Gros Piton trail has obviously attracted some attention, and it's not just because it sticks out so conspicuously from the edge of the island.
At the mountain's base sits the small village of Fond Gens Libre, or "Valley of the Free People," which earned its name in the 1700s as a refuge for runaway slaves, called brigands, who got stuck in the middle of France and Britain's tug-of-war over the island.
The Gros Piton
The locals have created a pleasant, welcoming spot for tourists and St. Lucians alike to enjoy a few hours of exertion in nature. Without the barriers and regulations typical to many hiking trails, the Gros Piton trail is easily accessible. Rastafarians even come up to tend their secret marijuana crops.
There's an easygoing air to the whole operation at Fond Gens Libre and on the trail. For example, rather than restrict us to the path, our guide Shane scuttled up a tree and picked handfuls of tangerines for us to eat. The whole hike felt like we were joining in on Shane's childhood excursions up the mountain.
It made me appreciate, but also wonder about the effectiveness of community management of natural areas. With just a few visitors filtering in each day, the friendly, laid-back staffing and management of the attraction are doing fine. Will this last? I hope that the area does not see a future push to commercialize or allow in destructive influences from outside.
There's something refreshing about the timeless concept of a group of people getting together to share a natural area that's ingrained in their hearts – and at the same time creating jobs and a common purpose in their community.
About the Author
Discussion