Environment
Learning Gets a Green Face
Environmental education enhances the student experience in New York City's public and private schools.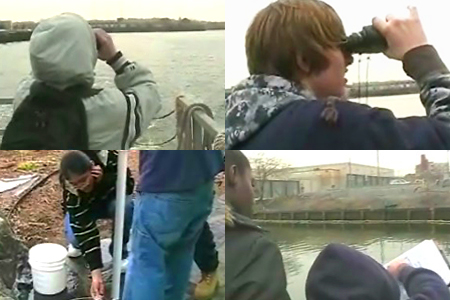 Students from the Harbor School practice environmental stewardship in New York City's
waterways. [Credit: Natalie Peretsman]
On the border between Brooklyn and Queens, Newtown Creek's unusually green waters churn in the wake of a small boat. Researchers aboard patrol the shore for pollution. A recycling center operates to the left, with a huge magnet sorting colorful piles of rubbish. On the right, the white domes of a sewage treatment plant loom.
The researchers click their cameras and plot each structure on a map. The real gems to find, though, are CSOs. What's a CSO? Ask any of the researchers, and they will tell you because they learned it in class. These ninth graders from New York Harbor School in Brooklyn have eyes trained for finding CSOs, or combined sewer overflows, which are unmarked pipes emptying excess runoff and sewage into the creek.
The students at this public school spend their days becoming water experts and stewards of New York City's waterways. A maritime theme follows them through graduation. They will learn to build boats and navigate nearby waters while dissecting the complex history and science that rule New York Harbor. A mission of environmental stewardship underlies the program's academic pursuits.
The Harbor School joins many schools now weaving environmental education into students' daily lives across the country. Educators, parents, governments, organizations and even kids are pushing schools to go green. Schools in communities large and small collectively use lots of resources, but they also offer a pool of malleable minds for turning that environmental impact around. Alliances have sprung up to share ideas and tools, and lawmakers have started recognizing the importance of environmental education. Most visible in communities, though, are the individual schools, both public and private, that have initiated changes aimed at preserving the planet.
Take some examples from New York City schools. Independent and private schools have channeled some of their oft-cited advantages—funding, flexibility and family support—into reducing their environmental footprints by changing school-wide practices, such as installing energy-efficient technology. Student clubs play a big role, as do administrators. Calhoun School, an independent school on the Upper West Side of Manhattan, and Nightingale-Bamford School, an all-girls private school on the Upper East Side, exemplify how small changes, like switching to reusable dishware, make a difference.
Annual tuition at both schools hovers around $30,000 per year. But the public Harbor School, even without some of the flexibility and funds that bless private schools, gears its entire curriculum towards the resource of water. All three schools, and many more nationwide, have the dual goal of treating the environment better now, while giving children the understanding and tools to bring environmental stewardship into their futures.
"Personally, I'm a lot more aware than I was in the past. In the past, I could have just done something and not really cared, but now I think about the consequences like what happens to all the rivers and everything," says John Barton, one of the ninth graders on the trip to Newtown Creek.
The Harbor School is one of more than a dozen schools in low-income areas that were created by the nonprofit organization The Urban Assembly. Each one operates on a theme, such as law, sports careers and math and science. Local organizations, as partners to the schools, enhance learning with experiences like field trips and mentorships. The Harbor School, with its maritime theme for about 400 students, was added to the list in 2003 in conjunction with a Department of Education initiative to split some of New York City's large, struggling high schools into smaller ones to improve student performance.
Murray Fisher, the school's founder and a self-proclaimed water fanatic, used to work with the nonprofit organization Waterkeeper Alliance and its local subsidiary Riverkeeper, where he realized that the waterways are one of the richest resources New York City has, ecologically and economically. Fisher thought that by giving students a chance to apply learning to their local resource in a hands-on, close-up way, their studies would feel more valuable.
With science, art and history courses that include being on the water and working with scientists and urban planners, the Harbor School students feel a new appreciation for the resource while they also ground their learning in a cohesive theme.
On the Newtown Creek boat trip, they temporarily fill the job done by Riverkeeper, an organization that tracks down and investigates polluters. A drizzle starts to fall, but the students continue taking inventory of pollution along the creek by snapping photos and jotting down what they see on the banks. They're astonished to learn that a group of oil tanks have allegedly spilled 17 million gallons of oil into the creek over the last half-century. A member of Riverkeeper joins the students on board to explain the legal action filed against ExxonMobil for the spill.
About the Author
Discussion