Life Science
Lights! Camera! Science!
Alexis Gambis brings science and film together to create a new genre of science fiction.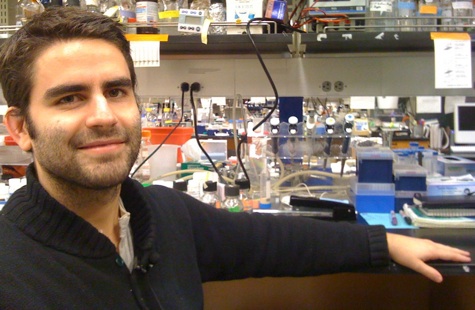 Alexis Gambis in the lab at Rockefeller University where he is finishing his graduate research. He is
surrounded by the fruit flies that inspired one of his science films. [Credit: Lindsey Konkel and Carina
Storrs].

To Alexis Gambis, capturing virgins, tweaking the senses and controlling death are routine concepts. And he is not alone. He is one of many geneticists whose research on fruit flies revolves around these practices. But Gambis stands out for wanting to introduce these fantastical ideas from the toolbox of science to the big screen . He is already ushering in his vision for the science fiction genre by organizing New York City's first science film festival, which recently debuted one of Gambis' own cinematic creations.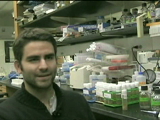 Video: Alexis Gambis describes how life and lab inspired his science fiction films. [Credit: Lindsey Konkel and Carina Storrs]
When Gambis meets me at the ivy-covered campus of Rockefeller University, where he is a fifth-year PhD student, he quickly suggests a change of scenery. Blocks away at his regular coffee shop, Gambis explains that he realized early in his graduate work on the nerve cells in fly eyes that he needed a creative outlet. "I was like, I can't believe I have to be here for another four years, in the same spot," recalls Gambis. His hands, fast and fluttering, echo his restlessness. "I have to do something else."
That "something else" brought Gambis back to an early love: filmmaking. Though he began dabbling in cinematography at 18, Gambis' relationship with film dates back much further. Gambis was only a baby when he first appeared, along with his brother and sister, in films that his mother made for her classes at New York University's film school. Some of Gambis' most poignant childhood memories are of sitting on the stoop of his family's Brooklyn home with "crazy weird actors" from the films that his mother, a native Venezuelan, shot inside their basement.
But the Brooklyn stoop is only half the story. Gambis' family moved to Paris when he was nine years old. In the country that fostered his engineer-turned-painter father, Gambis' passion for biology took hold. Gambis, though, gravitated to artistic concepts, like kaleidoscopic images of cells, rather than more direct applications, like cures for cancer.
A diploma from a rigorous French high school and a degree from the liberal Bard College in upstate New York later, Gambis thinks he is finding his balance between science and art. To pursue film, he took classes at the New York Film Academy and organized a science film series through Rockefeller University. His dual training in science and film makes Gambis "one of the very few people who really may be integrating professional expertise on both sides," says Hermann Steller, Gambis' research advisor at Rockefeller.
Through his experiences, Gambis realized that science film is "a niche that doesn't exist" in New York City, a capital of both enterprises. Gambis was inspired to start the Imagine Science Film Festival, the city's first science-themed film series.
At the inaugural citywide festival this past fall, one of the 31 short films was Gambis' own 'A Fruit Fly in New York.' An audience of about 80 people filled the dim downstairs room at Union Hall bar, a festival venue in Brooklyn. They were buzzing like the invertebrate stars of the film to see Gambis' exposé of fruit flies and the invaluable role they serve in science.
The audience chuckled at shots in the movie of Gambis showing a vial of flies to people on the street and eliciting reactions like, that's "something that I don't want on my body!" Scenes inside labs at Rockefeller University revealed different stories. Geneticists explained their familiarity with fruit flies and how they use routine practices like capturing virgins, breeding flies and altering their genes to gain insight into human behavior, disease and development.
Screening his films is, for Gambis, "the most rewarding experience ever. I never get tired of it." He compares shooting scenes and patching them together into a movie with doing isolated lab experiments and piecing them together to make interpretations. In both cases, "it's crafting a story."
Although 'A Fruit Fly in New York' is a documentary, Gambis' vision for this and future festivals is fiction films that portray science metaphorically. His speech slows before he asserts that science is told most effectively when it is "wrapped up in the story," whether a mystery, thriller or romantic comedy. One of Gambis' favorite films from the festival, 'The Wormhole' by Jessica Sharzer, introduces physics concepts as it tells the tale of a young boy who dreams of going into a black hole to find his kidnapped brother.
Exactly how to present science in movies was a point of artistic difference between Gambis and Kate Jeffrey, the co-organizer of the Imagine Festival. Jeffrey, who describes Gambis as "very driven," originally wanted to encourage scientists to submit documentaries explaining their work. Now she feels that the fiction films make their festival "really unique" among the handful of others around the globe, like in Paris, Australia and Thailand, which show mostly documentaries.
On the eve of the festival's closing night, Gambis tells me that he hopes to go on to study at New York University's film school, like his mother did, after he finishes his PhD in about a year. To keep one foot in science and maintain his unusual niche, Gambis would like to teach biology part-time.
Heading back to Rockefeller University to tend to his fruit flies after our talk in the coffee shop, Gambis describes his debut film in the fantasy genre, 'Dr. Funque and His Petri Dish.' The silent black and white film follows Dr. Funque — pronounced "funk-way"– on a delirious late-night run through his solitary lab work. When he tries to inspect cells in a Petri dish, he instead uncovers scenes of bustling city life. Further indulging his imagination, Dr. Funque romances a girl who appears in his Petri dish. Tricks to escape the loneliness of lab experiments are no secret to Gambis. In making 'Dr. Funque,' he drew heavily from his own attempts to balance research science with the rest of life.
Gambis says that, at the end of the film, Dr. Funque rejoices in his delusional discoveries, dancing around the lab holding his Petri dish. "It's him feeling more connected to the world."
Related on Scienceline:
One science documentary might exaggerate some of the data.
A recent gallery exhibit spun art out of science.
About the Author
Discussion