Health
Varicose vein treatments are equivalent — or are they?
New research evaluating novel laser treatment versus 'good old' surgery reveals differences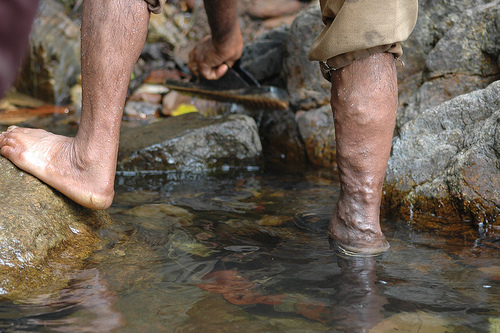 Varicose veins [Image Credit: Jackerhack, via Wikimedia Commons]
Options for dealing with varicose veins — the worst of which can cause symptoms like pain, swelling, and blood clots — include surgery or laser therapy. New research suggests that both treatments are equally effective and safe, but a closer look at the context of the study may indicate that lasers are the way to go.
"One of the main implications from our study is that it's absolutely important to perform high quality … trials with long follow-up periods" to evaluate all the outcomes "before suggesting that [novel laser methods] are better for the treatment of varicose veins than 'good old' surgery," says Knuth Rass, a senior physician at Saarland University Hospital in Homburg, Germany, and lead researcher of the study, published in September in the Archives of Dermatology.
Up to 55 percent of women and 45 percent of men deal with vein problems in their lifetime, including issues with varicose veins which can start in a person's mid-30s.
Established over 100 years ago, surgery has been the traditional go-to procedure for dealing with irksome varicose veins. In this treatment, problem veins are tied off and then removed through small cuts in the skin. The surgery requires anesthesia and pain at the site of surgery is the most common side effect. Unfortunately, veins often grow back following the operation, so a number of patients must have repeat surgeries. Costs start around $1,500 but can total at about $3,950 when wages from lost days at work and hospital bills are added in, according to a 2007 study published in The Journal of Vascular Surgery.
Laser therapy, also know as endovenous laser treatment, made its clinical appearance in 1999. This technique is less invasive than surgery and works by heating up the blood and destroying the inner layer of the vein wall. This causes the vein to collapse and eventually turn into a small ligament of scar-like tissue without blood flow. Though the therapy can be painful, it tends to require less recovery time. The treatment is a bit more expensive than surgery, totaling at about $4,350 according to the 2007 study.
In the largest study to date comparing these treatments, researchers in Germany followed a large group of patients for two years. The investigators focused their work on treatment of the great saphenous vein, a large vein located deep in the leg and thigh. Four hundred patients suffering from enlarged great saphenous veins were randomly assigned to one of two different treatment facilities, which specialized in either laser therapy or surgery. Both treatments equally improved the patients' conditions, and after two years, varicose veins similarly recurred for both groups (16 percent for laser treatment, 23 percent for surgery). The researchers report in their paper that overall "the patients were remarkably satisfied with the treatment results of both procedures" and 98 percent said they would undergo the same treatment again.
Some differences are still worth noting, according to the study. Though both treatments equally improved the patients' medical conditions, the laser therapy caused significantly more patients — 17.8 percent for lasers versus just 1 percent for surgery — to suffer from blood backflow, which occurs when the treated vein reopens, possibly leading to a recurrence. Patients also reported more initial side effects from laser therapy, like pain and tenderness, but were happier with the cosmetic outcomes and returned to work about a day and a half more quickly than those undergoing surgery. This is probably because the pain caused by surgery persisted longer than that caused by laser therapy (17 versus 8 days), says Dr. Rass.
Based on the results, Dr. Rass concludes, "one must prefer surgery." He adds, however, that laser treatment may be better suited for young people since research published in 2008 in Phlebologie suggests that returning varicose veins are easier to handle after laser therapy. Dr. Rass stresses that "further studies are urgently needed to rate the effectiveness of [novel laser treatments] in comparison with surgery" and that future analyses of his patient group are planned for 2012 when the five-year results of things like recurrence and long-term benefit can be taken into account.
The outcome for laser treatments would probably be even better nowadays. Though the study was performed from 2004 to 2007, advances in the field of laser treatment have come a long way. Dr. Melvin Rosenblatt, an interventional radiologist at Connecticut Image Guided Surgery, P.C., in Fairfield, says he finds the reported reflux (or blood being pushed back into the legs instead of towards the heart) rates of the laser treatment patients "hard to believe." The therapies were performed between 2004 and 2007, he points out, which reflects "the early days" of endovenous laser treatment.
The methods have improved since then, Dr. Rosenblatt says, and the low energy of the laser technology the study used is not considered effective today since lower energy levels causes more blood clots to form in the vein, leading to more inflammation. Vein stripping has already been largely abandoned in the U.S., says Dr. Rosenblatt, though the United Kingdom and other countries in Europe still rely on surgery. "If a modern technique was used I believe the superiority of [lasers] over surgery would be readily apparent," he says.
Rather than change physician's recommendations, Dr. Rosenblatt worries that the study will influence insurance companies, which often pay for removing problematic veins. "My biggest concern is that insurance companies will say 'look, we don't want to pay for [laser treatment] if it's more expensive and shows some level of equivalence,'" he says of his experience. "I don't believe that at all: Stripping is much more painful with a higher rate of very complex reoccurrences."
About the Author
Discussion