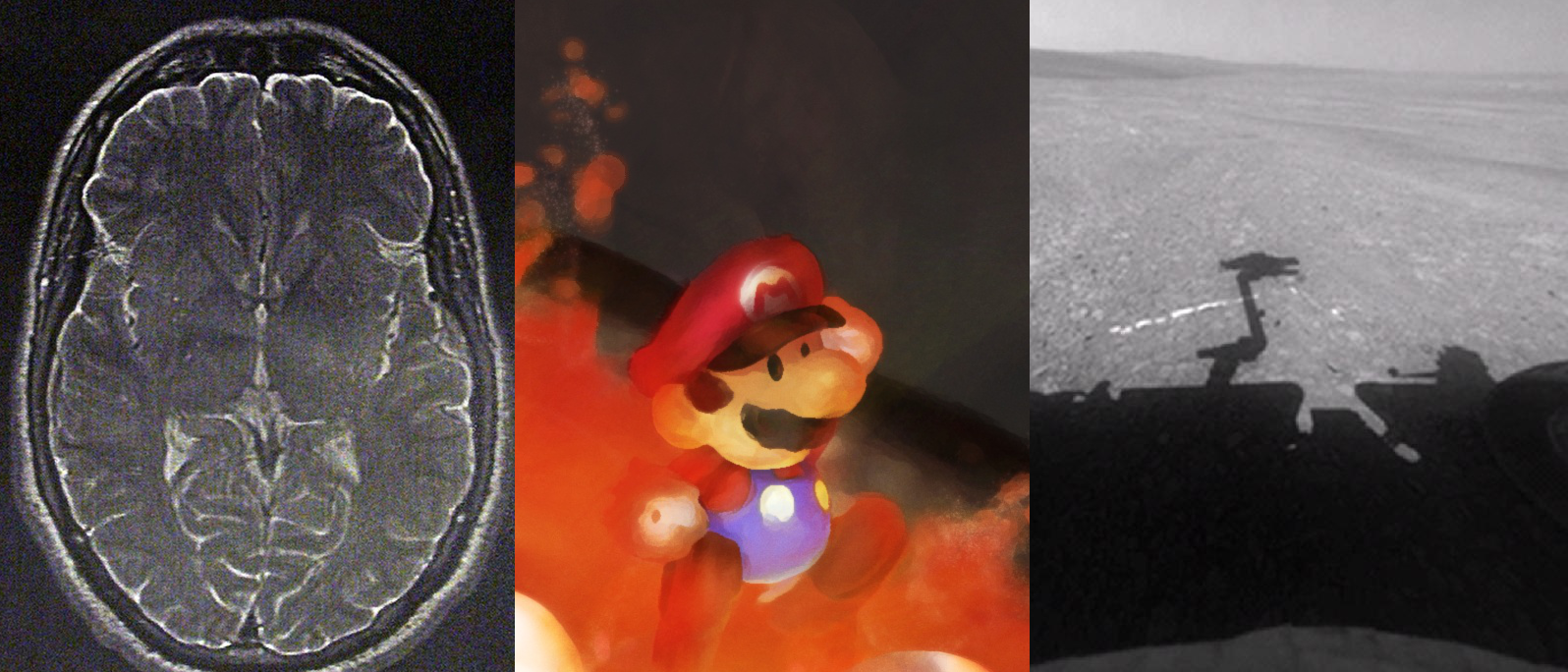 [Image Credits, left to right: Andy Powell via Flickr, Orioto via DeviantArt, NASA.gov]
From Allison McCann:
The recent New York Times profile of Derek Boogaard reveals that the former NHL enforcer suffered from chronic traumatic encephalopathy (C.T.E), a brain disease caused by repeated blows to the head that can lead to memory loss, impulsiveness and even addiction. Chris Nowinski, a C.T.E advocate, boldly states that other enforcers "are trading brain cells for money."
Reconstructing your dreams? Sounds like science fiction, but neuroscientists at the University of California Berkeley have demonstrated that they can recreate visual activity in the brain using YouTube clips.
THE SCIENCELINE APP! This is likely to be the Staff Pick of the Year (as well as a shameless plug for the extremely hard work of the SHERP 29s), but our beautiful website is now an iPad application, available for free from iTunes.
From Taylor Kubota:
The always entertaining Weird Science Blog at Wired strikes again, giving us a geologist's rant about how people – and Gollum – don't die scientifically-accurate lava deaths in movies. Don't stop reading or you'll miss out on a heroic sacrifice (for the sake of science) by "styroguy." (Thanks to Justine Hausheer for the tip!)
Poor Jean-Baptiste Lamarck, one of the casualties of modern-day evolutionary theory. 80beats offers his memory a story about non-Darwinian evolution. Not only do they feature worms who pass down traits without DNA but a nice overview of epigenetics as well. Maybe elastic giraffe necks aren't so crazy after all?
I was fascinated with the New Scientist article about why nuns should go on birth control. I don't want to give away any more, but suffice it to say that this topic is a fascinating example of what happens when science meets religion.
From Virat Markandeya:
The old faithful are doing a stellar job for NASA. The Voyager 1 and 2 spacecrafts were more than 14 billion km from earth at the time of writing and still producing new science. Not bad for machines that are well over 30 years old.
Closer home, the rover Opportunity is still on its wheels, 30 times longer than its originally planned mission time. It may take NASA's latest mission another seven months to reach Mars, but through the help of Opportunity, scientists have already found evidence that liquid water once flowed on the red planet.
And yes, a perhaps-habitable planet was discovered. You can help in the search for more.
About the Author
Discussion