Health
"The Food Lab" brings science into the home kitchen
And the home cook to science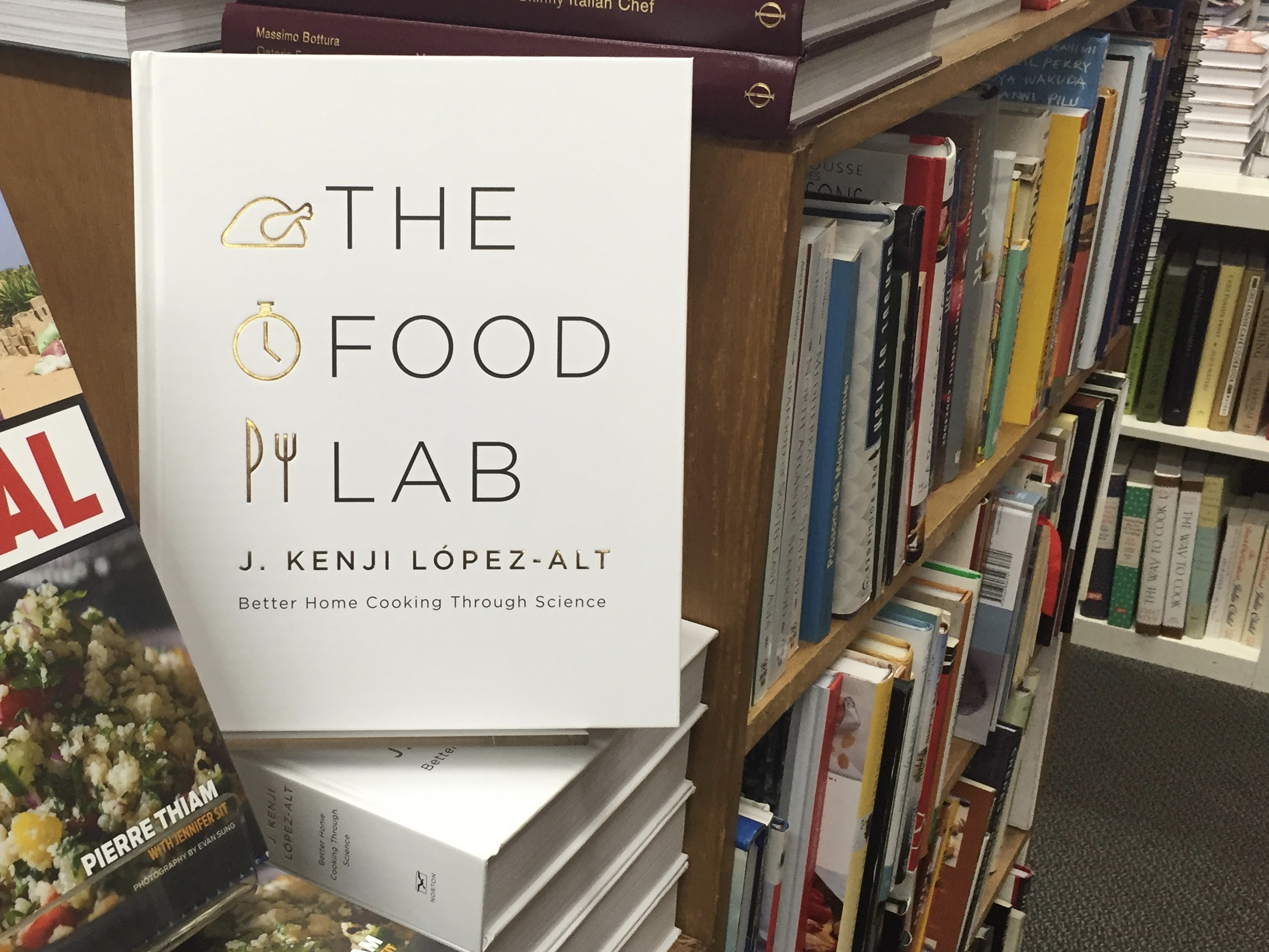 "The Food Lab" on display at Kitchen Arts & Letters in Manhattan. [Image credit: Greg Uyeno]
Do you know how to make a perfect soft-boiled egg? To what lengths would you go to discover the secret? Would you systematically test a variety of methods and boiling times? Perhaps you might even read an explanation of both the technique and the experiments behind it, written by an MIT graduate and trained chef.
This is the promise of "The Food Lab: Better Home Cooking Through Science" by J. Kenji López-Alt, a New York Times best-seller published in September. It is part recipe book, part reference manual and always questioning folk wisdom about cooking. The book follows the lead of López-Alt's column of the same name on the Serious Eats website. López-Alt has an obsessive approach to recipe development that combines theoretical principles of physics and chemistry with experimental rigor. He is no stranger to double-blind taste tests.
"I wouldn't say I'm a scientist because of the associations that come with it," says López-Alt, "but that doesn't mean that non-scientists can't do science."
López-Alt wouldn't mind if some of his non-scientist readers, in addition to learning how to cook, embraced science as "a great method for understanding the world." He cites an example from the book: we naturally use trial and error to find the right setting on a toaster. Scientific inquiry isn't necessarily the same thing as what López-Alt calls "big word science" — the science of confusing jargon and intimidating technical detail.
For cooks, the association of science with sterile laboratories can be off-putting. But López-Alt says his approach comes naturally to him. "A lot of people have this idea that it's science or tradition, or science or soul and I don't think of it that way," he says.
López-Alt is not alone. David Michalski is a coordinator of the Critical Studies in Food and Culture research network, which started at the University of California, Davis. He identifies science applied to home and professional cooking as "a new mode of artisanship." Rather than a marker of detached objectivity or attempt at uniformity, science in the kitchen can be read as a form of self-expression or craft.
The recipes in "The Food Lab" can be followed without understanding the madness behind the method. But for those who want it, there is digestible background information about techniques and the science and testing that went into them.
"[López-Alt] has a particular gift for explaining things well and sharing how he geeks out," says Matt Sartwell, the managing partner of Kitchen Arts & Letters, a Manhattan bookstore that specializes in cookbooks and books about food. The shop, in partnership with the nearby 92nd Street Y, sponsored a talk featuring López-Alt in October.
Sartwell says that many cookbooks have some scientific basis to them — after all, what is recipe testing but a series of experiments? But not all of them explain their development process in detail. The cookbook publishing pendulum swings from detailed science to less technical writing.
In López-Alt's case, the timing was right for an explicitly scientific approach. In fact, his commitment to science is so strong that he makes a startling admission for someone who is promoting a new book: He thinks his recipes can and will be improved upon, perhaps even by his readers.
"I fully expect a lot of it to be debunked in the future, because that's the point of science," he says. "I think you have to be prepared to accept that — which I am."
About the Author
Discussion