Environment
This professional tree climber teaches inspiration and conservation
Tim Kovar imparts wisdom about tree climbing techniques and preservation to his students, who range from children to grown biologists.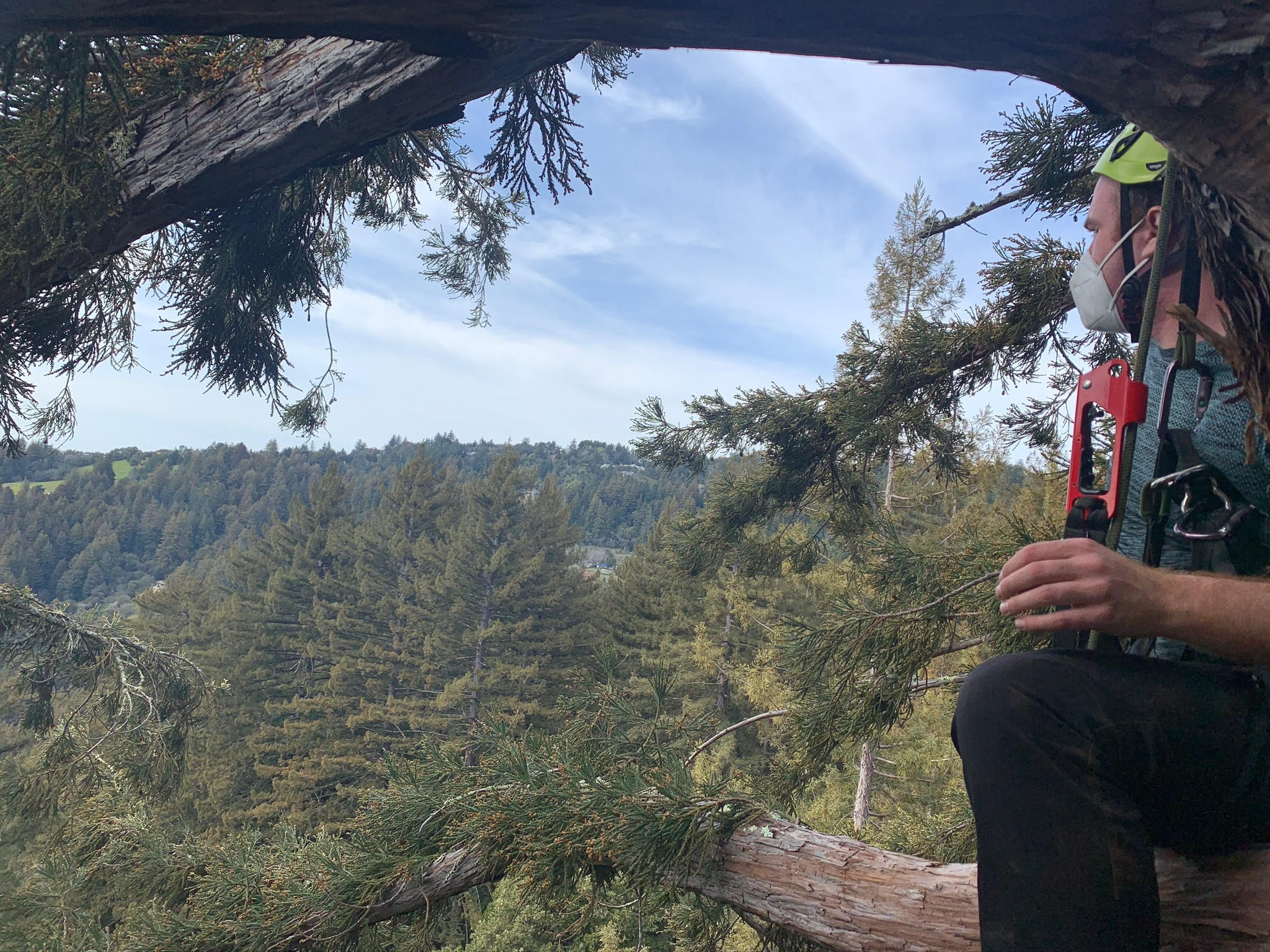 Professional tree climber Tim Kovar takes his clients to scale massive redwoods in the Santa Cruz mountains for only two weeks a year to minimize the impact on the old trees. [Photo credit Rowan Mitchell, courtesy of Tim Kovar]
If you've ever tried to climb a tree, you probably made it to the lowest, sturdiest branch, at least. Maybe you even dared to reach higher. But have you ever climbed so high that you looked down on the forest canopy? Have you scaled the world's oldest, tallest trees and experienced the world from their height? Tim Kovar has. And he has helped thousands of others do the same since founding Tree Climbing Planet in Oregon in 2010.
"I get the most pure joy out of this inspirational tree climbing, of taking the average family tree climbing," says the 51-year-old professional tree climber.
Growing up in Fremont, Nebraska, Kovar got his first taste of climbing at four years old. He ascended his neighbor's apple tree without considering how to get down, and needed help returning to the ground. He continued to scamper up trees throughout his childhood, and never needed rescuing again.
Before becoming a tree climbing instructor, Kovar was a punk rocker with an affinity for international backpacking and a black belt in ninjutsu. His martial arts background led to the connection that jump-started his tree climbing career. In 1993, he was working as a short-order cook in a Jamaican restaurant in Atlanta, Georgia and attending classes at a local dojo, where he met Peter Jenkins. Jenkins was an arborist — a tree surgeon who removes dead branches and tree debris — with his own business. Jenkins noticed Kovar's physical strength and offered him a job trimming trees — but didn't tell him that he also operated the school Tree Climbers International.
"As soon as he found out about it, he said, 'I'm done with tree work,'" Jenkins recalls. After six months, Kovar switched over to learning — and eventually teaching — tree climbing.
On his first expedition observing Jenkins, Kovar recalls, was a hodgepodge of children, elderly women, hippies, conservatives, punks and others. Off the bat, he assumed that the pair of 75-year-old women wouldn't be able to climb. After adopting the proper technique, though, the two of them sat perched on a low branch, marveling that they were up in a tree for the first time in decades.
"I realized it was the tree that brought everyone together," Kovar says. "That was the focal point that brought folks in and tapped into their inner child."
Kovar left Atlanta in 2005 to establish his own climbing school out West in Oregon City, 12 miles south of Portland. He preaches inspirational — as opposed to recreational — tree climbing. Inspirational tree climbing, he explains, instills respect for nature in his students. He isn't only creating tree climbers; he's cultivating conservationists.
"Because they have this relationship with the tree, they don't want to see that tree cut down. I'm planting tree climbers around the world to plant more trees. If they climb a tree in a park, they say, 'That's a friend. I know that tree.' It's doing some environmentalism work softly, subliminally," he says.
Since starting his own school, Kovar estimates he's taught more than 10,000 students how to appreciate trees and safely navigate their great heights. He says that none of his students has ever fallen, and he's only ever fallen doing arborist work in dying trees. Assessing tree health is the first thing he teaches, cautioning his students against trees with fungi or brittle branches.
As for the actual climbing, it's more than the classic monkey-style clamber; it involves gear that looks more suited for rock climbing. The student secures a rope at a mid-level branch, near its strong joint with the trunk, and clips the other end of the rope into their saddle. Like a rock climber, they tighten the slack as they ascend. This technique allows the student to freely climb the trunk and higher branches without fear of plummeting to the ground.
For two weeks out of each year, Kovar takes climbers up an old-growth redwood in the Santa Cruz mountains. Year-round climbing, he says, would kill it. He is wary of "loving the trees to death" — especially the mighty but delicate sequoias.
"One of my biggest fears is turning this into my own Frankenstein," he says. He's seen the impact of other climbers, arborists especially, treating sequoias like a playground. His students, Kovar says, learn to regard the tree as "more of a church." He even uses gentler climbing techniques in the old-growth redwoods to prevent damage. "They're inside this 200-, 500-, 1,000-year-old museum. They're a part of it but they're not touching it," he says.
Beyond connecting adults with their inner child and tree hugger, Kovar also collaborates with forest researchers, traveling to the Western Ghats in India, where he handled king cobras, and to Hawaii, to help track the critically endangered Maui parrotbill. Aaron Ramirez, a biology professor at Reed College, met Kovar in 2018 after arriving in Oregon City to research techniques to study redwood trees. They climbed redwoods together that spring, and now Ramirez has his students take Kovar's tree canopy research course every summer. (Kovar calls the budding canopy researchers "arbornauts.")
"As a scientist, it's easy to start looking at trees as collections of these vascular cells that you're there to study. But they are a lot more than that," says Ramirez. He appreciates that Kovar constantly reminds him and his students to connect with the tree as a whole, not just as a specimen while conducting research.
Kovar considers himself an amateur naturalist who has gleaned secondhand knowledge from the researchers he's assisted. He specializes in a different kind of intuitive intelligence that he tries to teach his students to pay attention to. For instance, when he led an acutely observant 10-year-old blind girl on a climb, he realized the importance of not relying on sight alone. Now, one of his more advanced courses incorporates blindfolded climbing so climbers can sharpen their other senses.
That intuition he values once saved his life, he believes. While leading a climb in Taiwan, he got a strong sense that he should not climb a particular tree, and ceded leadership of the climb to someone else. Afterward, the substitute leader mentioned to Kovar that there were three scorpions hidden under one of the branches. Kovar guesses he wouldn't have seen them and would've been stung.
Some of his most meaningful encounters are with adults who tap into that intuition for the first time. He recalls climbing deep in the Amazon in 2007. He was leading a climb in a local village, and a village elder wanted to ascend. At the tree's pinnacle this elder began crying. On the ground, he spoke to their translator, who relayed to Kovar that this man had spent his whole life in the village only to find he was blind to what was above him. " 'What a shame it would've been to die without seeing the rooftop of my home,' " Kovar recalls from the translation. "That's the magic."
About the Author
Discussion