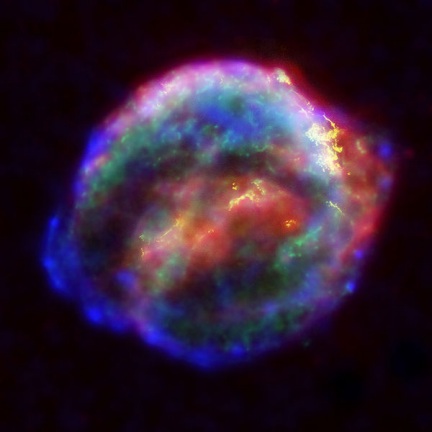 Here comes SCIENCELINE!!! [Kepler's supernova remnant. CREDIT: NASA]
Dear Reader,
Welcome to Scienceline, the newest science news destination on the web. Here you'll find a fresh perspective on the world of science, written by soon-to-be famous and wildly-successful science journalists. (We'll probably be rich, too!)
So who are we, anyway? Well, there's the simple answer: We're grad students in NYU's Science, Health and Environmental Reporting Program. But who are we, anyway? We come from all over the world, we've studied everything from biology to music, physics to English. We're a motley crew of writers and thinkers, artists and drinkers. We're lovers of science – of knowledge – and most of all, we're lovers of spreading that knowledge. Scienceline is our bullhorn – and it's your direct line to the most fascinating stories on the web.
We'll bring you original content: breaking news and in-depth features, about everything from local New York phenomena to worldwide issues. Profiles of scientists, environmental investigations, and even movie reviews. Anything that stirs our curiosity! Or yours – got a burning question? Drop us a line! Just click on "Ask Scienceline" on the homepage and tell us what you want to know. We'll hop to it! Also be sure to visit our blog, where thoughtful rambling and interesting links abound. One thing is guaranteed – if it's on Scienceline, it's worth checking out.
So stay tuned. You'll read about green architecture and urban coyotes. Bikers-turned-worm-farmers and a beach in the Meatpacking District. Tanning and manholes and rainbows, oh my! We promise to make Scienceline the most excellent adventure we possibly can – you'll learn things you never knew you never knew.
And that's the bottom line.
–Karen Schrock
Editor-in-Chief
About the Author
Discussion