Health Blog
The Case of the Bubble Boy
Maybe doctors and parents don't always have our best interests in mind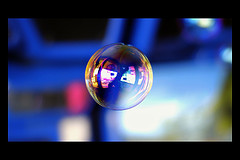 Imagine if this were your home. CREDIT: BROKENCHOPSTICK
Before he herded sheep, shared a tent, saddled up, and ultimately fell in love on Brokeback Mountain, Jake Gyllenhaal was just a teenager in a bubble. Or at least he played one in the movies.
And remember when George Costanza ripped an obnoxious bubble boy's protective casing on Seinfeld?
These references are recognizable and humorous, but the true-life story and ethical questions surrounding the case of David Vetter―the boy who actually lived inside a bubble―are not widely known, and not at all funny. I knew nothing about this horrifying tale until I attended a talk amongst a roomful of doctors, most of whom seemed to be as shocked as I was by the lapse of ethics in this case.
This is the tale of a medical system that sometimes ignores the emotional needs of patients with rare diseases and instead treats them as "clinical gold mines," according to James H. Jones, a historian who is working on a book about the Vetter case.
"David would live all but the last few weeks of his life without having any human contact," said Jones, who recently spoke about the case at the New York Academy of Medicine. "He would never smell his mother's hair. He would never know the warmth of her touch."
Kept alive for almost 13 years by experimental research, David lived with an incurable disease for his father, who desperately wanted a son, and for the scientists who salivated at the thought of studying him. He didn't live for himself.
But there are plenty of freakish and disturbing twists to come…
David's disease was more of a sure thing than a surprise. His parents and pediatricians had dealt with the same disease with David's deceased older brother, the first David Vetter, born just one year prior to David's birth. The Vetters had already lost one son, but they took their chances with another, as optimistic doctors urged them on. And yes, they named them both David. CREEPY!
When David, the second, was born in 1971, there was no cure for his illness, known as severe combined immunodeficiency (SCID), a disorder that left him very susceptible to common infections and airborne germs.
But what is SCID exactly?
Well, newborns are initially protected by the immunity transferred to them by their mothers after birth. But within the first few months of life, their own immune systems must develop and become responsible for fighting off infections. Those born with SCID lack lymphocytes, the specialized white blood cells that the body uses to fight off infections. Therefore, they can get sick and die from ailments most people wouldn't even sneeze at.
Today, the treatment options for children with SCID have improved. Gene therapy and bone marrow transplants have been fairly successful in bettering the lives of some babies and allowing them to live longer.
But David's problems only multiplied inside the bubble. By the time he was nine, a team of psychiatrists agreed that David was borderline psychotic. The flawed ethics of his parents and doctors, the people we trust to have our best interests in mind, hurt rather than helped him throughout his life.
When David was finally removed from the bubble for a bone marrow transplant in 1984, the procedure was still unrefined and "experimental as hell," said Jones. But it was a decision that needed to be made, and should have been made long ago.
Like a curse that medicine had no chance of reversing, David's story soon turned more tragic. He didn't survive for more than a few weeks outside of "the bubble." Tumors emerged throughout his body after the transplant. David's sister, who donated the bone marrow for the transplant, had Epstein-Barr virus, one of the most common viruses in the world and a member of the herpes family. Yet David's weak immune system couldn't beat the virus. He never had a chance to live outside the bubble.
Jones, who has also explored the ethical issues in the Tuskegee Syphilis Experiment, a 40-year government study on the effects of untreated syphilis in poor black men, will, in his next book, scrutinize the roles of all doctors and family members who kept alive a boy who would never have a hope of survival.
This talk left me questioning why doctors choose the patients they do and whether medical ethics were ever considered in the David Vetter case.
More importantly, how many other unpublicized cases of faulty medical ethics are out there? And how often is medicine a selfish rather than humane endeavor?
About the Author
Discussion