Health
Dental Detectives
A patient's dental problems could mean more than lapses in personal hygiene.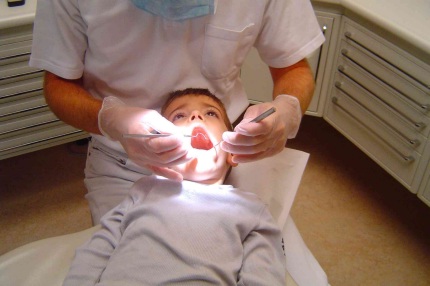 Combing for cavities...and more? [CREDIT: SXC]
The 11-year-old entered the operating room. He walked gingerly, as if on eggshells, and winced when he sat in the chair. It was a hot summer afternoon in Illinois, but the boy wore long sleeves, jeans, and army boots.
Dr. Kathleen Shanel-Hogan asked him what was wrong. He pointed to a tooth in the roof of his mouth. It was fractured. A bruise appeared in the soft tissue inside his right cheek.
In the waiting room, the dentist asked his father about the nature of the boy's injury. The man nervously said that his son had fallen.
Back in the operating room, Shanel-Hogan asked the boy to explain what had happened. He also said he had fallen. Another bruise was beginning to form on his cheek, and lines were visible on his arms where he had rolled up his sleeves. The dentist and her assistant were suspicious.
While repairing the boy's tooth, Shanel-Hogan weighed the evidence. Her gut feeling was that she had a case of child abuse on her hands.
She thought: What do I do now?
For many people, dentists seem like picky relatives, pointing out bad habits and offering unsolicited advice. But to a victim of family violence, an observant dentist could be a lifesaver.
Dentists work close to regions of the head and neck that are often targets of physical abuse. And because dentists see many of their patients regularly, they can monitor changes in their patients' health and lifestyle that might reveal signs of abuse. Although not all dentists consistently screen for evidence of family violence, some are making an effort to spread the word of their detective role.
"Dentists are in the perfect place to be recognizing these victims," says Lynn Mouden, director of the Office of Oral Health, part of the Arkansas Department of Health and Human Services.
Over 2.5 million cases of child abuse and neglect are reported per year, according to the American Academy of Pediatrics. And every year, two to four million women become victims of domestic violence, a type of family violence occurring between people in an intimate relationship, according to the American College of University Physicians. And though estimates vary widely, the Senate Special Committee on Aging reported that as many as 5 million elderly people are abused each year.
As much as 75 percent of cases of physical abuse occur in regions of the head and neck. Bruises around the eye and the cheekbone—which might be hidden by glasses and easily missed by a casual observer—are more readily visible by a dentist, according to Jan Levy, clinical associate professor in the Department of General Dentistry and Management Sciences at New York University's College of Dentistry.
A torn frenum—the thin part of tissue that attaches the inside of the upper lip to the gums—can also be a subtle sign of abuse that only a dentist might notice, explains Michael Villacarlos, a fourth-year dental student at New York University's College of Dentistry.
"[We're] working in an area that not a lot of people see up close. We're right there in your face, taking note of everything," says Villacarlos.
But cuts and bruises aren't the only signs of family violence that a dentist might look for. Some dentists see their patients on a regular basis, and so changes in a patient's routine "might raise a red flag" to a vigilant dentist, according to Levy.
For example, a patient who used to come for check-ups consistently and who suddenly stops might be a victim of an abusive relationship, says Levy. And a dentist might have grounds for suspicion if a patient is suddenly joined by a caregiver or companion—particularly one who answers questions on behalf of the patient.
Identifying signs of family violence, however, is only the first step to helping a victim. All states require dentists to report suspected cases of child abuse and neglect, and 44 states require dentists to report cases of adult abuse. While some dentists have received training to recognize signs of family violence, they might not feel comfortable reporting cases.
"I've heard all excuses" says Mouden of the Arkansas Department of Health and Human Services. Some dentists think "'Oh, I'm going lose my patients' or 'This won't happen in my neighborhood,'" he says, but "if you don't do something, you may literally lose a patient."
But others see it as their responsibility to do what they can to help, which is why dentists across the nation are joining groups—or starting their own—to raise awareness about their role in supporting victims of abuse and neglect.
The Prevent Abuse and Neglect through Dental Awareness (P.A.N.D.A.), is one such program. Founded in 1992 and developed by Delta Dental of Missouri as the corporate sponsor, the program now has chapters in 46 states and ten international locations. P.A.N.D.A. offers educational seminars on the history of family violence, ways to identify abuse and neglect, and discussions of legal and liability issues involved in family violence interventions.
Some of the seminars are also designed to train dentists to give lectures on the topic of family violence in their local communities, according to Mouden, who co-founded the program.
Although the seminars were originally intended for dentists, they're suitable for other healthcare workers, as well as teachers, daycare workers, and lawyers, adds Mouden.
These programs seem to be working. Reports of family violence in Illinois rose by 800 percent in the first five years after a P.A.N.D.A. program was introduced there.
While New York State does not have a P.A.N.D.A. chapter, Levy of NYU's College of Dentistry, along with his colleague Maureen McAndrew, are helping to pioneer an awareness program that focuses largely on domestic violence.
Called "Domestic Violence: New People, New Protocols," the program will offer a website with free information that dentists can use to train themselves to recognize signs of domestic abuse. Because domestic violence affects people of all cultures, Levy's team also envisions a collaborative effort among dentists and local community centers to spread the word that dentists are a resource whom victims can go to for help.
"We're focusing on the great patchwork of diversity," he says.
Levy is currently working to introduce the program to the Family Justice Center in Brooklyn, a facility that offers victims of domestic violence information on their rights, as well as access to lawyers and social workers. The next step is to expand the program to other boroughs in New York City—and eventually state and nationwide, says Levy.
"I don't want to say there's no training in this. There is," says Levy. "But we need to continue this to improve the reporting."
Gripped with anxiety about her young, injured patient, Shanel-Hogan decided to call Child Protection Services and report the case. A few days later she followed up on her report.
The boy was a victim of bondage. CPS had sent help.
More than 20 years later, Shanel-Hogan still vividly remembers the incident. Since then, she has moved to California, where she founded the Dental Professionals Against Violence Program, an outgrowth of a P.A.N.D.A chapter. She also serves on many statewide committees for family violence prevention.."I'm really glad I did make the call," she says. "It began me on this journey."

About the Author
Discussion