Health
Knowing Hospital Bugs Saves Lives
Researchers find a better strategy for treating pneumonia.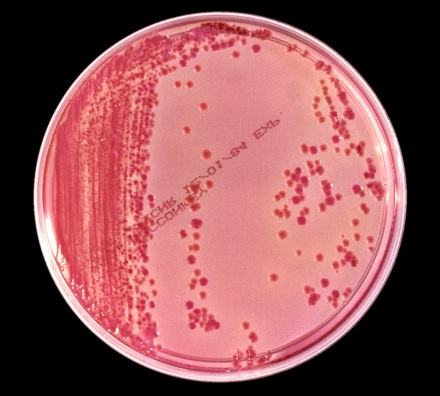 Klebsiella pneumoniae bacteria, responsible for deadly hospital infections. [CREDIT: CDC]
When battling potentially deadly hospital-acquired pneumonia, researchers at Wake Forest University Baptist Medical Center have found that it pays to know your enemy. By investigating the strains of pneumonia common in any particular institution, doctors can prescribe antibiotics that are more likely to defeat the infection.
Many people develop pneumonia, a serious bacterial infection of the lungs, after entering the hospital for other reasons. Hospital-acquired pneumonia causes one fourth of all the infections in intensive care units, and it is the most deadly of all hospital-acquired infections. Currently, tests to identify the strain of pneumonia-causing bacteria can take as long as three days, which is detrimental to patient health because antibiotics are most effective when they are started immediately.
But now, researchers may have found a way to make treatment for these hospital-induced infections more effective. By looking at all of the infections in their medical center over a six-month period, researchers found that the general best-guess guidelines for antibiotics treatment would only cover about 70 percent of the most severe cases. The findings, published in the September issue of Chest, showed that by changing the guidelines to address the resistant bacteria specific to their institutes, doctors would be able to successfully treat up to 90 percent of cases.
Such cases of pneumonia are often resistant to many common antibiotics, making it critical to prescribe the best antibiotic as soon as possible. Certain antibiotics are good at destroying certain kinds of bacteria, so doctors try to target the bacteria with the right combination of antibiotics that will stop the infection.
National guidelines established by the American Thoracic Society and the American College of Chest Physicians (ATS/ACCP) give doctors a good idea of which antibiotics should be used as first- or second-line medications. James R. Beardsley, who led the Wake Forest study, and his colleagues published the first systematic study of a specific hospital's pneumonia-causing bacterial strains in order to adjust the national guidelines to best fit the strains of bacteria circulating in their institution. Michael Niederman, who chaired the writing committee for the national guidelines on hospital-acquired pneumonia, said that following the guidelines blindly would not be as effective as knowing which bacterial strains a particular hospital contained.
Beardsley and his colleagues found out exactly that—and after an extensive analysis of their hospital's pneumonia strains, they adjusted the national guidelines to best fit the strains of bacteria circulating in their institution. Changing the guidelines to fit their hospital's needs, said Niederman, is in keeping with the principles outlined in the ATS/ACCP guidelines.
In the study, Beardsley and his colleagues divided pneumonia patients into groups based on the number of days they had stayed in his hospital before coming down with pneumonia. Patients in the early group, who came down with the disease within four days, were best treated by following the national guidelines. But researchers found they could eliminate one unnecessary antibiotic, amikacin, from the middle group's treatment without changing the percentage of patients covered. The late group, however, benefited from the extra amikacin treatment because these patients were often resistant to a larger number of antibiotics. By changing the national guidelines to fit the bacterial infection patterns at their hospitals, the researchers developed criteria that allowed them to treat the largest number of patients without exposing the patients to unnecessary antibiotics.
By tailoring their guidelines, doctors at Wake Forest had a better chance of treating pneumonia right the first time around. The national guidelines that Beardsley and his group modified for their hospital might work in other places, "but you have to make sure to look at your own bugs in your own hospital," said Beardsley.
About the Author
Discussion