Space, Physics, and Math
Stringing Up String Theory
Mathematician Peter Woit explains why string theory is worse than wrong.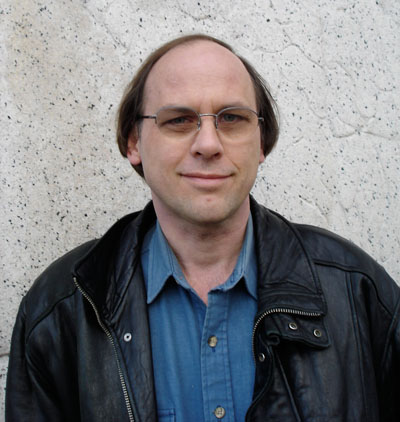 Peter Woit. [CREDIT: Peter Woit]
Peter Woit has been generating an awful lot of controversy for a soft-spoken, unassuming mathematician. But he isn't the center of attention because of his own research at Columbia University; it's his opinions about string theory that are generating the hype. In his new book, Not Even Wrong (Basic Books, 2006), and his blog by the same name, Woit expounds at length about physics – a field he considers troubled and trapped by a theory that is so far off the mark it can barely be considered science.
Woit has never been a string theorist himself. When he earned his doctorate degree in particle physics from Princeton in 1984, the string theory craze was just beginning. Woit was interested in pursuing other intersections between math and physics, so after his physics post-doctoral work, he found himself more at home in Columbia's mathematics department than in any of the string theory-obsessed physics departments of the time.
Over the next 15 years, Woit observed that, despite failure after failure, string theory remained the sole path pursued by nearly all theoretical physicists in their quest to bridge the physics of the very small with the macroscopic world. In 2001, he finally wrote a short article for American Scientist magazine explaining why he thought string theory had gone bad. The response he received, both positive and negative, was overwhelming. He decided to expand his ideas into a book, and then turned them into a public discussion via his blog in 2004. The blog quickly became the forum for a raging debate: Should the physics world continue to focus on a theory that a growing number of voices decry as misguided? Scienceline caught up with the man who started the fire.—Interview by Karen Schrock
SCIENCELINE: What is so wrong with string theory that you feel it's Not Even Wrong?
PETER WOIT: Well, a little history: Back in 1984, when people got really excited about string theory, they had a calculation that said that string theory most logically makes sense in 10 dimensions. We only see three space and one time dimension, so there have to be six other dimensions somewhere. The hope was that there would only be a few ways of describing this six-dimensional space. People thought, okay, we'll just learn more about string theory, see what happens for these six-dimensional spaces, and one of them will explain our world and we'll all get Nobel Prizes. Then they discovered that there are essentially an infinite number of ways of choosing the size and shape of the six-dimensional space, and you can get pretty close to whatever you want out of the theory by massaging the six-dimensional space appropriately. So you can't use string theory to predict anything you can observe, which under the normal standards of scientific conduct is when you are supposed to give up.
SCIENCELINE: But a lot of physicists are excited about the Large Hadron Collider being built at CERN in Switzerland. Doesn't string theory predict the particles they might discover there when it comes online in 2007?
PETER WOIT: The problem is no matter what they see at the Large Hadron Collider, the string theorists can then go out and find a six-dimensional space which will match those results. There really isn't a prediction at all from string theory about what they're going to see at this collider.
SCIENCELINE: So what are some of the alternatives to string theory that you think are being neglected because of its popularity?
PETER WOIT: There aren't really many good ideas out there. What's needed is people who are going to develop new stuff, and that's very, very hard to do. It requires being willing to go off and pursue some completely obscure idea and put years of your life into it. That's an incredibly dangerous thing to do. You could very easily spend a few years on an idea then find that it wasn't such a good avenue, and, suddenly, you don't have a job. So if you're a young physicist and you want to do something with mathematics and particle theory, it's virtually impossible unless you do string theory. That's what most directly concerns me.
SCIENCELINE: Are there any string theorists out there who agree that their field is in trouble?
PETER WOIT: Talking to string theorists privately, I find that we actually see eye to eye on many things. They're more optimistic than I am that string theory will ultimately lead to something, but the things that I find disturbing about the subject they also find disturbing. But it's really hard to find people who are willing to put their name to that publicly. My string theorist friends have made it very clear that they don't want me quoting them on my blog. They'd soon stop talking to me if I did.
SCIENCELINE: Your blog has generated quite some controversy. Didn't Harvard string theorist Luboš Motl accuse you of having the intelligence of an amoeba?
PETER WOIT: It's great. Sometimes I think I've been very lucky because the person most willing to engage in a discussion about this publicly is this guy who is a complete ideologue and extremist. It's something of a gift to have him as my most vocal and visible opponent. He actually does a very good job of reflecting some of the problems with how string theory has been pursued. If you want to understand what has gone wrong in that field and what kind of attitudes have become ingrained in people, you can find an example in its most extreme form by reading his websites. It's kind of hard to take him seriously. I think there are a lot more sensible people who would make tougher opponents.
SCIENCELINE: He and your other critics often mention that although you have a Ph.D. in physics, you are not a string theorist yourself, so you obviously don't understand the nuances of the field. Do they have a point?
PETER WOIT: Well, I haven't worked directly in the research but I've certainly spent 20 years of my life following the field. That's what I'm basing my knowledge on. But it's true, one of the characteristic things about the subject is its incredible complexity. To even start to understand string theory you need a Ph.D. in theoretical physics. The literature is huge, there's now 10, 20, maybe 30,000 papers written on the subject. It's so complicated that nobody really understands all of it, even the best string theorists. On the other hand, if you follow the subject for a while, you see that there are certain crucial obstacles to doing what they want to do. It's fairly well known what these obstacles are. One I mentioned before — the size and shape of the six dimensions. And you can pick up a string theory paper, after you've done this for a while, and see whether they're addressing those crucial issues or not. So it's true, I haven't actually worked out the calculations. But I can read what they're saying and understand it well enough to know whether or not they're getting at these critical problems.
SCIENCELINE: Do you think it's unusual to spend so much of your time following a field in which you aren't working yourself – in fact, a field in which you don't think anyone should be working?
PETER WOIT: I think there's a lot to be said for that. If there's one criticism I agree with, it's the idea that maybe I'd be better off just ignoring all those people and doing something positive. And, well, there's a pretty decent argument there, and I can't completely disagree with it. But I found myself in a peculiar position. I'm in this faculty position, which is not tenured but it's permanent. This means I'm insulated from the political pressures that most people in the physics community face. The thing that shocked me after I first published the short piece five years ago was how many people wrote to me and said, "You're so brave. We would never dare do anything like that." I started to realize that there really has been a serious intimidation factor. People within the theoretical physics community feel that there are many, many powerful people who are very devoted to this subject, and if they start criticizing it in any public fashion they're going to get themselves in big trouble. Their students aren't going to get jobs, their grant is not going to be evaluated well, et cetera. I felt like since I'm immune to these pressures, I was the person in a position to say something.
SCIENCELINE: But you must get some sort of gratification from the fact that you are the only person doing this, right?
PETER WOIT: Yeah, when I started five years ago I was greeted with an enormous amount of skepticism. But I really have seen the attitudes and viewpoints of people around me change, and that's been for several reasons. One reason, things just have not been going well for string theorists themselves. But many people have told me that what I've been doing is also having a major effect. And that's really rewarding to see that change happening.
SCIENCELINE: So what's your next step?
PETER WOIT: I'm really happy with the blog. It's been very successful, it's done exactly what I wanted, and I want to try to keep doing it. But I want to figure out how to make it less time consuming so I can pursue my own research. The really crucial idea about particle physics that was learned in the 20th century was the importance of symmetry arguments. But there's a lot in mathematics about symmetries that physicists have never really used. I want to see if I can get a new understanding about how to exploit symmetries in particle physics, which will require developing some new mathematics. I want to push the frontiers of mathematics even further.
About the Author
Discussion