Environment
Science From Afar
City College of New York researchers keep watch on the world without ever leaving Harlem.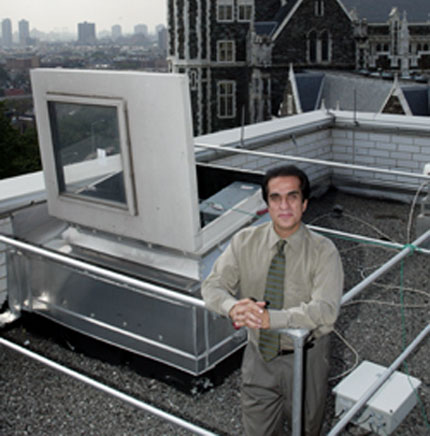 Reza Khanbilvardi [CREDIT: www.cuny.edu]
Cramped into a small lab, a researcher is intent on deciphering the blue, red, and yellow speckles visible on the computer monitor. To his right, past heaps of electrical equipment, a laser beam shoots out through a tunnel in the roof, penetrating a little over 9-miles into the sky.
The laser is scanning the atmosphere over New York City, gathering data on water vapor and air particulates, which are relayed down to the computer on the ground.
With a flick of a finger, the scientist considers the data. Pointing to the small amount of red, he declares it to be "a low pollutant day" in New York City.
This researcher works under the quiet gaze of Reza Khanbilvardi, director of the Cooperative Remote Sensing Science and Technology Center and a professor of civil engineering at City College of New York, where the center is located. A cooperative center of the National Oceanic and Atmospheric Administration, NOAA-CREST has a $4.2 million annual budget and a mandate that extends beyond studying air pollution.
Khanbilvardi's center uses remote sensing technologies—like satellites or lasers—to monitor environmental parameters without ever having to leave their labs. Both types of sensors work by reading the amount of radiation an object is emitting.
The radiation data is relayed from the sensors back to the CREST lab where computer algorithms translate it into meaningful numbers used to assess environmental parameters such as soil saturation.
The downside of remote sensing is its inability to tell researchers like Khanbilvardi the complete story. For example, CREST scientists can tell from the sky if a body of water is polluted, but someone must physically go collect water samples to know which specific pollutants are present.
A native of Iran with a doctorate in civil engineering and water resources from Pennsylvania State University, Khanbilvardi never planned to lead a remote sensing facility. In fact, he didn't even know what remote sensing was until a doctoral student introduced it to him 15 years ago. "I learn from the students a lot," he admits. "I tell them to go out and learn and then come back and teach me."
Before learning about remote sensing, Khanbilvardi was busy developing the water resources department at City College, of which he was the only member. Water resources, the study of water use and management, has been the focus of Khanbilvardi's career. "Water is the energy of nature," Khanbilvardi says. "Wherever it goes, it brings life."
Following his own advice that scientists should be flexible, Khanbilvardi began incorporating satellite technology into his research, which unknowingly prepared him to head CREST. From space, Khanbilvardi has studied the impact of land use on bodies of water throughout the state of New York as well as in Macedonia and the Ukraine.
A portion of CREST's current research focuses on snow, a crucial but mysterious part of the water cycle that is often invisible to satellites. Khanbilvardi thinks that a better understanding of the crystallized flakes and the weather systems that carry them will benefit school systems, which often lose money and waste time due to unnecessary snow days and early dismissals based on inaccurate weather information.
Even if CREST doesn't crack the snow code immediately, it plans to stay at the forefront of the remote sensing community with the installation of a local satellite receiving station within the year. This station will allow CREST to receive information directly from satellites, bypassing NASA and NOAA, who often send data weeks after its collection.
Richard Blake, a former student who is currently an assistant professor of physical and biological sciences at the New York City College of Technology described Khanbilvardi as the glue keeping CREST together, and Khanbilvardi shyly agrees, referring to himself as the "conduit" between the researchers and students at City College and the government agencies in Washington, D.C
"I try to create a path for the future of CREST," says Khanbilvardi.
The path that Khanbilvardi is paving reaches around the globe: CREST is part of the Global Earth Observation System of Systems, an organization with members in 60 countries who are dedicated to sharing satellite data.
Pooled satellite data can be used for a variety of applications: to better understand climate change, to direct firefighters when they're combating wildfires, or to predict where flooding might occur. Since insects follow floods, remote sensing is also being used by virologists to predict where vector-borne illnesses such as malaria might crop up.
Khanbilvardi emphasizes CREST's role in making remote sensing an "interdisciplinary" community that joins students with researchers, researchers with agencies, and scientists from different fields. With this combined effort, Khanbilvardi says, "We can impact the future."
About the Author
Discussion