Environment
Being Beinecke
Getting to know Frances Beinecke, the new president of Natural Resource Defense Council.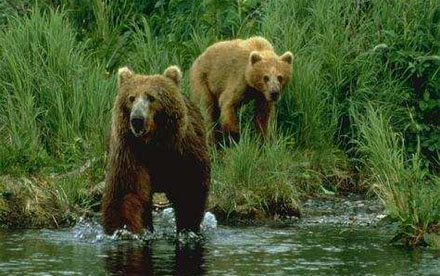 Kodiak bears. [CREDIT:Kodiak.org]
When Frances Beinecke, president of one of the country's biggest and most prominent environmental groups, watches shorebirds soaring off the coast of Denmark, she's not having a leisurely summer day at the beach–she's trying to find a way to use wind energy to overturn the United States' heavy dependence on fossil fuels.
And when she visits a farm in Wisconsin, it's not just any homestead. She is following in the footsteps of Aldo Leopold, the father of U.S. wildlife management, in his classic nature essay collection A Sand County Almanac. "We spent the night in the Shack," she said proudly, a place where Leopold himself spent time away.
Beinecke, who became leader of the Natural Resource Defense Council in January 2006, is only the second president NRDC has had since its founding in 1970. NRDC's mission under her predecessor, John Adams, was to protect the planet using courtroom litigation, such as in 2003 when Adams brought the U.S. Navy to trial to prevent them from using an international navy sonar system that was so loud it could injure, deafen, or kill whales.
Under Beinecke, the NRDC is continuing the fight for environmental justice. In their current high profile case, Massachusetts vs. EPA, the NRDC team hopes the U.S. Supreme Court will rule that the EPA must regulate carbon dioxide and other gases that contribute to global warming.
Beinecke calls herself "an ambassador of the institution to the outside." Traveling is crucial, she said, because she feels "more empowered to speak once I have experienced it." Seeing events in person, like the Katrina aftermath or wind farms, helps her to paint a picture for government officials and the public, garnering support for her causes.
As president, Beinecke leads an organization that employs not only lawyers, but economists, scientists, foresters, and engineers. Her masters degree from Yale's School of Forestry and Environmental Studies stands in contrast to John Adams' background as a federal prosecutor, but Richard Stewart, Director of the Center for Environmental and Land Use Law at New York University, noted that though Beinecke's background is very different, she is "an extremely competent and able person" who is "open to a variety of strategies and techniques."
Her predecessor began NRDC with the mindset, "let's sue the bastards," Stewart said, but eventually expanded NRDC's litigation focused policy to one that included working with government agencies, the public, and corporations to find collaborative solutions to environmental problems.
For instance, NRDC has developed guidelines for "green buildings," and has been working with developers and builders to promote these structures, which encourage a healthy living and working environment by conserving energy, maintaining safe indoor air quality, using environmentally safe building materials, and maintaining water safety. Currently all four of NRDC's office buildings are green buildings, and the organization is working to make their recommendations a part of standard construction practice.
NRDC's initiatives, such as developing guidelines for green buildings and suing polluters, seem to be popular: in just two years the organization's membership doubled to 1.2 million people. Noticing this, Beinecke is using her time as president to make people aware of other initiatives they can help with, such as the letter writing campaign to Congress that NRDC is sponsoring. NRDC will even provide letter writers with sample letters to follow for various environmental issues.
High profile cases also increase public awareness of NRDC and its mission. In Massachusetts vs. EPA, Massachusetts and eleven other states are suing to ensure the EPA will actually regulate greenhouse gases; the EPA does not believe the Clean Air Act gives it the authority to do this. Oral arguments for the case were planned to happen no later than December 2006.
Beinecke was not always the activist she is at NRDC. "I didn't grow up thinking about the environment," she said. Her eyes opened at the first Earth Day celebration in 1970, when 20 million people from around the country rallied for the environment.
Around that time, she also formed an attachment with mountains. "I fell in love with the Adirondacks," she said in her office, where a six-foot-long representation of Long Lake in the Adirondacks, painted by her daughter Carrie Elston, hangs. Even Beinecke's dog Homer is named after the great Adirondack artist Winslow Homer. Both Earth Day and the mountains led her to get her master's degree from Yale's School of Forestry and Environmental Studies.
As her daughter's painting suggests, Beinecke's family is passionate about the environment. Her husband Paul Elston helped her found the New York League of Conservation Voters, which aims to protect the New York environment through political action, in addition to founding the Long Lake Energy Corporation, chairing the New York City Water Board, and presiding over the Riverdale Nature Preservancy. The couple's three daughters are all activists for the NRDC.
The combination of Beinecke's investment to the environment, both in and outside of her job, has paved the way for her ascension to NRDC's presidency. NRDC Deputy Director Patricia Sullivan, who has worked with Beinecke since she began as an NRDC intern 30 years ago, says Beinecke "has had every possible rank in the organization" and "has the most extraordinary grasp of the whole picture."
Friend and ex-roommate Sigourney Weaver also turns to Beinecke for motivation, saying on the NRDC website that she draws inspiration from Beinecke's unyielding courage and resolve when facing intense situations. Weaver also claims to have based her character Ripley in the Alien movies on Beinecke. "Whenever I needed to know how Ripley would act, I'd ask myself 'What would Frances do?'"
About the Author
Discussion