Environment
The Other Greenhouse Gas
An often ignored greenhouse gas makes predicting climate even more uncertain.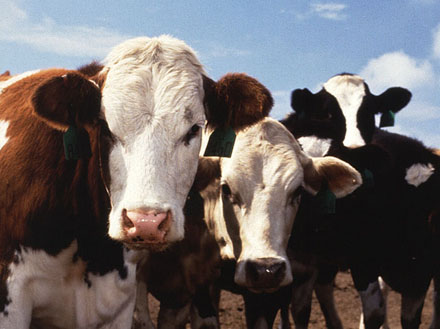 Methane manufacturers. [CREDIT: USDA ARIS INFORMATION STAFF]
When most people think of climate change they envision billowing smokestacks, and diesel engines responsible for releasing carbon dioxide into the atmosphere. But they're over looking a far more inconspicuous culprit – methane– emissions of which may be slowing down.
Methane is the second most abundant greenhouse gas, behind only carbon dioxide, according to the new report from the United Nations' Intergovernmental Panel on Climate Change. The concentration of methane in the atmosphere had risen to 1732 parts per billion in the 1990's from 715 parts per billion a century before. Since the 1990's the methane level has only climbed to 1774 parts per billion, indicating that the rate of methane emissions are slowing.
Much man-made methane comes from a surprising low-tech source: "It's cows burping," said Elaine Matthews, a methane expert at the Goddard Institute for Space Studies, explaining that cud-chewing animals like cows and sheep, along with other agricultural animals and processes, release enough methane to double the natural concentration in the atmosphere.
Cow digestion accounts for 75 percent of the methane produced by animals. Bacteria in the animals' multiple stomachs help them to break down their food, but the bacteria also produce methane as they do their work. The animals then belch it into the Earth's atmosphere.
Attempting to get the most milk or meat from animals, dairy farmers and ranchers commonly feed their cows three or four times the amount necessary for the animals to maintain their weights. Because a cow's methane production depends on the amount of food they eat, overfeeding increases methane emissions.
Scientists have been testing ways to control methane emissions by trying to enhance the quality of the animals' feed and by using feed additives. A 2004 Journal of Animal Science Paper showed that feeding dairy cows sunflower oil decreased their methane emissions by 20%. Some countries, particularly New Zealand, have been looking for ways to cut the number of animals used to produce the same amount of agricultural product.
Matthews attributes the slowing of methane emissions to two human practices: a decreasing number of cud-chewing animals in industrialized countries, and maximization of rice crop yields. Rice paddies release methane because they contain anaerobic bacteria similar to those in cows' stomachs; modern production practices have optimized the area available to grow rice, so methane emissions from rice cultivation have stabilized.
"It's good news for methane," Matthews said.
However, estimating the impact of methane on the Earth's climate can be difficult due to the series of chemical reactions it undergoes in the atmosphere. After being released, methane combines with water to produces water vapor and carbon dioxide – both of which are greenhouse gases– as well as ozone, which is also a pollutant.
All of these chemical byproducts stay in the atmosphere and make methane's contribution to warming hard to determine because of their indirect effects. "It's a little imprecise," said Gavin Schmidt, another climate specialist at the Goddard Institute.
A 2002 Environmental Protection Agency report estimated that methane lasts 9 – 15 years in the atmosphere and has a global warming potential, or climate impact, 56-times that of carbon dioxide over a 20 year period; although that drops to 21-times carbon dioxide after 100 years because methane degrades at a faster rate.
Methane concentration also depends on the atmospheric level of water vapor that is necessary for the breakdown reactions. When the air is warmer and wetter, the concentration of methane is lower. This means that the levels fluctuate from year to year and it's another way methane differs from carbon dioxide, which is present at fairly stable levels.
Emissions levels are also hard to predict because half of methane emissions come from naturally occurring sources that fluctuate due to environmental changes. Most natural methane comes from bacteria that live in wetlands and marshes, which multiply quickly in wet or warm seasons. "There's no trend that people can see. [Wetlands] really dwarf everything else," explained Matthews.
—
Other Articles In Our Climate Change Series:

Polyp Apocalypse: As atmospheric carbon dioxide dissolves into increasingly acidic oceans, vibrant coral hamlets are fading into ghost towns.
A New Twist On Tree Rings: Scientists turn to tree rings to learn more about our climate's history.

Stronger Storms: The international body on climate change predicts stronger hurricanes due to global warming.
—
About the Author
Discussion