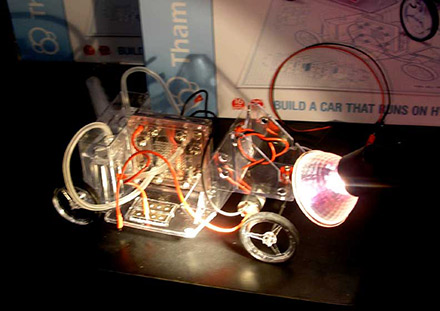 A Fuel Cell car by Thames and Kosmos -- get the kids ready. [CREDIT: BEN LEACH]
Each year, the American International Toy Fair in New York City plays hosts to hundreds of toy manufacturers showing off their latest wares, many of which are toys that are being used to teach complicated scientific topics to a younger generation. Here are just a few of the new toys of 2007 that are sure to get kids of all ages excited about science.
Be Amazing!
Those who attended Toy Fair 2007 couldn't help but stop at the Be Amazing! booth, where thirty foot high streams of diet soda were shooting toward the ceiling of the convention center through plastic cylinders every few minutes. The explosion was the result of putting Mentos, the "freshmaker," mints into a diet soda.
"There are lots of microscopic holes on the surface of a Mentos," said Elizabeth Romney, vice president of Be Amazing!. "When diet soda gets into these crevices, that's when the reaction begins. "The reaction is thought to be the result of rapidly expanding carbon dioxide bubbles that form when the Mentos are exposed to the carbonated soda.
The plastic cylinders surrounding the Mentos demonstration at Toy Fair kept the height of the geyser bursts to about 18 feet, but the exploding soda has the potential to shoot over 30 feet up. In addition to the basic Geyser Tube (which lets kids put a whole pack of Mentos into a soda bottle from a safe distance), there is also the Great Geysers kit, which include experiments like Mentos/Diet Soda-powered rockets and chain reactions that involve up to five soda bottle geysers at one time.
Steve Spangler at Be Amazing! was actually doing the experiment with Life Savers mints and diet soda back in the 1980's as an elementary school teacher. In 2002, Spangler demonstrated the experiment on a local news program, and he released his same performance on the world wide web in 2005, where it quickly became an internet phenomenon. Its popularity prompted MythBusters, a show on the Discovery Channel, to create record-setting Mentos/diet soda geysers for their program. In 2007, kids will be able to recreate this experiment on their own, but they'll also be learning about the science behind this chemical reaction.
Another new Be Amazing! product for 2007 is the Mirror-Aculous kit. The main component of this kit is a standard-size drinking cup (not to be used for beverages), the outside of which is coated with mirror-like reflective material. The reflective material and shape of the cup work together so that when the cup is placed in the middle of distorted drawings, a normal, nondistorted image can be seen on the cup's reflective surface. For example, a face that is unrecognizable on paper will appear as a normal face on the cup's surface. One of the challenges for kids, then, is to use the reflective cup to color in a distorted drawing correctly, such as using the reflection on the cup to find out which of the distorted lines is the face's lips, and then color red in there. Another challenge is learning how to draw lines on the paper of just the right curvature so as to appear as straight lines on the cup's reflective surface.
Romney said that in order to get the drawings to look normal against the cup, complex mathematical equations, or quadratic equations, are needed. She also said that the Chinese used a very similar practice in art centuries ago, where reflective curved surfaces were used to reveal hidden obscene images.

The Young Scientists Club
When Esther Novis's son was five years old, she wanted to go out and buy him educational toys that were science-related. There was one problem: she didn't believe that there were any decent ones on the market. As a result, in 1999, she used her background as a Harvard-educated biologist to solve this dilemma by developing the Young Scientists Club, which manufactures science kits for children.
There are many types of kits. Some involve props that simulate hard scientific concepts, such as the electricity kit, which uses balloons, batteries, and wires to simulate circuits and an on/off switch. Other kits have the kids doing hands-on scientific work. For example, the fossils kit includes real fossils, like shark teeth, for young scientists to dig out and identify, just like paleontologists would. Each kit comes with different sets of questions, helping both children and parents understand the hard science concepts – such as acids and bases, or capillary action – behind the fun exercises.
The success of the club's experimental kits is evident in their big plans for 2007: they've teamed up with Scholastic's The Magic School Bus to produce a brand new series of kits based on the adventures that Ms. Frizzle and her students have been having for years.
C & A Scientific
One rite of passage for all amateur scientists is to get a hold of their very first microscope. Microscopes for the layperson have come a long way in the last five to ten years, and C & A Scientific displayed some of their new Premiere series microscopes at Toy Fair.
One new microscope is a compound light microscope, which uses light and multiple lenses to magnify subjects, particularly in biology. C & A also sells a digital microscope, which has a tiny camera that projects the objects being looked at under the lens onto a computer screen.
"Kids don't have to just sit there and draw what they see," said Zack Larkin, sales manager for C & A. Instead of trying to replicate the images in the microscope lens with pencils and paper, kids can use exact images as a reference tool.
These models aren't simply gaining popularity among those who don't like to draw. Schools and specialty stores are the main purchasers and suppliers of C & A's microscopes. Even Toys "R" Us also carries this line of microscopes, making them accessible to just about anyone who wants one.

Thames & Kosmos
With global warming becoming a more pressing issue, Thames & Kosmos feels it needs to educate its consumers about the conservation of energy. One way it has chosen to do this is to build a miniature hybrid car with their Fuel Cell Car and Experiment Kit. Using a fully-functional miniature hydrogen fuel cell powered car, T& K is helping to educate youngsters who aren't even old enough to drive.
"We want kids to see that it's viable so that they can help make it viable in the future," said Ted McGuire, president of the toy company. He says that since its introduction in 2001, the Fuel Cell Car has been a perpetually hot seller.
Automobiles aren't the only things that T & K is showing that can be energy efficient. They've recently introduced Power House, a scale model of a house that uses nothing but renewable energy sources, such as solar panels and wind-powered generators, both of which power mini-household appliances like a solar cooker and a power hoist. Attached to the miniature home is a greenhouse where kids can grow and prepare their own food, such as cabbage for sauerkraut. In all, there are 90 different experiments that can be done with the Power House.
Despite the fact that they are small toys, the T & K corporation believes their products are important because the parts used to make them work, such as the solar panels on Power House, demonstrate how energy efficiency can someday be applied to everyday items.
—- —– —–
So whether it's fossil hunting, microscopic biology, or the conservation of energy, the toys used to educate today's kids are preparing them to become tomorrow's problem solvers. Of course, the first problem they may have to solve is cleaning up the mess left from a diet soda eruption!
View a slideshow of more techie toys!
About the Author
Discussion