Health
I was just diagnosed with Lyme disease, but I heard the blood test can give false-positives—is that true?
- asks Mary from Pittston, Pennsylvania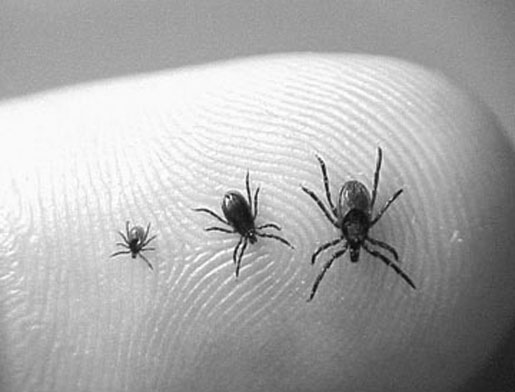 Western black-legged ticks on a finger. Left to right: nymph, adult male, and adult female. [CREDIT: CALIFORNIA DEPT. OF HEALTH SERVICES]
Ah, the tricky situation that is the Lyme disease test: just last year, the serological lab work used for diagnosing this illness were described by physicians as "confusing and controversial". Yet, they are still being used to diagnose 20,000 new cases of Lyme every year, though according to a 2005 statement by a Centers for Disease Control epidemiologist, these tests are right more than 90 percent of the time. This is a high rate of correctness, but it still leaves some patients wondering if they truly are infected.
You may have a hunch you have fallen prey to the disease based on symptoms that developed after a smarmy tick was caught hanging off your physique. The most common vector-borne illness in the United States, Lyme is caused by the spirochetal bacterium Borrelia burgdorferi; it is most often transmitted by minute ticks—usually deer or western black-legged species. After being bitten by an infected bug, usually in the months of June, July and August reports the CDC, your body moves through symptom cycles, which progressively worsen if the illness goes untreated.
The disease usually begins with flu-like symptoms, such as headaches and swollen lymph nodes, as well as muscle and joint pain. Those symptoms that develop in the months or years that follow are far more serious: numb extremities, neurological malfunctions, arthritis and heart arrhythmias. The sooner you can nip Lyme disease in the bud with a round of antibiotics, the faster you'll recover from its side effects. But to get to the necessary medication, you must first be diagnosed.
To do this, doctors draw blood, which is usually sent to the lab for testing by (take a deep breath) Enzyme-Linked Immnosorbent Assay, or ELISA for short. This test does not scan the blood for the actual bacterium, rather it searches for antibodies that your immune system raises against B. burgdorferi.
Antibodies are proteins produced to fight off infection, so B. burgdorferi antibodies would indicate that the immune system has fought off (or is still fighting) the sordid spirochete. (That being said, there is one test—polymerase chain reaction, or PCR—that can be used to identify the bacterium's presence in your body by its DNA, but it is normally only used as a follow-up to other blood work, like ELISA).
Antibody-based blood tests can also roughly determine the severity of a case of Lyme, judging by how many antibodies are clogging your bloodstream. They do this by studying how many antibodies are present in a diluted solution of the blood, called a titer. A patient with titer that has a larger bottom number, such as 1:154, has more antibodies in their blood than one with, say, 1:11. Depending on how high your antibody titer is, labs may also do a Western blot analysis, used to weed out the all-too-common false-positive Lyme test.
There are a myriad of reasons for why tests come back with false results. For example, if you've recently been infected, anytime in the previous eight weeks, antibodies may not yet be present in your blood, therefore making it appear that you don't have Lyme. Also, even after many weeks of fighting off the bacteria, there may be too few antibodies in your blood for the ELISA test to register. And lastly, a recent round of antibiotics can suppress the level of anti-B. burgdorferi proteins the bloodstream, also making it appear you aren't infected.
False-positives, on the other hand, most likely result when your body is fighting off another infection, because the Lyme blood tests also detect the presence of antibodies to other bacteria or viruses. Illnesses such as syphilis and HIV, or even mononucleosis, is cause to question a positive test result.
For those of us who have had an intimate relationship with Lyme, antibodies to the disease remain in your bloodstream long after the bacterium has been vanquished, which makes future blood tests false-positive and disease resulting from a subsequent rendezvous with a tick hard to diagnose (FYI: Lyme can strike you as many times as the good Lord sees fit and symptoms can extend after successful treatment, for reasons unknown).
Because of the problems surrounding the blood tests, doctors are hesitant to give them willy-nilly; they fear giving more will increase the numbers of false-positive diagnoses. When considering whether or not to stick a needle in your arm, they consider many factors, such as symptoms, history of being exposed to ticks and presence of other illnesses. And as a patient, you have a right to be your own advocate: if you do your research, coming to understand the disease, and determine that you could have been exposed to Lyme, you have every right to suggest that he or she check to see if a nasty little bug called B. burgdorferi is the cause of your malaise.
** Editor's note: The end of the first paragraph originally read "Yet, they are still being used to diagnose new cases of Lyme every year, though according to a 2005 statement by a Centers for Disease Control epidemiologist, these tests are right 90 percent of the time. This is a high rate of correctness, but it still leaves 10 percent of patients, about 2,000 based on the CDC's numbers, wondering if we truly are infected." The CDC statement actually said "more than 90 percent" and so the above lines were changed for accuracy.
About the Author
Discussion