Health
HIV Treatment: A New Plan for Attack
A new drug blocks HIV's entry into cells.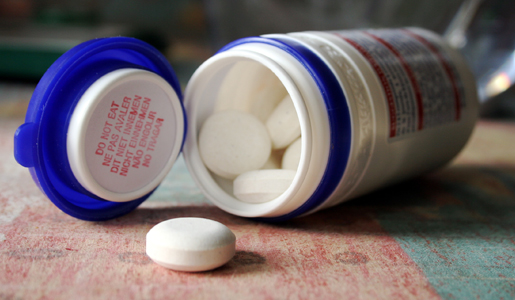 A new drug to treat HIV was approved by the Food and Drug Administration in August. [Credit: Gaston Thauvin]
A promising HIV drug, which received fast-track approval by the Food and Drug Administration in August, takes a novel approach to fighting the virus that causes AIDS. Selzentry, the new drug, has received favorable results in treating people whose bodies are resistant to other treatments for the devastating virus.
The FDA's approval of Selzentry, manufactured by Pfizer, was based on two clinical studies, involving 1,049 patients. The study found that more than two in five patients, resistant to other HIV medications, showed undetectable levels of viral replication after only 24 weeks of a 48-week study.
"The data indicate that Selzentry is acting synergistically with the other medications to suppress HIV replication," said Dr. Barbara Weiser, who is the program director at the Wadsworth Center of the New York Department of Health and a consultant to Pfizer but not involved in the study.
According to the researchers, the key to Selzentry's success is the unique way in which it inhibits HIV. Instead of targeting the virus directly, Selzentry targets a human protein. This protein, called CCR5, is located on the surface of human immune cells and plays a crucial role in regulating the ability of HIV to enter cells. Researchers have been working to develop an HIV drug to block the CCR5 portal for over a decade.
Mark Biscone, a molecular biologist who researched HIV entry at the University of Pennsylvania, said that targeting a human protein instead of an HIV protein may increase the long-term efficacy of HIV treatment. "A human protein does not have the capacity to rapidly mutate as HIV does, so the virus must find a different pathway to infect cells," said Biscone, who was not involved in the drug's development.
While some researchers have raised concerns that blocking a human protein might disrupt other crucial functions in our bodies, Biscone points out that we don't necessarily need CCR5. According to Biscone, approximately 1 percent of Caucasians of European descent completely lack CCR5 receptors but are physiologically normal.
However, researchers say there is one major worry over using Selzentry. HIV can get into human cells via another door: an additional portal on the cell surface called CXCR4. Selzentry is not effective for HIV that uses this CXCR4 portal.
The presence of CXCR4-using viruses is associated with advanced stages of HIV infection, said James Hoxie, who does HIV vaccine studies at the University of Pennsylvania and was not involved in developing Selzentry. Investigators are examining whether blocking CCR5 will force HIV to switch to use CXCR4 or will enable existing CXCR4-using viruses to become dominant.
According to Hoxie, most people think that CXCR4 viruses are likely opportunistic. "They arise after CCR5-using viruses nip away at the immune system for a while and damage it," said Hoxie. A CXCR4-using virus means bad news for patients when it is present, but whether its appearance is the cause or the result of evolving immunodeficiency is still an open question.
According to Biscone, CXCR4-using viruses can be detected in the later stages of AIDS in approximately half of patients. Patients must, therefore, undergo screening for the presence of CXCR4 virus to be eligible for Selzentry.
Developing a drug that inhibits the CXCR4 receptor is currently in the works, but is proving very tricky. Unlike CCR5, CXCR4 is associated with regulating some crucial functions in our bodies, including the release of stem cells from bone marrow. A successful CXCR4 drug must be able to work against HIV, while not affecting the receptor's normal functions.
Both Hoxie and Weiser said that is important to take the preliminary positive data on Selzentry with caution. Weiser said that the drug was only tested in a difficult patient population who had a long history of antiretroviral therapy, evidence of drug resistance, and who no longer responded to conventional agents.
HIV is constantly changing, so doctors need to continue to add more weapons, like Selzentry, to their arsenal. "HIV is really a numbers game," said Hoxie. "The more ways you can slow HIV replication down, the more likely you are to have a beneficial effect for the patient."
Related on Scienceline:
Read about how an HIV drug might also fight malaria.
Learn about an AIDS vaccine trial.
Find out how epidemics spread as human populations move.
About the Author
Discussion