Health
Uneasiness Shadows Newly Approved Drug
A Crohn's disease drug has a troubled past — and scientists may know why.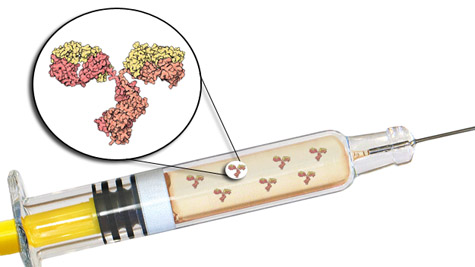 Could the antibodies in Tysabri be causing bad reactions in patients? [Credit: Syringe, Davide Guglielmo. Antibody, David S. Godsell. Compiled by Karina Hamalainen.]
Though a drug once pulled from use has been approved for treating another disease, it is still generating concerns. The drug, called Tysabri, may be unpredictable in the body, according to new research. This could explain its problems in clinical trials.
Tysabri (natalizumab) is a unique way to treat people with certain types of multiple sclerosis (MS), a chronic disease that affects the brain and spinal cord. On Jan. 14, the U.S. Food and Drug Administration approved Tysabri for treatment of Crohn's disease, a chronic inflammation of the digestive tract that causes diarrhea and abdominal pain.
A potential problem lies in what the drug is made of: tiny agents, called IgG4 antibodies, that look and act exactly the same — until entering the body. There, they may mix with our natural agents, according to research published in September 2007 in the journal Science. To prevent mixing, these agents can be stabilized. However, when asked prior to the new approval, Biogen Idec (a company teamed with Elan Corporation) would not directly say that Tysabri has been stabilized.
Rob Aalberse, an author of the Science finding and professor of immunology at the University of Amsterdam, feels that it would be scientifically interesting to determine if mixing is occurring in Tysabri. More urgently, the authors of a review of this research in the same issue of Science wrote that the possibility of harmful effects should be explored immediately in IgG4 products.
Even if Tysabri mixes unpredictably in the body, it is unclear whether this is what caused the drug's problems in clinical trials. Tysabri was taken out of use in February 2005 after three people contracted a rare brain infection called progressive multifocal leukoencephalopathy (PML), and two of them died.
"I don't think the Tysabri issue is related to the [mixing] IgG4 antibody," says Lawrence Steinman, co-discoverer of Tysabri and Stanford University professor of neurology, who was not associated with the Science research. Instead, he thinks that the drug made participants susceptible to opportunistic infections like PML, and his stance has not changed since the FDA's new approval.
Before this approval, a spokesperson for Biogen Idec said that "there's no data that this normal [mixing] property of IgG4 antibodies is related in any way to the efficacy and safety of IgG4 products" like Tysabri.
About 400,000 people in the U.S. have MS, estimates the National Multiple Sclerosis Society. But Tysabri, which was reintroduced in the U.S. in June 2006, is intended only for people who do not respond to or cannot tolerate other treatments. The same is true for the country's approximately 500,000 Crohn's disease patients. Even in these cases, though, some doctors are wary about prescribing the drug.
"Other [MS drugs] have not had this kind of trouble [with PML and death]; therefore, I think it should be approached cautiously," says Richard Pellegrino, a private-practice neurologist who specializes in treating MS in Hot Springs, Ark. Before the approval for Crohn's, he had not prescribed Tysabri for his MS patients and estimated that over half of his colleagues were being careful.
"Most doctors will be on the cautious side," agrees Daniel Present, who was involved in Tysabri's clinical trials for Crohn's disease and is a clinical professor of medicine at Mt. Sinai Medical School in New York City. Even after the FDA's approval, he still believes that doctors will be hesitant.
Before the approval for Crohn's, a spokesperson from the Crohn's & Colitis Foundation of America, which lists Elan Corporation as one of its supporters, wrote in an e-mail that the foundation "takes no official position on specific treatments."
When the National Multiple Sclerosis Society, which lists Biogen Idec as a supporter, was asked before the FDA's approval of Tysabri about what should be done to ensure the safety of the drug based on the new research in Science, a spokesperson commented in an e-mail: "Unfortunately, it is not realistic to … 'ensure safety.'" Instead, "one has to 'maximize' safety."
To maximize safety of Tysabri, only approved pharmacies can dispense the drug, and all users are being monitored for the brain infection PML. As of late December 2007, the companies reported that there were no new confirmed cases of PML in the 21,000 users of Tysabri worldwide. However, even if caught early, PML is devastating, according to Steinman, the co-discoverer of Tysabri.
"You might prevent death, but the outcome is likely to be horrible" in terms of disability, he wrote in an e-mail prior to the FDA's approval. Steinman still believes that "there are safer drugs for Crohn's."
About the Author
Discussion