Health
How Not to Make a Baby Einstein
Are baby videos bad for babies? The answer may depend on how interactive the show is.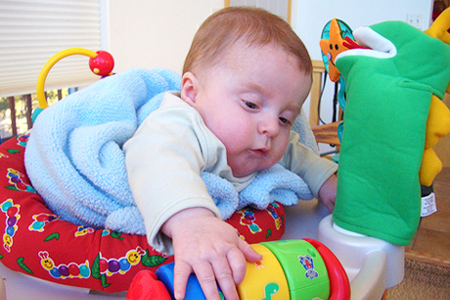 A recent study suggests parents should rethink using videos as an educational tool for their babies. [Credit: Ben Jones]
In the best-selling Baby Einstein Language Nursery DVD, images of colorful toys and bold patterns dance across the screen over a soundtrack of stimulating music and words spoken in seven languages. The video is part of a growing industry aimed at parents who want their babies to excel intellectually from the very start.
But those parents might actually be better off if their kids didn't watch any videos at all. According to a recent study, the more baby videos a young child watched, the slower his or her language developed.
Published in August 2007, the study triggered an ongoing debate between its authors at the University of Washington and The Walt Disney Company, owner of the Baby Einstein brand. Other researchers, meanwhile, are still arguing about how powerful and long-lasting the effects of video-watching are on babies, though there is general agreement that parents are better off interacting with their children than planting them in front of the television.
"Those [parents] who use DVDs as baby sitters are hardly ever successful [in parenting]," said Dr. Victor Strasburger, a professor of pediatrics at the University of New Mexico.
The study, which appeared in The Journal of Pediatrics, was based on telephone interviews of 1,008 parents and a test known as the Communicative Development Inventory, a standard measurement of language development in children 8 to 16 months old.
The parents were asked to report their children's typical amount of video exposure in each of six content media types, such as children's movies, television and baby videos. To measure their babies' language abilities, the parents were also given a list of 80 simple words and asked how many their children could speak.
For babies aged between 8 and 16 months, each hour per day of viewing videos was associated with a test score reduction equivalent to knowing about 10 fewer words on the list of 80, according to Frederick Zimmerman, the lead author and an associate professor of health services at the University of Washington Child Health Institute.
The study independently supported the American Academy of Pediatrics' recommendation of no television for children under age 2. Strasburger, who was a consultant to the academy, acknowledged that the group had little hard evidence when publicizing its recommendation in 1999. As a result, he added, it was widely ignored.
"Now, thanks to the Zimmerman study, there is finally some strong data that supports the recommendation," Strasburger said.
Disney was not alone in questioning the quality of the study. Other researchers in the field argued that interviewing parents on the phone would not produce scientifically credible results. It would have been far more convincing for scientists to actually observe the babies, instead of relying merely on parents' memories, according to Deborah Linebarger, an expert on children's media at the University of Pennsylvania.
Linebarger, however, thought the academy's recommendation was too conservative. "There are better ways to proceed," she said. "Instead of telling parents to avoid the media, wouldn't it be great if we could teach them to use it as a tool?"
In their own studies, Linebarger and her colleagues have followed babies from 6 to 30 months of age, meeting with them and their families every three months, to study the effect of various types of children's television programs on early language development. They found that certain educational programs, such as "Arthur and Friends" and "Dora the Explorer," seemed to spur vocabulary expansion, while others, including "Sesame Street," had the opposite effect.
"The programs that showed positive influences generally involved high levels of audience participation," said Linebarger. But that makes the findings for "Sesame Street" puzzling because it is also highly interactive, she said, adding that her research team is still looking for an explanation.
Meanwhile, the University of Washington group is seeking to improve its study by looking to see if infants who watched videos will continue to have language deficits throughout childhood. "We'll also be looking at the risk of attentional problems and the contribution of television to obesity," said Zimmerman.
As researchers wait for data from the next round of studies, Baby Einstein's Web site continues to portray the DVDs as a fun way for parents and infants to interact as they watch them together. In reality, however, parents are more likely to be out of the room and to use the videos as babysitters, according to the University of Wisconsin's Joanne Cantor, an expert on the effects of mass media on children.
"At the end of the day," Cantor said, "if you can hold your baby on your lap and read her a story, why leave her on a couch watching videos?"
Related on Scienceline:
Do violent video games make children violent?
How children develop language skills: one scientist's perspective.
How children develop language skills: a book review.
About the Author
Discussion