Health
Music and Medicine
How one woman brought two worlds together.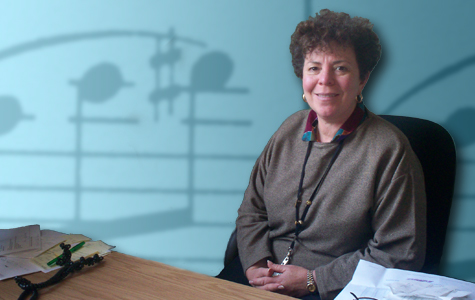 Connie Tomaino, music therapist. [Photos: Eric R. Olson, Hannah Boettcher. Compiled by Eric R. Olson]
In 1981, a young music therapist named Connie Tomaino encounters an older hospitalized man, who hasn't been able to speak for the past five years due to multiple severe strokes. She tries one of her standard methods of treatment — playing familiar songs on her accordion to see if she can get some kind of vocal response — but nothing seems to work.One day, after several unfruitful sessions, she stumbles across a particular tune that provokes a guttural noise from the patient. In the meetings that follow he starts to makes progress. At first he can only sing individual words, then eventually entire sections of the song. Over time he regains the ability to talk and is able to carry on normal conversations for the rest of his life.
It turns out that the song that triggered the patient's response, and led to his eventual recovery, is the same song that he used to sing to his children at bedtime.
"Fifty percent of stroke patients that can't talk, can sing," says Tomaino. "We have a neurological memory of things, and in this patient it became a gateway to restoring his function."
Tomaino, now 53, is the director of the Institute for Music and Neurologic Function in the Bronx. She has turned those powerful experiences treating patients with music into a career trying to validate music therapy in the eyes of the larger medical community.
She describes the role of the institute she helped found as the "the bridge between the neuroscience community and clinical music therapy." And in many ways this mirrors the career she has chosen, one that allows her to bridge two quite distinct interests: music and medicine.
Tomaino calls music "brain aerobics" and compares it to the brain stimulating games for older adults that have gained popularity on game consoles like the Nintendo Wii. She says that playing a piece of music uses many parts of a musician's brain at once: He is reading the notes, moving the instrument with his body and thinking about the notes that come next —often five to 10 measures ahead.
"There's a lot of mindwork going into being a performer," she adds. "Fundamentally, it is keeping brain circuits alive and activated so that they either re-engage the cells, or other [neural] networks, or actually encourage new networks to be formed." The institute's music therapists try to apply this same principle to patients by having them listen to and perform music, improving their brain function in the process.
According to Tomaino, little money was available for research into music therapy's scientific basis before large universities became interested in the neurology of music in the late 1990s. She says that the idea for the institute started as "a spark, a dream, a wish, a hope," with the goal of funding such scientific research.
It wasn't until 1993, when Tomaino started applying for funding, that the hope became a reality. The institute was formally established in 1995, and she became the director in 2000.
As funding for research has taken off, the institute's focus has shifted. It now looks for the best ways to treat physical brain problems, like stroke, Alzheimer's and accidental trauma, using the existing body of knowledge about how the brain responds to music.
In addition, the institute seeks to connect neuroscientists with the practical information gathered by its music therapists who visit "thousands of patients a day" in the Bronx, Brooklyn and in White Plains, a suburb of New York City.
"She has worked tirelessly and creatively to bring music therapy to greater public and professional awareness … and to raise the level of fundamental research into music therapy," says famed researcher and author Oliver Sacks in an e-mail statement. Sacks is a former colleague of Tomaino's and remains a scientific adviser to the institute.
With a career that spans the fields of music and medicine, it is no wonder that Tomaino was not always clear about her career path. "I had this dilemma my junior year of college," says Tomaino of her experience at the State University of New York at Stony Brook in the early '70s. "I was planning to go into medicine, but I wanted to learn to play music." Her instrument of choice is the trumpet.
One day she stumbled upon an article about music therapy in Seventeen magazine and saw a way to combine her two passions. In 1976 she enrolled in the newly created master's degree program for music therapy at New York University.
"People were telling me there's no future in music therapy," says Tomaino. While earning her degree, she played in jazz and salsa bands around Greenwich Village, thinking that her newfound career in therapy would end up as a part-time job.
She was also involved in on-campus musical productions. "I played tons of stuff at NYU. I played for musical theater, and I was always in the pit back in the '70s for every show they did," she says.
Tomaino completed her degree in 1979 and went on to work for Beth Abraham Family Health Services, a health care provider that serves the greater New York area. It was here, as the only the music therapist on staff, that Tomaino's powerful experiences treating people with music deepened her interest in the science behind it.
Despite the fact that Tomaino's music therapy job has become something more than part time, she still finds time to perform the trumpet in her hometown of the Bronx. She plays at Lehman College, a branch of the City University of New York, and at churches for weddings and holiday services.
Perhaps it is not surprising that a woman so immersed in the world of sound should look for a little peace and quiet at home. Although Tomaino works in the Bronx, she lives in Garrison, a small community on the Hudson River about 50 miles north of Manhattan.
She says, "I live in the woods on purpose, because, it's like, nature sounds, for when I really want to think."
About the Author
Discussion