Life Science
The Father of DNA Barcoding
One man is revolutionizing how every species on the planet is identified.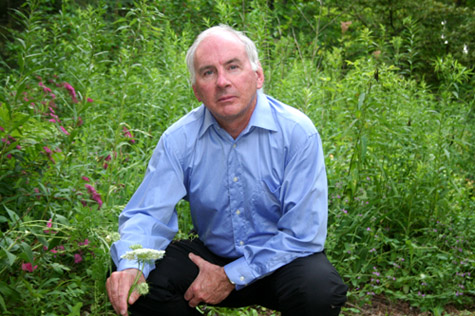 Paul Hebert's love of biodiversity has shaped his life's work. [Credit: Paul Hebert]
Most people can easily disregard a moth fluttering into a porch light. For Paul Hebert, putting aside his passion for these creatures is a calculated casualty as he chases bigger things.
Hebert is a molecular biologist and director of the new Biodiversity Institute of Ontario at the University of Guelph in Canada. He is best known for his discovery and proliferation of DNA barcoding, which uses a specific section of genetic code to identify any species. His original paper in 2003 proposed this large-scale method to distinguish between species using the same small piece of DNA for every organism.
Less than five years later, more than 160 organizations from over 50 countries are pouring financial and intellectual resources into this burgeoning field.
Hebert's love of biodiversity was fraught with commotion from the beginning. As a boy growing up in Canada, he was an avid insect collector. One of his earliest memories is scurrying after a bee with a glass jar. He was ecstatic over his find and rushed home to show his mother. As he ran toward the house he tripped and the bottle smashed into his hand. "It didn't turn me off to bugs though," he recalls, "cause I lived."
That love of bugs, and all things living, has kept Hebert scrambling across the globe for more than three decades. He received his Ph.D. from Cambridge University, where his living room was overrun with specimens of moths he collected in his spare time.
After Cambridge, he took a fellowship at the University of Sydney. The tropics of Australia and Papua New Guinea opened Hebert's eyes to the conundrum of biodiversity. "There were too many species in a tropical ecosystem," he says. "Ninety-five percent of what I saw in Australia, I saw and could not identify." This experience would propel him to find an easier way to catalogue all the species on the planet.
To deal with tropical biodiversity, Hebert did what seemed logical. He returned to Canada to throw himself into the more manageable biodiversity of the Canadian arctic for the next 20 years. But his work continued to take him across the globe and back to Australia.
Kevin Kerr, a Ph.D. candidate at the University of Guelph, met Hebert in 2003 during a field course Down Under. That year, only a few students collected soft corals for gene sequencing.
By the following year, Hebert had almost everyone on the trip collecting organisms for sequencing. "If a bird had been hit by a car they'd slam on the brakes to bring it back to Guelph" for barcoding, Kerr says.
The efficiency of this system has breathed new life into taxonomy, according to Laurence Packer, an entomologist at York University in Canada. Hebert has critics, but the growing data that barcoding works is winning minds. He also has allies around the world. "There is a coalition of individuals," he says, "and that's fun." The coalition involves governments, museums and universities that are focusing on everything from barcoding every bird to improving tracking of invasive species.
Hebert is coordinating these efforts at the Biodiversity Institute of Ontario, which he calls "the world's first barcode factory." The goal is to barcode every organism on the planet. This will be an international hub for sequencing organisms as well as the home of the barcode library. He is now a jet setter, touching down anywhere and everywhere to raise the $150 million to propel the Institution toward full operation.
In five years, Hebert expects to have a half a million species in the Institute's database, and a nearly complete library by 2015. By 2030, he is hoping there will be a hand-held barcoder that any student could take into the field, put a piece of leaf or insect on, and instantly know what he or she is looking at.
For the first time ever, the moth light outside his home has been dark this year. His passion for understanding and maintaining biodiversity has forced him to temporarily ignore it in his own backyard. But with specimens being sent in to the Institute from all over the world, he is happy to embrace the chaos he has created. "My wildest dreams have a chance of coming true," says Hebert, "and it's a little startling."
About the Author
Discussion