Life Science
Note to Science: Philosophy is Your Friend
Philosopher Robert Delfino offers science an alternative approach to evaluating evidence.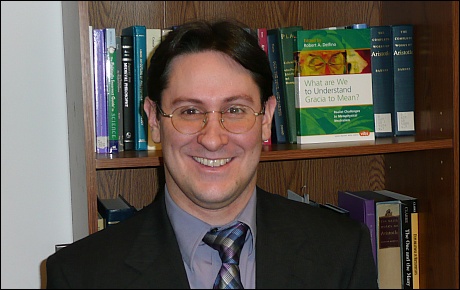 Every 72 seconds, someone develops Alzheimer's disease. And if you are a baby-boomer, there is a one in eight chance that someday this person will be you.
British scientists recently suggested that controlling cholesterol levels in the brain may be critical to hampering the development of Alzheimer's. They gained this insight by considering not just the role of viruses and bacteria, but also the once-heretical concept of prions. These infectious agents, which also underlie mad cow disease, are made solely of misfolded proteins. Even more surprisingly, they reproduce without the nucleic acid genome found in viruses and bacteria. In the case of prions, new evidence led scientists to reconsider their understanding of what constitutes an infection.
As the scope of science continues to expand, it sometimes enters the territories of other disciplines. This mingling can blur the once black-and-white distinction between the natural and that which presently defies scientific categorization. It also can hinder science's dialogue with these fields and even the advance of scientific knowledge itself.
With its emphasis on evidence and focus on truth, philosophy provides several paths for science to follow. Robert Delfino proposes that the evidence — not a preconceived understanding of nature — should guide science's attempt to understand and categorize experimental results.
"Our ideas must conform to the world," says Delfino, a professor of philosophy at St. John's University's Staten Island campus in New York City. "We cannot say that the world must conform to our ideas."
Many scientists maintain that super- or non-natural explanations are not allowed in science. "An explanation of the mind, like that of the brain, must ultimately be an explanation in terms of the way that neurons function," says physicist Sir John Maddox, who served as editor of Nature for 23 years. "After all, there is nothing else on which to rest an explanation." Scientists like Maddox, for example, are unwilling to consider as a scientific possibility that the human mind is non-physical.
This understanding of what is "natural" has provided a lens for interpreting experimental results. Known as methodological naturalism, it plays a dominant role in modern science.
"It's doing what science does," says Vic Stenger, a Colorado physicist and author of the New York Times bestseller "God: The Failed Hypothesis."
Unfortunately, different perspectives of what is or is not "natural" can muddle rather than clarify this term's implications.
The National Academy of Sciences states that science focuses on the natural world, but various researchers and philosophers of science define "natural" in distinctly different ways. Without an established understanding, it is not clear by the Academy's definition of science what territory is or is not fair game for science.
Stenger notes this inconsistency: "Science only deals with the natural by definition. But by whose definition?"
Motivated by a philosopher's commitment to evidence and search for the truth, Delfino is attempting to replace methodological naturalism with a different guiding principle that he says will make science more rational and objective.
He believes scientists like Nature's Maddox limit science unnecessarily. According to Delfino, a scientist assuming that everything can be explained through natural causes is like a reviewer "coming to a book with an ax to grind." Just as evidence encouraged scientists to consider prions as a category distinct from viruses and bacteria, Delfino notes that the right evidence could reveal that the mind belongs in a category separate from matter and energy.
Future investigation will determine the fate of Maddox's position, and very well may confirm his view that the mind can be explained in established terms of matter and energy. On the other hand, new information might make us realize that our metaphysical categories are too limited.
The inability of scientists to entertain other explanations, including non-natural ones, can impede scientific progress, says Delfino. To maintain this neutral approach, he believes science must abandon methodological naturalism.
Delfino is challenging how science interprets the gathered data, not the general process of obtaining this information. Instead of being constricted by methodological naturalism, he says scientists should classify their data differently given sufficient evidence. Like Socrates who believed in following the fact track wherever it leads, Delfino says, "We must also be open to changing the way we conceive of things based on new evidence." He says the transition from Newton's physics to Einstein's relativity demonstrates that scientific theories are always tentative and subject to future revision.
Andrew Ellington, a biochemist at the University of Texas at Austin, agrees with this approach. "I have no problem challenging Darwin any day of the week if it is where the evidence leads," he says.
Some advocates for supernatural positions that imply a higher power, such as Young Earth Creationists, may push a religious agenda and be justifiably tagged as unscientific. But Delfino is not saying the supernatural is something scientists can measure directly like an electric current. Nor is Delfino inserting supernatural explanations or personal beliefs into scientific gaps only to be squeezed out by future scientific developments. He does not even insist that there is a God.
Instead, Delfino challenges researchers to not vote non-natural explanations off the island of science without sufficient reason. Science cannot prematurely rule out that there could be some unorthodox explanation why, for example, the universe seems fine-tuned for life.
Massimo Pigliucci, a professor of ecology and evolution at Stony Brook University, and an atheist, concedes this point: "Should we conclusively determine that the probability of existence of our universe is infinitesimally small, and should we fail to explain why physical constants have assumed the quantities that we observe, the possibility of a designed universe would have to be seriously considered."
Other philosophers have recognized pitfalls in methodological naturalism. But not all believe that limitations entail rejection.
Ten years ago, Alvin Plantinga wrote an article entitled "Methodological Naturalism?" that helped jump-start this discussion. He sees Delfino's arguments as a mixed bag. Plantinga, a philosophy professor at the University of Notre Dame, agrees with Delfino that methodological naturalism kicks purpose in nature to the curb and plucks the eyes that could see divine design. But he does not believe that methodological naturalism violates science's guiding principles.
Plantinga is confident that scientists working under the guidelines of methodological naturalism can still come up with the truth. "It doesn't mean science is not useful, even if it is constrained," Plantinga contends. "It helps to know what it looks like from a certain perspective."
For example, Plantinga proposes that religious beliefs provide part of the background information with which the general public evaluates scientific statements. Countering those who would label this approach as biased, Plantinga responds that "If I want to find out something, the smart thing to do would employ all of what I know, not part of what I know."
Delfino says that Plantinga's approach is mistaken because it mixes religion and science. It is acceptable for theologians to incorporate the findings of science into theology, he says. But scientists cannot use revelation in science. "To add Christian revelation into science," says Delfino, "would turn science into a type of religious theology."
Instead, he recommends the position of initial neutrality as the only rationally defensible view. Delfino says that the evidence — not a prior commitment to naturalism or Christianity — should lead scientists to their conclusions and, if necessary, the positing of new metaphysical categories. Last year, he presented a paper, "Replacing Methodological Naturalism," which covers these arguments in much greater detail.
Delfino is not the only one to recognize the advantages that philosophy can offer to science. In a personal conversation with Delfino during a visit to St. John's, University of Cambridge evolutionary paleobiologist Simon Conway Morris agreed that the lack of philosophical training among scientists is a hindrance to genuine dialogue about topics like evolution and God.
Delfino said that Conway Morris also told him that a separation between philosophers and scientists exists in the United Kingdom just as it does in the United States.
Colorado physicist Stenger recognizes that "not all scientists have thought about the problem" of this rift.
Looking forward, Delfino believes that philosophy — particularly logic, metaphysics, and the philosophy of science — can play a role in the growth of the scientific endeavor. "I do think that there will come a time when scientists will have to study philosophy more and come to appreciate the philosophical foundation of the whole enterprise," he says. This would allow for a healthier dialogue between science and religion. As Delfino says, "Some of the battles about science and religion are actually disagreements about philosophical positions."
About the Author
Discussion