Life Science
The Trust Hormone
Oxytocin may make you more trusting, but is that a good thing?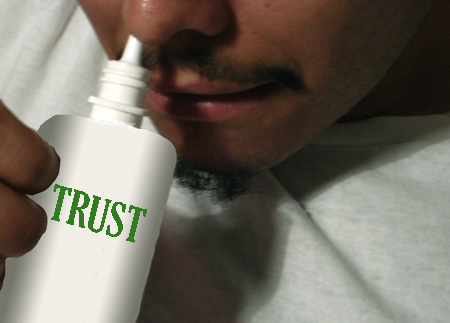 A hormone that manipulates trust. [Credit: Molika Ashford]
Between emails from Nigeria promising millions of dollars in exchange for your bank account number and advertisements proclaiming the deal of a lifetime, someone is always after your money. While no one is immune from the occasional bad investment, most of us pride ourselves on being too smart to be duped out of our hard-earned cash.
Recently though, researchers have discovered that the naturally occurring hormone oxytocin might make us more trusting with our money—even after someone betrays us. A Swiss study detailed in the May issue of the journal Neuron showed that volunteers who were given the hormone oxytocin through a nasal spray were more trusting than those given a placebo.
Using functional magnetic resonance imaging, a scanning technology that measures neural activity, the researchers found that the amygdala, the brain's fear center, was less active in the group that received oxytocin.
Reducing amygdala activity lowers social fear and anxiety, says Markus Heinrichs, author of the study and psychology professor at the University of Zurich. Eventually, he thinks oxytocin could be used to treat disorders characterized by an overactive amygdala, like social phobia.
However, the prospect of inducing trust with a hormone—particularly if administered without consent—raises a few eyebrows. Ethicists worry about the potential for misuse, and one company is already marketing a "trust perfume" made with oxytocin.
"If it turns out that oxytocin makes someone more pliable and receptive, one can think of nefarious uses," says Paul Root Wolpe, a neuroethicist at the University of Pennsylvania. For instance, he says it would be inappropriate to use oxytocin on prisoners or criminal suspects to elicit a confession because it is unethical to give drugs without consent, not to mention a violation of the Geneva Conventions.
Other researchers assert that oxytocin research is much more likely to lead to useful therapies than abuses, and they say the Neuron study was an important step. They think oxytocin could be used as a treatment for disorders such as social phobia and even autism. Those disorders are characterized by fear, so some think oxytocin could help make people more trusting and less fearful in social situations.
"People are very excited about oxytocin's use," says Adam Guastella, a senior clinical research fellow at the Brain and Mind Research Institute at the University of Sydney, Australia, who is not connected with the study. "There are many potential applications."
***
Oxytocin is a mammalian hormone produced in the hypothalamus, an almond-sized area at the base of the brain. The hormone is released by the adjacent pituitary gland, particularly during labor and breastfeeding. It has also been associated with sexual arousal, giving it the nickname the "love hormone." But oxytocin's function extends well beyond love, and recent studies have examined its role in trust and social interactions.
About the Author
Discussion