Environment
A Garden in the Bronx
How a small urban farm is helping one community eat well without leaving the neighborhood.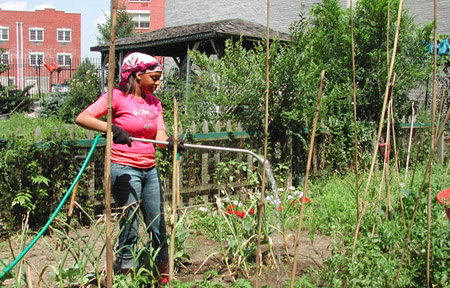 Watering a garden plot. [Photo courtesy of CENYC]
Though the majority of crops have not sprouted yet, Lara and Jemmy Hernandez, a 16-year-old who is also in the program, are raking what will be the vegetable patch. They mix fresh piles of compost into the soil to add nutrients for the garlic, tomatoes and eggplant that they will plant during the early summer months. Outside the vegetable patch, two other students are tending to the compost. One boy is trimming an overzealous tree that has wrapped itself around a striking archway made of tree branches.
Hernandez says her weekly tasks include cleaning the garden, adding compost into the soil and planting garlic bulbs. "It is hard work, but it's fun," she says.
Taking part in the program has also given students opportunities for creative expression and has enhanced their communication skills. Lara gets excited when he talks about his illustrations for a student-generated calendar, starring hand-drawn fruits and vegetables each month with information about their nutritional value. Lara enjoyed giving presentations with his peers for Parents' Day at school about the benefits of healthy eating. Saphire and Librizzi have also taken the kids to local farmers markets and to food conferences, including one held at Columbia University in April, 2008.
Even though urban farming is valuable for building a sense of community in New York City's neighborhoods, space for these farms is often quite limited. Residential and commercial real estate is a major industry in New York City, and it is difficult to find room to build these gardens when every square inch of land has a price tag.
Even when a space becomes available for a community garden, maintaining it is often the most difficult and burdensome task. Though gardening is a popular hobby for many, Librizzi says that when it comes to these community efforts, it is easier to get people excited over building a garden than getting them to continue with the day-to-day work. This can often be tedious and unglamorous.
Librizzi points to the rubbish surrounding the garden. Keeping a large enough community interest in the garden isn't the only problem. Neighbors of the space can wreak havoc on it as well. Librizzi says many residents who live in the two high-rise buildings that face the JDD throw their trash from their windows directly onto the soil. Coming back after only one week away, garden volunteers filled three bags of trash just from garbage tossed out windows. At first, Saphire and Librizzi decided not to grow vegetables close to the sides of the buildings because they knew hurled trash might destroy newly seeded beds and fresh produce. This foresight has been the best solution to the problem.
Despite the setbacks that a community garden faces, the JDD has come a long way since it was just an abandoned lot. When first evaluating the space, Librizzi described walking through weeds that were up to his knees. Two years later, the garden has become an asset to the community.
In fact, the program has been funded and will soon expand to schools and community plots in other neighborhoods, such as East Harlem and Central Brooklyn. The hope: More gardens will build healthier communities.
Related on Scienceline:
A new program that rewards recycling is growing
Foraging for veggies in the city's parks

[VIDEO]
Organic flowers
: That traditional bouquet might not be as romantic as you think
About the Author
Discussion