Health
Cheap Cures for Obscure Diseases
In Latin America, little-known infections are as harmful as malaria or HIV, but their treatment is cheap.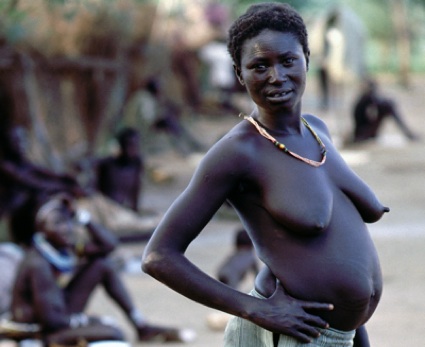 A Sudanese woman suffers from intestinal parasites. These and other fatal endemic diseases
can be cheaply cured, researchers say. [Credit: daveblume, flickr.com].
In Haiti a disease that can grossly swell limbs and testicles plagues more than a quarter of the population, debilitating some of them for life. Voodoo doctors blame hexes and supernatural punishments for the condition but biologist Tom Streit blames the lack of basic sanitation.
"If I could wave my wand and give everyone a toilet we would solve the problem," said Streit of the University of Notre Dame.  "The mosquito that spreads (elephantiasis) breeds in raw sewage."
In the absence of a wand, Streit distributes table salt laced with the drug diethylcarbamazine. It disrupts transmission of the mosquito-born filarial worms that invade the lymph vessels and cause swelling. The concoction is a cheap solution to a devastating problem that is all but unknown in the developed world.
Elephantiasis is one of about a dozen so-called neglected tropical diseases, or NTDs, that ravage countries on the doorstep of the United States and southward that can be treated on the cheap. These diseases afflict mostly poor, isolated communities and fester anonymously, overshadowed by better-known scourges like HIV, malaria and tuberculosis. They can scar, cripple and even  kill those they afflict. For example, Onchocerciasis, called river blindness, causes disfiguring lesions and eventually blinds its victims; intestinal parasites stunt growth and can trigger fatal anemia; Chagas disease can cause fatal brain swelling in infants and permanent intestinal or heart damage in adults.
Collectively, the burden of these diseases in Latin America is at least as great as that of HIV, malaria or tuberculosis, according to a report published in the journal by the Public Libraries of Science, or PLoS.  The study tallies both deaths and years of productivity lost to sickness, emphasizing the role these diseases play in exacerbating poverty; hours spent in bed are not spent in school or at work. While global health authorities focus on the more well-known infections, the study highlights the ease with which most of these neglected diseases could be treated.             
Elephantiasis, river blindness, and snail fever are on the shortlist of parasitic diseases that could be wiped out of the western hemisphere by 2012. That is according to Steven Ault, a parasitic disease expert at the Pan-American Health Organization and co-author of the PLoS report. "The tools exist and we believe these three diseases can be eliminated in our region with the right effort, funding and commitments in place," he said.
In the coming weeks the Inter-American Development Bank (IDB), should have a figure for the cost of a full regimen of treatments to combat neglected diseases in Latin America.  It may approach $200 million, according to Kari Stoever, a tropical disease control expert who works at the Sabin Vaccine Institute in coordination with the IDB's health sector.
"It's relatively low considering the number of people they affect," she said.
The Sabin institute has a hookworm vaccine in trial, Stoever said. In the meantime, de-worming pills are a cheap fix, costing only 50 cents per person per year. Intestinal worms are not usually lethal, but they debilitate their victims, exacting an economic toll. In her work in Brazil and Africa, Stoever has seen their impact.  These diseases keep kids home from school and parents out of work.
De-worming pills and  other treatments already available for NTDs, such as Merck's ivermectin for river blindness, praziquantel for snail fever, or schistosomiasis, and diethylcarbamazine-laced salt for elephantiasis, are very cost-effective, Stoever said, and one of the "best buys in public health."
The more expensive HIV and malaria treatments should not be forsaken, she said, but the programs are complementary: where intestinal parasites thrive, for example, worm pills can be administered to malaria and HIV patients as part of their drug regimen, alleviating the worm problem while they cope with the more intractable infections.
Considering the low cost and the high benefit, Stoever believes the case for broadening the focus of treatment strategies is settled. "If you do a comparison between diseases and how complicated they are to treat, this is about as straightforward as you get," she said.
Related on Scienceline:
Urbanization and climate change expand the disease's comfort zone.
A vaccine ready for its final trial phase may protect African infants and children.
About the Author
Discussion