Health
Healing the Body Naturally
A Manhattan naturopath provides holistic care and discovers personal meaning through natural medicine.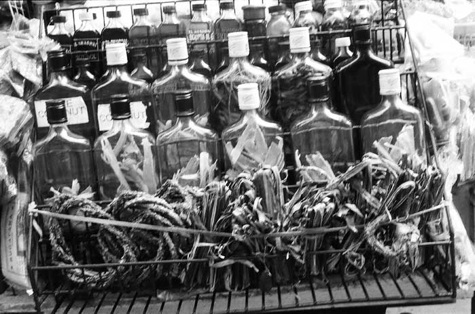 Jared Hanson believes in naturopathy, or treating many ailments of the body with acupuncture,
homeopathy and medicinal herbs like these. [Credit: click-the-shutter, flickr.com].

Jared Hanson knows how lucky he was to have overslept that fall morning. Two snooze alarms late, he rushed to spend another day changing light bulbs and filing papers at his office job in New York City. As he approached the World Trade Center, the building exploded, raining dust and debris. Hanson sprinted away so fast the sole of his shoe broke in half. "I could've died filing stockbroker's stock correspondences," he says. "I knew I needed to find something meaningful."
Hanson, who is now 32, was working as a temp doing odd jobs around the city. He found the work monotonous, something to pay the rent while he searched for a fulfilling profession. He was an interdisciplinary studies graduate of Long Island University's Global College, where students travel to different campuses around the globe each semester. Although he was fascinated by the world around him, none of the jobs he had held since graduation excited him, and he had yet to decide on a career.
The fall of the towers pushed Hanson to find his life's purpose. Hanson yearned for a career that would improve the lives of others and also remembered his childhood fascination with his grandmother's herbal remedies, which seemed to him more beneficial than conventional treatments. From a young age, Hanson was skeptical about the health risks that can accompany Western medicine. "As a child, when I'd take medicine for asthma or hay fever or anything else, I always felt that it didn't work very well and had associated side effects," says Hanson, whose calm demeanor contrasts sharply with the noise and clamor outside his Manhattan office.
Hanson's interest in alternative treatments led him to naturopathic medicine, a field that focuses on enhancing the body's ability to heal itself. "If you look at medicine today, most drugs actually interfere with your body's own chemistry," he says. "Naturopathic medicine has a totally different viewpoint, which is to support your body's chemistry."
With a career goal in mind, Hanson headed to accredited programs in acupuncture and naturopathic medicine at the University of Bridgeport in Connecticut. There he learned the basics of the herbal medicine, acupuncture and homeopathy now central to his practice.
Hanson's high test scores allowed him to pursue an array of career options, says his wife, Seema Srivastava, an adjunct art history professor at New York University, so his choice to go into naturopathy is "a real testament to his genuine beliefs in its possibilities," she says.
Hanson remains dedicated to the benefits of naturopathy, which includes practices like acupuncture, homeopathy and herbal medicine. It's a growing field, with 3,000 licensed naturopathic doctors in the U.S. today, three times the number practicing 10 years ago, according to the Association of Accredited Naturopathic Medical Colleges. Naturopathic doctors and traditionally trained physicians, known as allopathic doctors, are licensed by separate organizations – one by the American Association of Naturopathic Physicians and the other by the American Medical Association.
Although many traditionally trained physicians question whether there is hard evidence to back up naturopathy's purported benefits, Hanson and his patients are true believers. In fact, he is so dedicated to natural medicine that he treats himself only naturopathically, provided he doesn't need emergency care. Instead of taking the standard antibiotic treatment for strep throat, for example, he battled the condition with homeopathy that healed him overnight. "[Western] medicine often doesn't have the answers we need," he says. "A lot of times doctors don't know why a certain medication or procedure helps, but they do it because sometimes it works."
Doctors removed Hanson's sister's spleen, for example, to temporarily relieve an autoimmune condition. But "having a spleen is not a health problem," says Hanson. "Often, [doctors] take out the body part that senses pain" without eliminating the discomfort's true cause, says Hanson, adding that he is not staunchly against all conventional medicine, especially in emergency situations.
For many with chronic illness, he's a "practitioner of last resort, Hanson says. Naturopathic medicine often is an option only explored when conventional treatment fails. Hanson's patients say his dedication to them sets him apart from other doctors they have visited. He calls himself "a practitioner of last resort" for many with chronic illness, an option only explored when conventional medicine fails. "Quite often [my patients] have been through a lot of medical doctors and have been told there's nothing else to do," he says.
Once patients begin the homeopathic, herbal and other treatments Hanson prescribes, it is not only the improvements in health but also the doctor-patient relationship that keeps them coming back.
Sheila Anozier, a 40-year-old dancer from Brooklyn, visited Hanson after two surgeries failed to alleviate pain and bleeding caused by recurring fibroid tumors. Hanson's willingness to truly listen was what struck her most. "There is a deep understanding that you're an individual," she says. "I appreciate that someone is working with me, not against me."
A holistic approach is important, Hanson says, because identical symptoms in two individuals may have two completely different causes. "There's never going to be enough scientific studies to give you the information you need for an individual case [in conventional medicine]," he says. Naturopathic medicine allows doctors "to look at [a patient's] very specific symptoms, such as the degree and type of pain, and their constitution," he says. "That's when you get a better idea of when something is going to heal itself."
Although Hanson loves the medicine behind his practice, he cherishes most the impact he has on his patients' lives. "If you get the right treatment for the right person," he says, "something you thought was impossible actually is possible."
Related on Scienceline:
How one therapist is uniting music and medicine.
Does titanium jewelry really promote healing?
About the Author
Discussion