Health
Band-Aids and Fishnets
An EMT goes from ambulance runs to the derby track.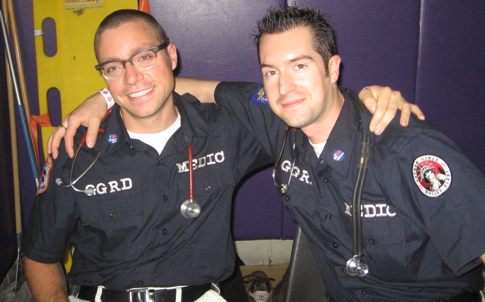 EMTs Andy Provost (right) and John Pearson tend to the wounds of New York's roller derby league, the
Gotham Girls [Credit: Genevra Pittman].
Beatrix Slaughter is covered in blood. Luckily for medic Andy Provost, it's fake. But her broken collarbone, protected by a black and white checkered sling that matches her Halloween costume, is real. Her injury is one of the surprisingly few that Provost has seen working for the Gotham Girls Roller Derby league.
Slaughter, a member of the Bronx Gridlock, is dressed up to watch her team take on the Queens of Pain in the league's championship bout just before Halloween this past fall. As tonight's skaters whiz around the track during warm-ups, clad in helmets, wrist guards, and elbow and knee pads, they give a warning of what's to come: bodies crashing to the track, flying into the padded walls and veering into collisions with front-row spectators. "And they all pop right back up," Provost says.
It's Provost's third year on the job, and he's spent his tenure working alongside John Pearson, the other medic at tonight's event. They met when paired on an EMT team in East New York, and Pearson stumbled upon positions at the roller derby for both of them when he attended a bout. The two wear matching medic uniforms — only these have their league nicknames, Andy Biotic and Ace Bondage, printed on the back. Provost, 30, is built solidly and has an all-American look. He's put on a few pounds over the years, and the outfit's pants are a little snug. "It might be time for new uniforms next year," he says.
If there is a conventional path to becoming a roller derby medic, Provost didn't take it. Growing up in Malden, Massachusetts, he thought he was going to be a teacher, and then worked a desk job at a bank. But after starting work as an EMT around Boston, he moved to New York and eventually followed in the footsteps of family members as a firefighter. He still works a firefighting job in Brooklyn now, but spends about ten evenings a season at the derby track, where bouts have been happening once every few weeks since April.
Provost doesn't complain that his extra source of income involves "girls beating each other up for a while." And his wife gave her approval for him to bandage fishnet-clad girls — after she attended a couple of bouts. "At first I think it was really to see what I was doing," he says.
While their job descriptions aren't exactly traditional, Provost and Pearson always have to be ready for action. "We try to keep it light when we're not working," Provost says. But, "if we get up and deal with someone we turn it on." Between the two of them, they've seen concussions, torn ligaments and a whole lot of bruises, in addition to Slaughter's broken collarbone. EMT duties also call them into the stands, where a Gotham Girls fan once suffered a heart attack. But for Provost, the sport seems less dangerous than its reputation. "I expected more injuries than we had," he says of his first day at the track. "I expected more feet flying every which way."
"As far as [EMT] work goes it's pretty boring," Pearson says. The chances of Pearson and Provost treating a seriously injured Gotham Girl during a bout, he explains, is a lot less than someone calling for an ambulance during one of their EMT shifts.
The sport itself is anything but boring. As two "jammers" race around the track, blockers use almost any means possible to keep the jammers from breaking through their defense. On each lap, at least one body usually ends up strewn on the track or in the stands.
Tonight's bout gets underway, and Provost and Pearson enjoy the action from their front-row spot. Late in the first half, Beyonsláy, Bronx's top blocker and last year's league MVP, takes a seat on the sideline and Pearson jumps up with the medic kit. A few minutes later she's back on the track after a break from the match's intensity. "She's just a little warm," Provost reports. When her teammate Ginger Snap goes down hard, Provost delivers an ice pack, then dodges skaters on the track while returning to the medic station. The bout ends in a Queens championship, and the medics declare the lack of real injuries a victory.
"Broken bones are very rare," Slaughter says. "It's pretty common for everyone to have had something pretty serious [when the skater would see a doctor later], but not to the point where they'd stop play." Slaughter's collarbone injury involved a hit by the Queens co-captain in August. "I got hit as a jammer by Cheapskate. It broke before I hit the ground," she said. The medics on duty helped her with a sling and ice before her dad gave her a ride to the hospital.
Tonight the medics are called upon most frequently to hand out Band-Aids, some to banged-up skaters and others for costume touch-ups, including one to a Gotham Girls employee with a fake syringe protruding from her chest. Yet despite the quirks of the job, Provost knows why he's here. "As much of jokers as we are, when it comes time to work we do the right thing," he says.
Related on Scienceline:
Could stem cells be used to treat professional athletes' injuries?
What does watching sports do to your heart rate?
About the Author
Discussion