Environment
Disappearing Fish
Experts say that global warming will have a major impact on poor nations' fisheries.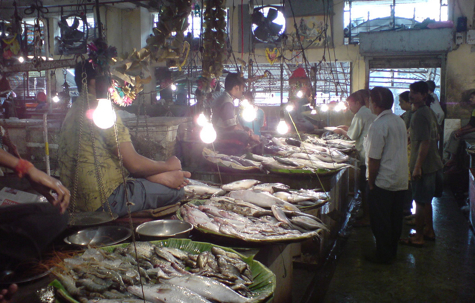 New research says that global warming will cause fish to migrate away from the equator, towards cooler
waters. This will affect fishermen who sell their catches in markets like this one in Calcutta, India [Credit:
Prasenjeet Dutta, flickr.com].
Poor countries that depend on saltwater fish for dietary protein and income will be hit hardest as warming temperatures damage coral reefs and drive fish away from the tropics, according to a new report by the WorldFish Center in Penang, Malaysia. Freshwater fishermen, meanwhile, will have to adjust to changes in river flows and rainfall patterns.
"Adaptation [to climate change] needs to have occurred by yesterday," says Nicholas Dulvy, a marine biologist at Simon Fraser University in Burnaby, British Columbia, and a co-author of the study. He notes that coral reefs, which support an estimated 4,000 fish species worldwide and are chronically overfished, "are disappearing four, five, six times faster than Amazonian rainforest."
Though temperature increases due to global warming are expected to be greatest near the poles, the countries that are most economically vulnerable to the effects of climate change are mostly along the equator, says Dulvy.
Of the 31 nations whose fisheries are most vulnerable to climate change, 16 are among the poorest countries in Africa, according to the WorldFish Center, an international non-profit organization that seeks to alleviate poverty and hunger in developing countries by improving fishing practices. Most of the other highly vulnerable economies are in Southeast Asia and northern South America.
In its most recent study, released in February 2009, WorldFish ranked 132 national economies based on their relative vulnerability to changes in their fishing industries due to global warming. For each nation, the organization measured the economic and dietary importance of fish and assessed the country's ability to adapt to a warming world. Countries that rely heavily on fisheries for employment, export income and dietary protein rank highest on the vulnerability list. Three African countries – Angola, the Democratic Republic of Congo and Senegal – top the list of most vulnerable economies.
As oceans warm, many commercially valuable fish species, including cod, herring, grouper and shark, are expected to follow cooler water and migrate away from the equator, says William Cheung, a marine biologist at the University of East Anglia in the United Kingdom who was not involved in the WorldFish study. In a recent study of his own, Cheung showed that fish distribution is already changing. Several commercially valuable species have already shifted toward the poles by about 40 kilometers, roughly 25 miles, in the past decade. Migrations to colder waters coupled with overfishing in the tropics could lead to local species extinctions at the lower latitudes, says Cheung.
Adapting to a warmer climate will require very different kinds of strategies around the world, depending on local conditions. One key variable is whether a country's primary fisheries are in ocean reefs or in freshwater lakes and streams, according to the study.
In small island nations the pressures of overfishing have caused the collapse of some coral reef ecosystems. Fishermen here may have to learn to rely on a broader variety of reef types for fishing, as some are more susceptible to temperature-induced bleaching says Edward Allison, policy director at the WorldFish Center and lead author on the study. Lessening the burden on certain coral reef ecosystems will improve the health of fish stocks as well as corals. Lightly fished populations tend to be more genetically robust and thus more resilient to the additional stresses of climate change. Countries in this category include Vanuatu and the Solomon Islands in the South Pacific, and Mauritius, located in the Indian Ocean off the coast of Africa.
On the other hand, countries on major river basins, such as India and Bangladesh on the Ganges, and Laos, Cambodia and Vietnam on the lower Mekong, face a different set of challenges. These countries are experiencing changes in river flow due to melting glaciers and altered rainfall patterns associated with global warming. In these places, according to Allison, adaptation projects may include increasing capacity for water storage and crop irrigation. Damming rivers for water storage could negatively impact existing fisheries but would also create fishing opportunities in newly built reservoirs.
Allison and other experts worry that forward-looking climate adaptation policies are not making enough headway in poor countries that face more immediate problems, including malnutrition, disease, lack of social services, political instability and war. But the failure to prepare for climate change, they say, may ultimately exacerbate all these problems.
"Malnourished, socially excluded people who are beyond the reach of primary education and healthcare and cannot call on their governments for support are less able to adapt," wrote Allison in an email. "Building adaptive capacity is basically the same as reducing poverty."
Related on Scienceline:
Cheap cures for obscure diseases in the developing world.
Spread thin: Peanut-based malnutrition therapy is plump with controversy.
A clinic on wheels for the homeless.
About the Author
Discussion