Life Science
The rescuer
Rita McMahon and her quest to care for the wildlife of New York City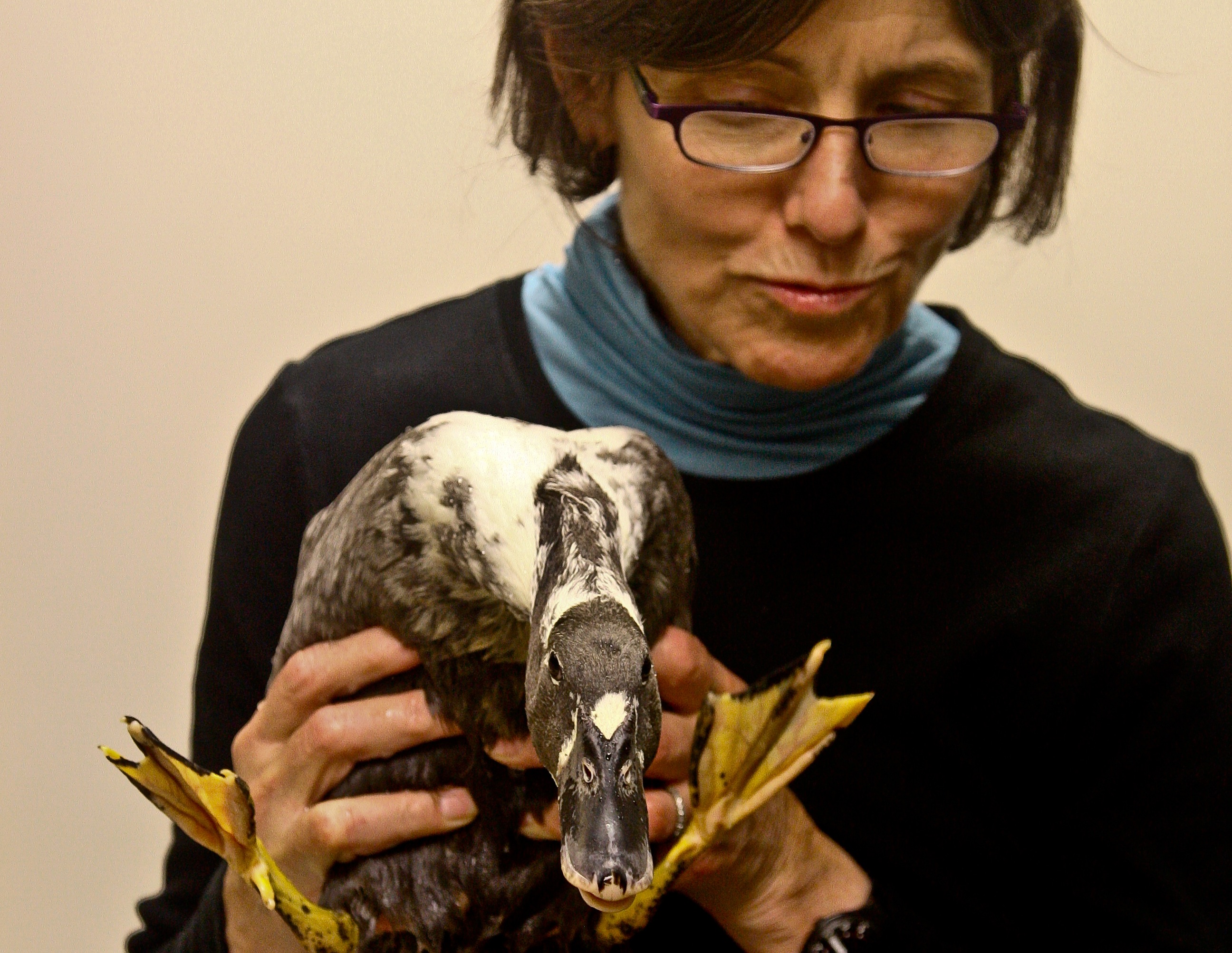 Rita McMahon, rehabilitator of birds, stands on a rich Persian carpet in the middle of her living room, swinging her hips like a woodcock. This is how they celebrate after being freed, she says. "I'm home, man!" she crows. "I'm ready to rock and roll."
Rita's living room, on a street of brownstones just off Manhattan's Central Park, smells musty even though the windows let in fresh air and a stream of sunshine. Birdcages are stacked on top of one another against the walls, amid eclectic artworks, potted palms and a library of books that reaches the ceiling. The room is filled with the gentle twitter and cooing of Virginia rails, pigeons, woodcocks and sparrows. Two curious pigeon chicks named Al and O' La Roux, left free to explore, sit on a pink velvet lounger. "We name the birds after the people who bring them in," Rita explains.
Rita heads up the Wild Bird Fund, which has been rescuing the city's wildlife — ranging from squirrels to bats and birds — for 10 years. She welcomes dozens of patients each day, brought in by concerned New Yorkers. After veterinarians diagnose what is ailing the animals, Rita nurses them back to health in her apartment. Finally, she sets them free. She mostly deals with the city's pigeons — run over, abused or hurt after colliding with windows. "They're fabulous animals. Pigeons have this long history with us. They know people," Rita says, opening the door of a bathroom where several of them splash in a tub and inspect themselves in a full-wall mirror. "And they do like to see themselves."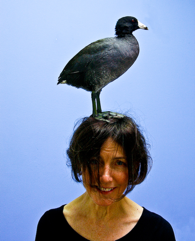 Rita with a rescued coot.
This slight woman wears purple-rimmed spectacles that outline a direct, blue-eyed gaze. She dresses immaculately in solemn black — always black, her photographs show — but sports a warm grin and front teeth just large enough to give her an occasionally goofy demeanor. She chews continuously. It's Nicorette gum, fellow rehabilitator Nicky Brilliant says. "She was a smoker." Nicky jokes that gum is the source of Rita's ceaseless energy. "She's kind of high-wired. She's a TV person. Rita's the sort who can be at the front of something."
At 23, Rita came to the city to study art history, then became a television consultant. But after more than 30 years, which included a career as a programming executive with NBC – "short-lived, happily" she says – the birds came. It all began the day she found an injured Canada goose on a highway, and placed it on the backseat of her car. Volunteering followed. Then Rita took up formal wildlife rehabilitation. "Always liked animals," she says, "Wanted to be a vet, but didn't have the stomach. Kept passing out. But I think the birds took me in. They just kept coming." In 2003, Rita co-founded the nonprofit Wild Bird Fund with a veterinarian. Today, it is the only institution in New York that treats the city's wildlife. Roy Rub, a graphic designer and volunteer, says Rita's ambition keeps the initiative afloat. She is "relentless in the best sense of the word," Rub says.
While the birds have taken over much of her life, Rita's house is still peppered with bird-free zones. Her husband, a writer, escapes to a grand study that leads to a large rooftop terrace overlooking the Upper West Side. But the birds will be moving soon. In early 2012, the Wild Bird Fund opens new premises on Columbus Avenue, New York, and Rita's living-room populace will have its first formal home. For now, she receives patients at Animal General, a veterinary clinic where doctors diagnose injured creatures before Rita takes them home to recover.
One sunny fall afternoon, Rita handled a sick pigeon at Animal General. She glided a skinny needle into his scaly leg, drawing blood for a lead test. The bird quivered, showering the surgery floor with bright red spots. Blood dripped through Rita's fingers. She explained that pigeons absorb lead through air and dust: "We're using feral pigeons to determine where in the city are hotspots for lead. They are like the canaries in the coal mine."
As always, the question of euthanasia hangs in the air. "Rita would say an animal that cannot go free should be euthanized," Roy explains. Others see things differently. "I disagree with Rita a lot of the time [about euthanasia]," Nicky says. "But when I do, she'll say, 'You wanna take it? You take it home.'"
Euthanasia brings out Rita's sense of practicality. "Fifty percent die or are euthanized," she explains. "They come into the clinic in terrible shape." Was it ever difficult to do? "Oh yes," she says, efficient with words on matters of the heart. Alexandra Wilson, a doctor who works with Rita, says, "She's pretty good about taking her emotions out of it."
But when she talks to the animals, Rita draws the tenderness back in. She holds one red-striped woodpecker up for inspection and coos: "Hi baby doll. Broken leg, huh? What happened to you, kid? Ok sweetie, go ahead. Bite me." The angry woodpecker thrusts a sharp beak into the palm of her hand. Rita doesn't flinch. She is "the Mother Theresa of wildlife in the city," says Roy. "She holds the idea that the birds come first."
Sometimes, euthanasia is part of this mentality. A pedestrian brings in a baby pigeon with crumpled wings. On a silvered X-ray, Rita points out the impossible breaks. "I'm sorry, honey," she says, holding close the bird's small, quivering body. She picks up a needle and skillfully pierces its chest, pressing in the fatal, euthanizing liquid. "Cute baby," she murmurs. "At least you got your lunch'n'all. That was nice." The pigeon's eyelids droop. Soon, the glottis falls still, a sign that the creature no longer breathes. Rita calmly unrolls a black plastic bag, and slips the bird in.
That evening, she heads home with two new patients in a carry cage. To maintain her sanity, Rita says, she has purposely lost count of the birds in her living room. She looks forward to having a new place for them to go. "I love them." She sighs. "But I don't want to live with them." Outside on the chilly streets, autumnal trees glow orange, pigeons trail the sidewalk and Rita McMahon returns to her brownstone full of birds.
About the Author
Discussion