Environment
Taking the scenic route
A lifetime climber both shapes and is shaped by the mountains
"At first I climbed mostly alone," remembers Jim Gehres as he searches the white wall across the room for memories half a century old. His hair is parted far to the right and smoothed properly over his head in a style nostalgic for the 1940s. It's still mostly jet-black despite his age, which shows in the wrinkles of his thin, tan skin and the tired slope of his shoulders. His eyes, though, are still guileless and excited, like a schoolboy's on the day before summer vacation.
As a young man in Colorado, Gehres labored his way up some of the most dangerous peaks in the Rocky Mountains without ropes, by himself, often not seeing a soul, sometimes getting lost. But that's all part of the allure that pulled Gehres out the door and up the trail, peak after peak. "You're independent and on your own," he says. "You can do things your way."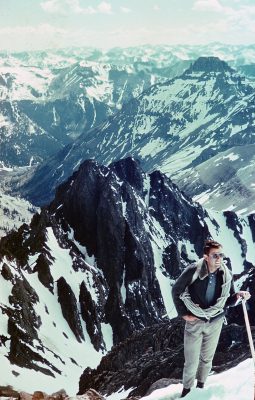 Now having just celebrated his eightieth birthday, Gehres has spent decades climbing mountains with an ardency that leaves you feeling like you've never felt real purpose in your own life. There are 54 Coloradan peaks over 14,000 feet – dubbed "Fourteeners" by hikers in the know – and Gehres has climbed them all at least 12 times. He's scaled mountains in South America, Europe, and Africa, too. And he's been to the highest point in every American state except Alaska. (At 20,320 feet high, Mount McKinley is a bit too bothersome to summit, he says.)
Over the 50 years since Gehres reached the boulder-strewn top of his first Fourteener, he has witnessed the Western mountains develop from desolate backwoods to recreation hotspots. In the early 1990s, he helped begin the effort to improve access to the peaks and build sustainable trails as Colorado's population boomed. He watched as climbing technology advanced and millions of people flocked toward the mountains. Through it all, Gehres spent his weekends away from his work as a tax attorney putting one leather-booted foot in front of the other, hiking onward in the slow but steady tradition of the tortoise.
"Jim just loves being out," says Walter Borneman, one of his oldest friends. Borneman is the author of a preeminent Fourteeners guidebook, and he's had Gehres check over his facts before publishing each edition. Borneman chuckles when he retells the story of when he went backpacking in Wyoming in 1978. While climbing up Grand Teton in a rain and lightening storm, he saw a familiar face ahead of him. "Who should come down the trail with a Goldline rope coiled around his shoulder, wearing a white T-shirt and blue jeans and no rain gear?" Gehres didn't sweat climbing; it was his simple pleasure. "He's pretty humble about all this stuff," Borneman says.
It all began for Gehres in 1960 after he arrived in Colorado Springs with his first wife Eleanor to work as an accountant for a car dealership. "I just started taking longer and longer walks because it was an inexpensive way to get out and get some exercise," he said. "Finally, one day, I walked up Pikes Peak."
Pikes Peak has a curved, ridged back like a sunning lizard. It lies as a last-ditch lump at the southern end of the mountains that form a long blue wall behind Denver. Gehres says he took the Pikes Peak Cog Railway, a tourist attraction, down from that first ascent, so he doesn't count it as an official climb. Counting is an important part of Fourteeners culture. "I started climbing them just because there was a checklist in the back of the guidebook," Gehres says. "I kept meticulous records."
After Pikes Peak, Gehres was hooked. He had climbed all 54 Fourteeners by 1965. Then he began climbing each of them again and again. He's walked up a 14,048-foot mountain called Handies Peak 16 times, rounding his back to the hillside and setting his pace, shallowly breathing in the thin air. Gehres knows the landscape around Handies intuitively: You take a road over the crooks of Cinnamon Pass and Engineer Pass to reach Lake City, then weave between the rough points of Redcloud, Uncompahgre and Sunshine Peaks.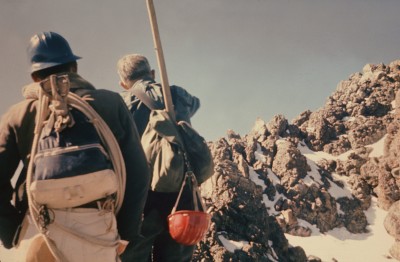 Gehres, in the foreground, follows a fellow hiker upslope.
But Gehres hasn't always found his way flawlessly through the backcountry. He began hiking at a time when trails were inconsistent if not nonexistent. Climbers used to adventure through the underbrush like Louis and Clark. When Gehres went in his early days to climb Mount Massive, a sprawling hunk of gray rock near Leadville that's aptly named, he took a bad route, climbed the wrong mountain, and ended up in Carbondale, about 70 miles away from Leadville by foot. Eleanor had to come rescue him by car. Gehres says there wasn't a trail to follow or a person to ask for directions. "I just literally didn't see anyone out there."
That's the change to the Western mountains that really strikes Gehres. "There's a whole lot more people." No one knows exactly why the mountains see so much more foot traffic now. "Maybe a lot of people have just awakened to climbing," Gehres says. There are more people around in general, too, making Gehres miss his days of empty solitude on a mountain. "I wouldn't want to trade for anything my experiences of going all day without seeing anyone."
Those days are forever gone. Between 1960 and 2010 the population of Colorado nearly tripled. There are now a little over five million people calling the rugged state home.
"Eighty-seven percent of Coloradans report that they use state trails regularly," says Tim King of Colorado Parks and Wildlife. On top of that, millions of tourists visit the Rocky Mountains every year. "You get a lot of people saying, 'I want to bag a Fourteener,'" Mr. King says.
Borneman, who served for almost a decade on the board of a preservation nonprofit called the Colorado Fourteeners Initiative, agrees. Climbing Fourteeners is a rite of passage in his outdoorsy state. But such ambitious hiking can be problematic. "Sometimes you can love mountains to death by usage," he says.
Nearly all of the trails on Fourteeners weren't planned, according to Lloyd Athearn, executive director of the Colorado Fourteeners Initiative. "They were literally just trampled into the ground." Gehres and other concerned climbers started the Initiative in 1994. He wanted to take better care of the mountains that had offered him so much contentment. The goal of the Initiative is to build one main sustainable trail up every Fourteener. Hundreds of volunteers spend their summers building switchbacks and granite steps to fight erosion and piling up stone cairns to keep climbers from accidentally wandering into the wilderness. They've completed trails on 22 peaks so far.
By the start of the Initiative, Gehres wasn't getting lost on Fourteeners anymore. He was a mainstay of the Colorado Mountain Club, a large group of climbing enthusiasts who often hike together. "When Jim started to take people out with the Colorado Mountain Club," Borneman says, "he was the guy that knew the way."
In the early days, the club's guide to Fourteeners just had one word describing the ascent of the more difficult peaks: rope. Now guidebooks detail various routes section by section, and the club offers rock climbing, mountaineering and wilderness first aid classes. The club has been around for 100 years. Borneman is the president, and Gehres still sits on the board.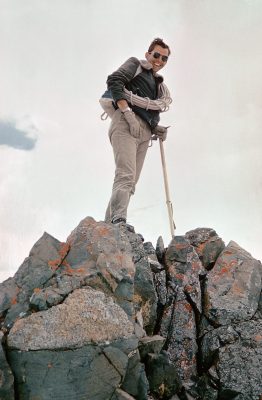 Gehres' passion for climbing knows no boundary, but at 80, he's dealt with difficulties common to a long, well-used life. His first wife, Eleanor, an esteemed Western historian, passed away in 2000, and his own body is now nearing its limits. He hasn't summited a Fourteener in about 10 years, though he continues to try. "I have slowed down," he says. It takes time to summit such tall mountains. "You have to keep moving. Sometimes I've been hiking with groups and it's hard to keep up."
Now he and his current wife Marjorie arrange yearly "rambles" with a couple dozen friends. They travel to ranges off the beaten path and enjoy less arduous walks in good company.
He doesn't get to "keep score" any more, ticking off ascents of the famous 54 Fourteeners in his record books. He doesn't experience the solitude of his victory atop an empty peak. But his long lonesome climbs have evolved into rolling jaunts with close companions, and his place in the lives of other climbers is proven by his faithful following for each year's ramble.
"I guess I've met a lot of valuable friends in the process," Gehres murmurs in his shy way as he looks into his worn hands.
About the Author
Discussion