Environment
Natural gas expands
Utilities retire coal-fired power plants in favor of a controversial alternative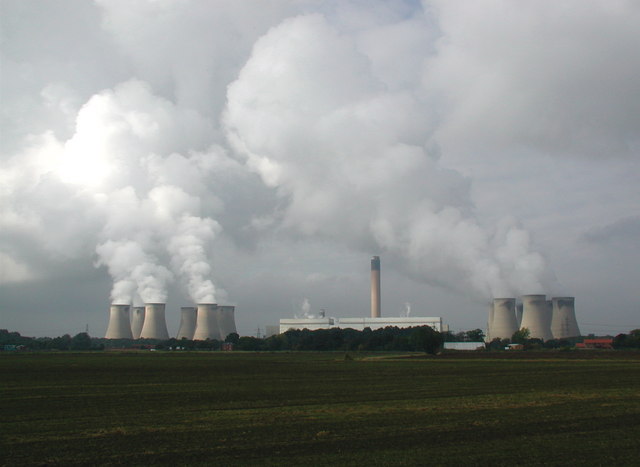 As environmental regulations tighten, power companies are retiring coal-fired power plants [Image Credit: Paul Glazzard]
Even in the heart of coal country, utilities are shifting away from coal-powered electricity and toward what environmentalists and climate scientists regard as a problematic substitute: natural gas.
Responding to environmental regulations and economic forces, two Kentucky power companies, Kentucky Utilities and Louisville Gas and Electric, recently announced plans to close three coal-fired power plants and filed for permission from the state to build a plant powered by natural gas as a replacement.
"We need to serve our customers in the least-cost manner, and this is the least-cost manner," says Chris Whelan, spokeswoman for the sister companies. U.S. Environmental Protection Agency rules require that utilities reduce emissions of mercury, fine particles, nitrogen oxides, and sulfur dioxide by 2016. Adding the necessary pollution controls to the old coal plants would be more expensive than replacing them with a new natural-gas plant, Whelan explains.
The change in Kentucky reflects a gradual, nationwide trend away from coal. From 2000 to 2010, electricity generation from coal declined from 52 to 45 percent of the U.S. total, while the share from natural gas rose from 16 to 24 percent and the portion from non-hydroelectric renewable sources like wind and solar increased from 2 to 4 percent, according to data from the U.S. Energy Information Administration.
Analysts predict the shift will continue. "Fifteen to eighteen gigawatts of old coal plants may retire between now and 2014 that otherwise wouldn't have retired because of lower [natural] gas prices," says Susan Tierney, a Boston-based energy consultant. That's about the generating capacity of the state of Wisconsin during peak summer demand in 2009.
Electricity from new natural gas plants will make up most of the loss, predicts Tierney, who was a senior energy department official in the Clinton Administration. "Looking ahead, one would expect to see continued growth of natural gas, a small increase in nuclear, and coal continuing to be 40 to 45 percent, with small increases each year in renewable energy," Tierney says. "It's going to take a long time before we see a huge change in that."
The decision of Kentucky power companies to shift away from coal and toward natural gas is remarkable because, compared to the rest of the country, Kentucky is both coal-rich and coal-dependent. Kentucky is the third-largest producer of coal in the U.S.  In 2009, 93 percent of its electricity came from coal and 1 percent from natural gas.
This proposal is the first time the Kentucky Public Service Commission has received a proposal to replace a coal-powered plant with a natural gas-powered plant, according to Andrew Melnykovych, the commission's communications director.
It won't be the last, predicts Robert Amato, director of energy generation and distribution for the Kentucky Department of Energy Development and Independence. "It's likely that as [Kentucky] coal plants retire, they will be replaced with natural gas."
Environmental organizations, like the Sierra Club, are working to move away from coal-powered electricity and its emissions out of concern for human health. "In a nutshell, there are three major contaminants emitted by coal plants: mercury; SO2, or smog; and NOx, nitrous oxides. All three have human health consequences," says Nick Sifuentes, a Sierra Club press secretary, citing asthma and heart disease from smog exposure and neurological damage from mercury. Yet the Sierra Club does not endorse a shift toward natural gas, since extracting natural gas through hydraulic fracturing brings its own set of pollutants, Sifuentes said.
"While we are happy to see any solutions that moves us away from coal-fired power plants and the dangers they pose," Sifuentes says, "we're not actually in favor of replacing those with natural gas and nuclear, for instance.  We think that the potential is actually there … to start doing things like wind and solar, which have no pollution at all."
Furthermore, even if a shift toward natural gas cuts air pollution, it may also hasten global warming, at least for a while. Tom Wigley, a renowned climatologist at the National Center for Atmospheric Research in Colorado, is the author of a study suggesting that in the next 40 years, a 50 percent shift worldwide from coal to natural-gas as an energy source would actually hasten global warming.
Burning coal produces more carbon dioxide per unit of electricity than burning natural gas. However, coal burning also produces sulfur dioxide, a component of smog that has a cooling effect on the atmosphere, while natural gas operations leak methane, a greenhouse gas that traps more heat per molecule than carbon dioxide. When Wigley took the cooling effects of sulfur dioxide and the warming effects of methane leaks into account, a shift to gas increased global warming despite the reduction in carbon-dioxide emissions.
"On balance I do not think large-scale movement to gas is a good thing," Wigley wrote in an email. "It is certainly not the panacea that gas producers would like us to believe."
About the Author
Discussion