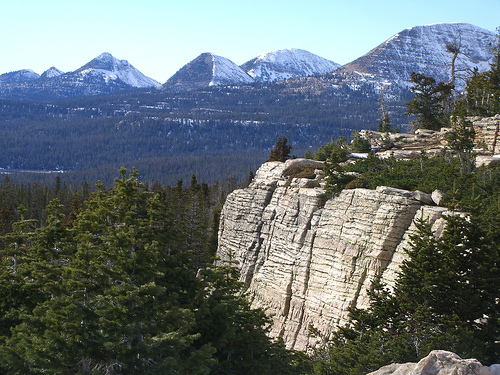 Oil under the Rockies, like the Utah's Uinta mountains pictured, could be an ecological time bomb. [credit: radven, flikr.com]
I'd already been sitting on the train for 18 hours when we pulled out of Denver, heading west. As we slowed to navigate the turns and tunnels of the Rockies, my mind began to stray toward the ground passing beneath us. There is an estimated 800 billion barrels of oil buried under the Rockies; it is known as oil shale. This amount far outstrips the Saudi Arabian crude oil reserves.
There are, of course, obstacles. Oil shale is not so easy to collect as conventional crude oil. It is locked up in the rock in tiny cracks and pores, and extracting it requires immense amounts of water and heat.
The oil shale reserves in Colorado, Utah and Wyoming have been known for many years, but it has been considered economically unfeasible to extract it on a large scale. The economics of the equation appeared to change during 2007 and 2008 when oil prices around the globe rose so drastically. As a result, even though prices had already dropped sharply by the latter third of 2008, President Bush took it upon himself to open the door to oil shale extraction by 2015.
The problems with large-scale oil shale extraction are numerous. Pushing the oil peak back a few years is more Band-Aid than actual solution, and pushing money toward oil shale would push it away from renewable energy projects.
The local environmental impact is another story. As my train pulled to a stop to allow a half-mile-long, coal-filled freight train to pass loudly by, I imagined the cars filled instead with mined oil shale. If oil shale extraction were to move forward on a large scale, pristine mountain areas would turn into large-scale mountain-top mines and wildlife would be pushed away from natural habitats. Quantifying the carbon dioxide that would be expelled into the atmosphere both as a result of the mining and the subsequent burning of the extracted oil is nearly impossible. The only country in the world that relies primarily on oil shale for energy is Estonia, and it has seen substantial pollution problems from their oil shale operation; furthermore, the power industry used 91% of all the water consumed in the country in 2002.
For now, I can enjoy my train trip through the Rockies with the wilderness still intact. But the I'm-on-my-way-out-anyway actions of President Bush have brought this area's desolation into frighteningly clear focus. Hopefully, the new administration will reverse the move, putting the Rockies' oil reserves off limits once again. There are better solutions to an impending energy crisis than oil shale.
Also on Scienceline:
The Heat Beneath Your Feet: DoE's geothermal plan
About the Author
Discussion