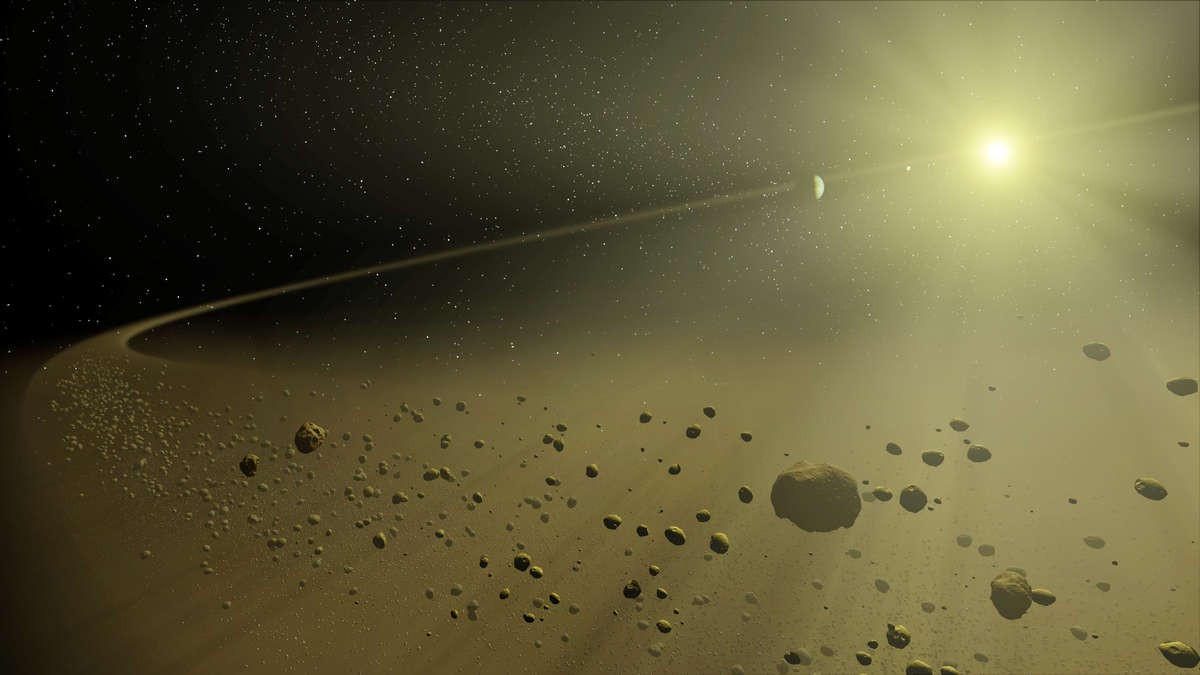 Astronomers are keen to find out what caused Tabby's star, more than 1,400 light years away, to dim erratically. Depicted is an artist's impression of a distant solar system. [Image credit: NASA/JPL-Caletch/T. Pyle]
The graph made astronomer Tabetha "Tabby" Boyajian sit up at her desk at Yale University. Something was definitely strange — the line was mostly flat but had two sharp dips resembling stalactites hanging from the ceiling of a cave.
The dips implied that light coming from the star KIC 8462852, more than 1,400 light years away, had dimmed twice in a most unexpected way.
The starlight graph Boyajian was looking at in the summer of 2013 is part of a large data set that the space-based Kepler telescope collected during its four-year mission to hunt for Earth-like planets around other stars. Dips in the amount of light coming from a star can indicate a planet passing in front of it. The bigger the planet, the larger the light dip. Boyajian's graph suggested the presence of a planet more massive than any astronomer has ever seen — or maybe something stranger.
The two dimming events she observed from KIC 8462852 happened around the 800th and 1,500th days of observation, when the star's light dropped by 15 and 22 percent, respectively. A planet the size of Jupiter, roughly 11 times the size of Earth, would cause a dip of only 1 percent — so whatever is orbiting KIC 8462852 is much bigger than the largest planet in our solar system.
Boyajian also noticed the unusual shapes of the two dips. Drops in light caused by an orbiting planet appear symmetric and box-shaped — these were neither. "The first one is a single dip that shows a very gradual decrease in brightness, then a sharp increase," explains Boyajian. "The second dip has more structure to it with lots of ups and downs."
A citizen scientist group called Planet Hunters first alerted Boyajian to this intriguing star. The group's almost 300,000 volunteers from all over the world study Kepler starlight data using a simple online interface, hoping to catch something that might have been overlooked by Kepler's automated data processing software. Planet Hunters has discovered several planets already, lending credence to the view that humans have a unique ability to recognize irregular, distinctive visual patterns, whereas computers are only programed to search for periodic, repeating ones.
KIC 8462852 is nicknamed called "Tabby's star" in honor of Boyajian, who first described it to the astronomy community. The star is one of more than 150,000 found between the constellations Cygnus and Lyrae — the patch of sky Kepler photographed from 2009 to 2013. The space probe measured starlight in 30-day increments and beamed the data back to Earth in the form of light curves showing the star's flux, or how the amount of light changed over time. The light from Tabby's star dipped erratically, explaining the star's other nickname: "the WTF star", for "where's the flux?"
"WTF" indeed. Astronomers are still scratching their heads over the mystery surrounding Tabby's star, trying to figure out what could be causing those weird dips in light.
One explanation could be large dust clouds orbiting the star. This is a common observation in young stars that can "do all kinds of crazy things before they settle down with time," says astronomer Andrew Siemion from the Berkeley SETI (Search for Extraterrestrial Intelligence) Research Center. However, based on its atmospheric composition, researchers believe Tabby's star is middle-aged, Siemion says.
"Also, you would expect dust or something really close to the star to glow a deep-red," says Boyajian, because objects orbiting a star would absorb and re-radiate so much infrared heat. "But this star just didn't have anything like that."
Instead, Boyajian and her team believe the most compelling explanation is a broken-up comet. Large but irregular fragments could be orbiting the star, explaining the erratic light pattern.
"I like the comet explanation although 'comet' might not be the right word," says Eric Korpela, another astronomer from the Berkeley SETI Research Center. That's because the core of such an object would have to be as large as Pluto in order to generate this kind of light, he explains.
Korpela and other astronomers believe the dimming may be due to some kind of natural phenomenon we haven't yet seen anywhere in the universe. "We just haven't looked at enough stars to know what's out there," he says.
There's another, much weirder possible explanation for the starlight flux: It could be caused by megastructures built by an advanced alien civilization. These imagined structures even have a name: Dyson spheres, named after the physicist Freeman Dyson, who described them in a 1960 paper in which he envisioned the deployment of vast solar arrays built to encircle a star to harness its energy.
"A really advanced civilization would probably need lots of energy," says Joseph Catanzarite, a scientist who is part of the Kepler team. "And Dyson spheres would be a way of tapping energy from their star."
So is a Dyson sphere surrounding Tabby's star? Highly unlikely. "It's definitely a sexier explanation than exocomets, but not a very probable one," says Boyajian.
To solve the mystery, astronomers will need much more starlight data from Tabby's star. "We need to see when it starts dipping again, what the dips look like or even if it dips at all," Boyajian says.
Unfortunately, the Kepler spacecraft can no longer observe Tabby's star because its maneuvering system broke — two of its four reaction wheels failed in 2013 and scientists can no longer control where it points. A second mission, called K2, is currently underway with the same aim of searching for habitable planets, albeit around stars in a different part of the sky. So for now, astronomers will have to rely on earthbound telescopes to study Tabby's star.
One such telescope is the Allen Telescope Array in California. The SETI Institute, which manages the array, completed a two-week survey of Tabby's star in October. Astronomers listened for two types of radio signals: The first was a narrow-band transmission that might indicate a "hailing signal" from another civilization and the second was a broader transmission designed to detect microwave emissions that might be used to power spacecraft to and from the megastructures. SETI detected neither.
Other ground-based telescopes that will be pointed at Tabby's star in the near future include the Green Bank Telescope in West Virginia, the MINERVA array in Arizona, the MEarth telescopes in Arizona and Chile, and the LOFAR telescope in the Netherlands. Even amateur astronomers from the American Association of Variable Star Observers will be joining in with their home telescopes.
The Green Bank Telescope appears the most promising avenue for studying Tabby's star because it's 100 times more sensitive than most telescopes, such as the Allen Telescope Array, that have already looked at the star, says Berkeley's Siemion. It's so sensitive that it can detect energy equivalent to a single snowflake hitting the ground. The team is also installing brand-new instrumentation that will allow them to study radio waves in much greater detail, Siemion says.
Astronomers studying Tabby's star are particularly excited for May 2017, because if the dimming is indeed due to a broken-up comet, that's when it would likely be passing in front of the star again. As Catanzarite says, "This isn't the end of the story."
About the Author
Discussion