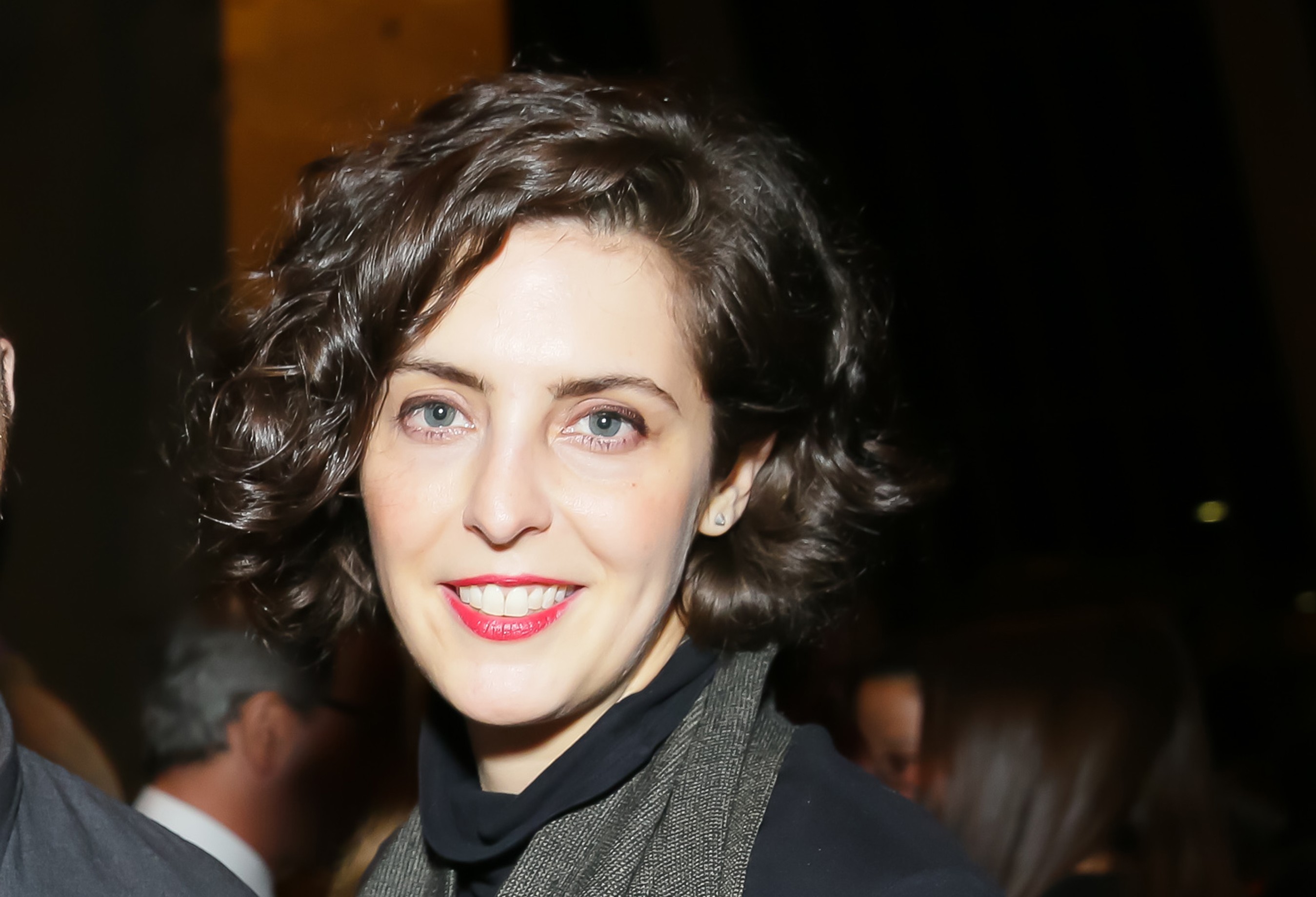 Sarah Scaturro is Head Conservator at the Metropolitan Museum of Art's Costume Institute. [Image credit: Courtesy of The Metropolitan Museum of Art/BFA.com]
If you go to the Metropolitan Museum of Art's Costume Institute before Feb. 21, 2016, you will see garments from the Countess Jacqueline de Ribes' personal wardrobe.
The collection is composed of elaborate ball gowns and evening wear both worn and designed by de Ribes herself. Housed in The Anna Wintour Costume Center — a wing named after the infamous Vogue editor-in-chief of the last two plus decades — the exhibition speaks to the institute's sterling reputation.
I sat down with the head conservator of the Costume Institute, Sarah Scaturro, to get a better idea of what it takes to put on such an exhibition.
Scaturro, a tallish, slender woman, looked timelessly chic in a white button-down, black tailored tuxedo-style pants, and a pair of leopard print calf hair kitten heels. She effused the kind of effortless style and class that many women can only hope to achieve.
Scaturro prepared for her career by getting a degree at Fashion Institute of Technology in New York City (FIT) in Fashion and Textile Studies with a concentration in both conservation and curation. Now she guest lectures there.
Scaturro came to the Met after six years at Cooper Hewitt as a textile conservator. Her former boss there, Lucy Commoner, head of conservation, remembers her well.
"Sarah is a talented textile conservator and a real team player who established collaborative relationships with the conservators, registrars, curators and other museum staff," she says. "I enjoyed working with her."
Scaturro recalls her first day at the Met, back in July 2012. "It's a hard day to forget," she says. "I love history, fashion and science," says Scaturro, "and my job incorporates all three. It's never a dull day."
Part of her job is doing frequent condition checks, assessments of the condition of different fashion pieces. "Condition checks are like an annual physical from your doctor," she says, "but for a work of art." These checks have to be done when the museum acquires new objects, or when there is an incoming or outgoing object on loan. It helps set a baseline for the condition of the object so that conservators, like Scaturro, can make sure they don't get any worse.
This means treating every item that comes through the collection with the utmost care, including ensuring each object is safe enough to be mounted for exhibition catalogue photography.
Photographing the items provides visual documentation of their condition. "We photograph in various different ways depending on the state of the object," Scaturro says, "sometimes even laying pieces flat that cannot be safely mounted on mannequins. And we never use flash photography." Any problem areas are heavily photographed to record the damage, she says.
"You can actually trace the health history of any object in the collection," she adds.
But Scaturro does more than catalogue the condition of the items in the collection.
"Sometimes an object comes through and we can't tell just from looking at it what it is made of," says Scaturro. That is something "we need to know before we can decide how to handle it," she adds.
Conservators use a polarized light microscope to identify fabrics and determine the composition of the material. Something even as seemingly simple as sequins can actually be pretty complicated to characterize.
Sequins come in all shapes, colors, sizes — and materials. They can be made of plastic, metal, acetates or even gelatin, the substance that gives Jell-O its trademark bounce.
"We need to know what the sequins on a dress are made of before we begin treating it," says Scaturro. If the sequins are made of gelatin they can't use water to clean the dress or steam to press it, because gelatin dissolves in water.
Scaturro walks over to a cabinet across the room. She pulls out a cylinder wrapped in white tissue paper and brings it over to the table, gingerly unwrapping it.
Beneath the protective tissue paper is a roll of floral-patterned material. Scaturro explains that quite a few years back, the museum acquired a dress dating back to the 1780s called a robe à la Polonaise. It was made of a creme silk material with hand-painted, multi-colored floral sprays. The piece was in excellent condition — except that it was missing a sleeve. So the dress was put into storage.
Then, this past spring, the institute mounted an exhibition titled China: Through the Looking Glass. The curator of the exhibition wanted to use the dress in the exhibition.
So Scaturro and her fellow conservators worked with a collaborator in the fashion industry to digitally print the pattern from the fully intact skirt of the dress onto plain creme silk and then fashion a sleeve for the dress. When the dress went on display in May 2015, visitors could hardly tell the difference.
"With paintings, you can just put them on a wall," she says, "but fashion is a three-dimensional art form — costume garments lack a body and need a substitute to prevent damage."
This is where the third major part of her job comes into play — mannequin dressing.
"Mannequin dressing is a lot more difficult and time consuming than people think," says Scaturro. "We have to make sure the garment is safe and supported on the mannequin, that the body is appropriate for the type of object." Just putting a garment on a static body can damage it, so they use different mannequins for different styles and time periods.
Costume garments have a lot of mixed media — horn, ivory, metal, bone, cotton, silk, linen and tulle, among other materials — so each mannequin is modified to fit the construction of the garment.
"The Jacqueline de Ribes exhibition was one of the easier ones," says Scaturro, "because they are all from a personal wardrobe. De Ribes was — is — such a perfect size. But they aren't all that easy."
"Even though it is challenging at times," says Scaturro, "it's so exciting to be so close to these incredible objects, and a great honor to work with them."
Editor's note: A paragraph that included misattributed quotes has been removed. Scienceline regrets the error. 
About the Author
Discussion