Blogs
Chlamydia county
How big data can illuminate a small area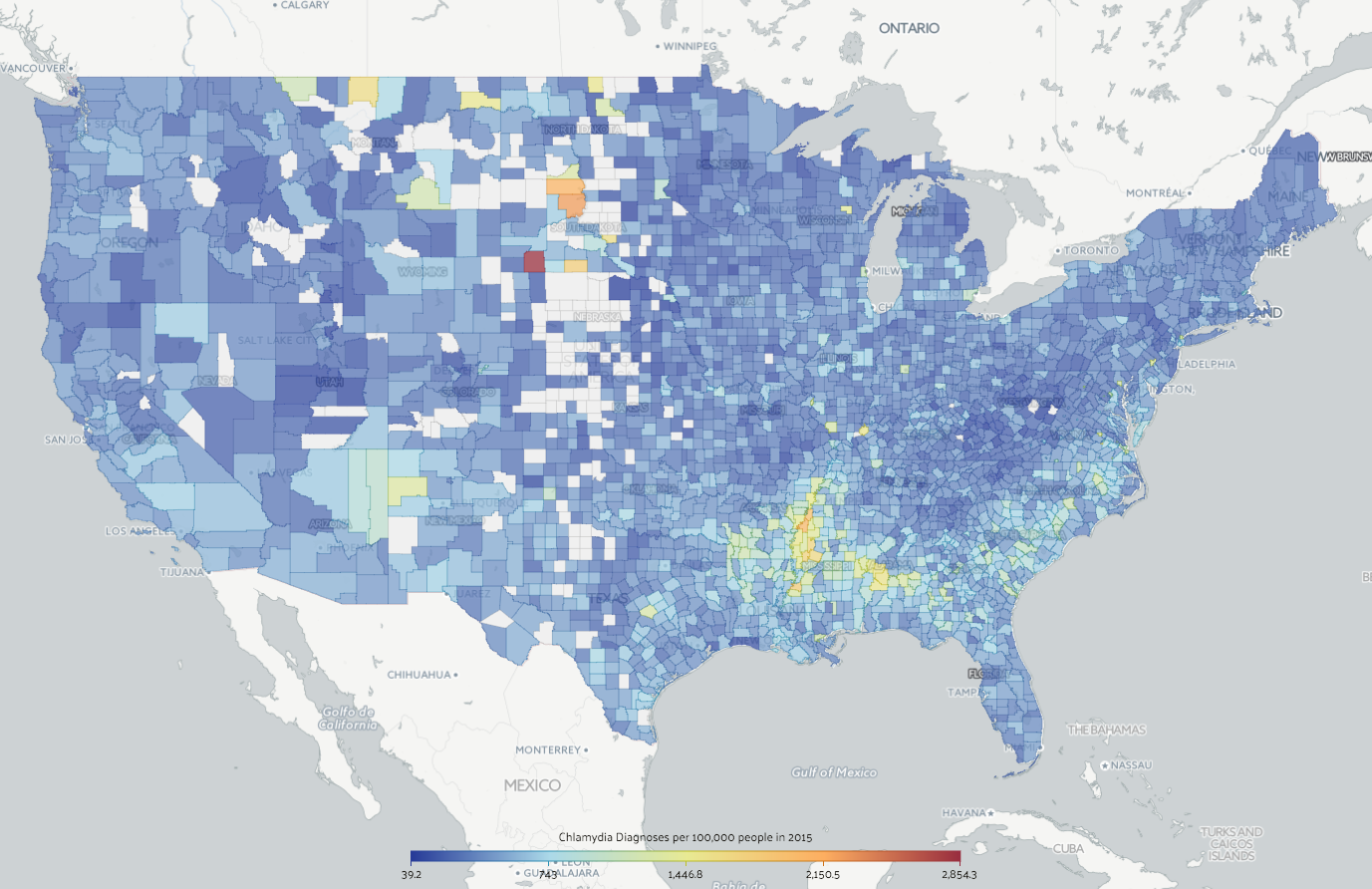 Chlamydia diagnoses per 100,000 people by county in 2015, from Data USA.
In a patchwork sea of blues and yellows, a single red square stands out. It's smack in the middle of the map, and even though I know it's a coincidence I can't help but appreciate the visual. It's practically screaming for attention. So I click.
That little red square (which you can see above in a map from Data USA, and even better if you scroll down to the enlarged map below) turns out to be Oglala Lakota County, South Dakota. It's red because it has the second highest rate of the sexually transmitted infection chlamydia in the country: 2,845.2 diagnoses for every 100,000 people. The national average is 456.1.
Oglala Lakota County is an anomaly. The question is whether it's a meaningful anomaly.
The most obvious way for it to be meaningless is if the county has such a small population that a few cases would throw off the rate. And that wouldn't be surprising in rural South Dakota.
Even its large cities are fairly small by national standards. Sioux Falls is the largest, with fewer than 170,00 people. And some counties can be even tinier than that; the smallest is Loving County, Texas, with a puny 82 people at last count. At that size, it only takes two or three diagnoses of a disease to create the illusion of an epidemic.
That wasn't the case here. Oglala Lakota County is indeed small, with barely 14,000 people, but it's large enough that the statistics couldn't be thrown off by just a few cases. Something seems to make this county different from the others — it warrants closer inspection.
Perhaps the biggest different between Oglala Lakota County and the rest of South Dakota is that it's one of the few counties that lies entirely within a Native American reservation — its population is over 92 percent American Indian.
Native Americans have one of the biggest health disparities of any ethnic group in the U.S. today. They have extremely high rates of obesity, diabetes, smoking, and drinking on top of being impoverished. Their chlamydia rate is higher than the national average, too, at 592.8 cases per 100,000 people.
Sexually transmitted infections pose a particularly difficult problem for many tribes. American Indian women are 2.5 times as likely to be sexually assaulted and a culture of silence keeps victims of assault quiet. Insufficient funding for the Indian Health Service (IHS), a government program to provide health care for American Indians and Alaska Natives, doesn't help either. A 2010 report from the Senate Committee on Indian Affairs found that the IHS division covering the Oglala Lakota tribe was "in a chronic state of crisis." The report cites a lack of qualified heath care providers, low funding, and shuffling around employees who had a history of misconduct.
Without funds, sex education and treatment for sexually transmitted infections fall by the wayside. As Charon Asetoyer, the executive director of the Native American Women's Health Education Resource Center, put it in a 2008 article: "You cannot take health care away from communities and expect a community to maintain their health without information and resources."
The Oglala Lakota have had to take it upon themselves to help their community — in 2014 they laid out a plan to deal with the tragically high number of hazards, from diseases to landslides, the tribe faces. Their plan identifies chlamydia as the most common communicable disease.
It's beyond the scope of a single blog post to report thoroughly on the complex problems that the Oglala Lakota face, but that is perhaps the whole point of this post. Chlamydia rates — and a whole host of other problems — are a serious issue for a group of people who don't get a lot of attention. And impersonal as the beginnings are, data offers a way into often overlooked areas. It makes clear what was once obscured by numbers and buried in bureaucratic websites. One red square doesn't tell a story, but it does open a doorway.
Click the chart below to zoom.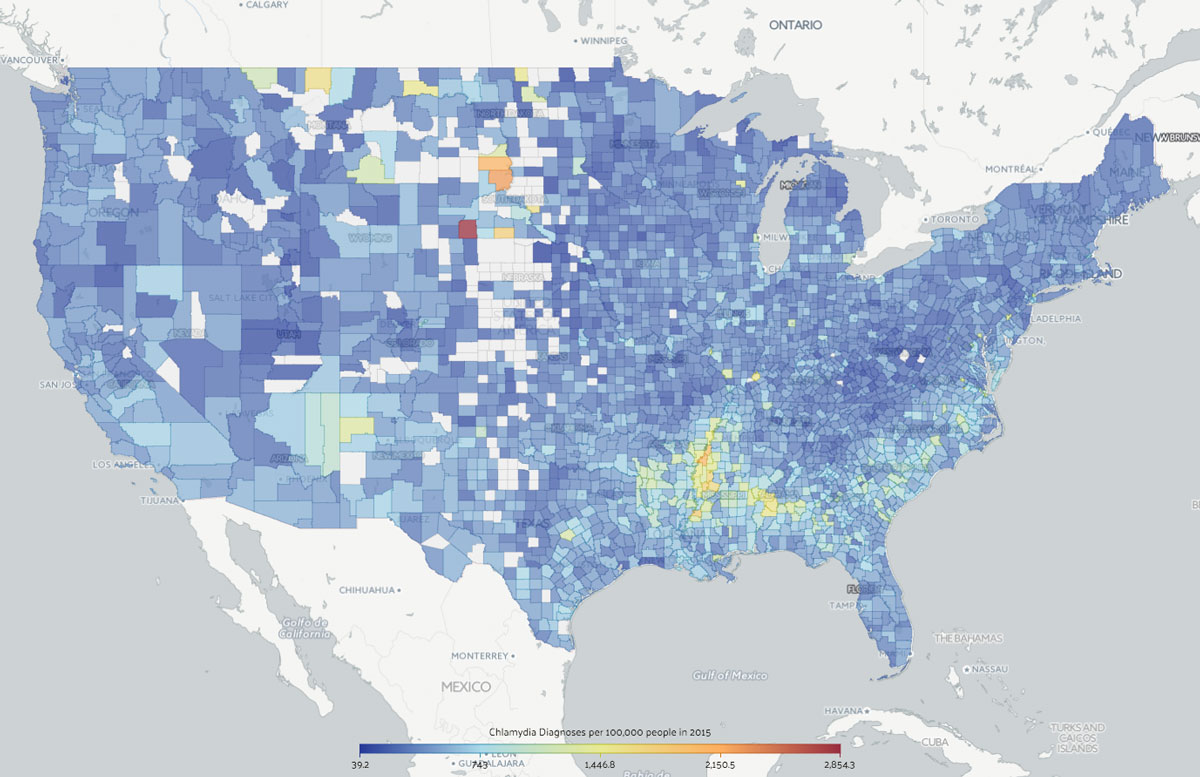 About the Author
Discussion