Environment Blog
Hurricane [your name here]
Would you be excited about or wary of sharing your name with one of nature's most destructive forces?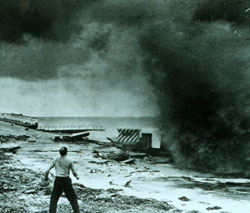 It's a bird! It's a plane! It's Hurricane Andrea!! CREDIT: NOAA
2007 could be a big year for the SERPies. And no, not (just) because we'll all graduate and find flashy, high-paying jobs. No… in 2007, three of us may have our name immortalized… by a hurricane. (Karen and Melissa, congratulations, you made the list…)
Now, I've been excited about the prospect of Hurricane Andrea since I noticed my name at the top of the 2007 list a few years ago. Yeah, I know, I'm a weather dork. If it's storming outside, you'll probably find me with my nose pressed to the window hypnotized by the awesome power of nature. So to have a storm with my name is exciting to say the least. And I think it has a certain ring to it, Hurricane Andrea.
But I understand that not everyone is keen on having his or her name attached to such a potentially deadly force. Katrina Voss, a meteorologist for AccuWeather, recently wrote an editorial for the Bulletin of the American Meteorological Society about the experience of having her name become synonymous with total destruction. (I'd like to note that as excited as I am, I certainly don't want anyone to be harmed. Meteorologists study storms to figure out how to keep people safe from them.)
Voss also brings up the issues of fairness that arise from the way names are given to tropical storms. There are seven rotating lists of storm names for the Atlantic/Caribbean region. They run alphabetically, with Q, U, X, Y, and Z omitted. Originally, only female names were used, but after feminists objected to the practice in the 1970s, male names were added. Since then, both Hispanic and French names have been mixed in with the English ones to reflect all the countries affected by the storms. Names are only added when others, like Katrina, are retired.
But, Voss points out, is it fair to always start with the A names? Should the beginning of the alphabet receive all the attention, no matter whether you consider it a blessing or a curse? Voss points out that we could alternate the lists so that every other year runs backward alphabetically. While I don't think it's in serious consideration, it's an interesting suggestion. The Wendys out there who share my meteorological enthusiasm might be excited to finally be included, but I've been waiting for my hurricane for three years now! Don't switch things up on me now!
About the Author
Discussion