Environment
Food for Chickens, Poison for Man
A widespread farming practice is adding arsenic to the food chain.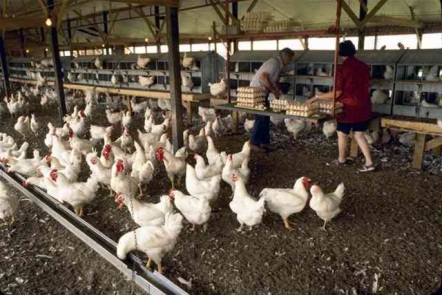 [CREDIT: USDA]
When Gwen Cox raised broiler chickens for Pilgrim's Pride from 2001 to 2004, she had to use poultry feed provided by the company. After a few incidents when she felt physically ill working with it—"I would start coughing and could hardly stop, or I'd get lightheaded or nauseous," she remembers—she checked the feed labels and noticed that they listed roxarsone, an organic arsenic compound, as an ingredient. Concerned about her chickens as well as her own health, she asked Pilgrim's Pride why she was being forced to use feed containing arsenic.
"I was told to mind my own business," she says. "[They told me] 'it's a microbe inhibitor and is proven to be safe in the quantity used in the feed.' But you know some of this stuff is bad when the tickets instruct you not to feed it to any other animals due to it being proven fatal if ingested."
Pilgrim's Pride, the second largest chicken company in the country, wasn't doing anything uncommon: over 70 percent of all broiler chickens grown in the U.S. are fed roxarsone, according to a 2000 article published in the journal Poultry Science. Roxarsone prevents the growth of microscopic intestinal parasites called coccidia that frequently infect livestock, and it provides the added bonus of better growth—i.e., bigger chickens. (Despite repeated requests, Pilgrim's Pride would not confirm whether it still uses roxarsone.)
Roxarsone doesn't disappear once chickens eat it. Some is distributed throughout the animal's tissues, including the breasts, thighs and legs—meat that is later eaten by consumers. The rest is excreted unchanged in poultry waste. Ninety percent of this manure is later converted into fertilizer that can contaminate crops, lakes, rivers, and eventually drinking water.
Little research, however, has investigated the public health consequences of this practice, which was banned in the European Union in 1999. Although several studies have looked at the levels of arsenic present in chicken muscle meat, and some have looked at crop soil contamination, the results have been inconsistent. None have determined how extensively this practice contaminates drinking water.
"There's been such a huge degree of regulatory attention paid to arsenic in drinking water, and yet here's this very widespread practice that has a real potential of adding to drinking water contamination and yet nobody's looking at it," says Dr. David Wallinga, director of the Food and Health Program at the Institute for Agriculture and Trade Policy (IATP), a non-profit research and advocacy organization based in Minneapolis.
Any increase in Americans' levels of arsenic exposure is of great concern: The Environmental Protection Agency, which regulates drinking water, considers arsenic a class A carcinogen, meaning that data have definitively shown it to cause cancer. Other health effects from chronic low-level exposure include partial paralysis, blindness and diabetes. Although the EPA tightened its regulations for arsenic levels in drinking water this past January, lowering it from a maximum of 50 parts per billion (ppb) to 10 ppb, this new level still exceeds the agency's recommendations for exposure to a carcinogen by a factor of 50.
The EPA typically recommends that the amount of a carcinogen in drinking water should not cause more than one person in 100,000 to develop cancer as a result of drinking that water daily. But Americans who are regularly drinking water containing 10 ppb of arsenic are at a 50-fold higher cancer risk than this: in other words, one out of every 2,000 of those Americans is likely to develop cancer because of the arsenic in their tap water. And the EPA estimates that 12 million Americans are currently drinking water containing more than 10 ppb of arsenic—making their cancer risk even higher.
The EPA isn't meeting its own safety standard for arsenic because the recommended amounts "are set at a level which water systems cannot meet," according to agency press officer Dale Kemery. After preparing a cost / benefit analysis, the EPA set its arsenic limits at a level that maximized risk reduction while minimizing cost to the consumer, he says.
Where is all of this arsenic coming from? Most arsenic contamination arises from natural sources or from its former use in pesticides and wood preservatives. Though these uses have since been banned, the arsenic remains in the environment and is extremely difficult to remove. The poultry industry's use of roxarsone, however, is one of the few easily preventable ways in which arsenic enters the food chain.
Given that arsenic is already a significant health risk, many think that its use in poultry feed should be investigated and, if found to be a significant source of contamination, banned.
About the Author
Discussion