Life Science
My brother is allergic to raw carrots but has no reaction to cooked ones. How is this possible?
-- asks Tony from New York, NY.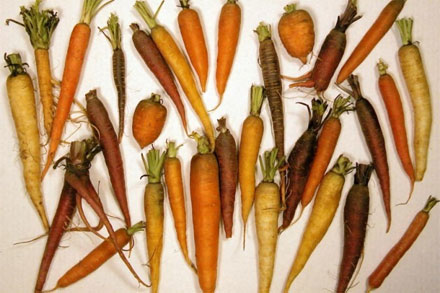 If the spinach doesn't get you, the carrots might. [CREDIT: USDA]
The humble carrot, familiar fare for Bugs Bunny and armies of school children, can be a dangerous, even lethal, snack for a small number of people. Heating the carrot, however, can render them harmless to the allergic, according to a recent study.
But how could a little heat turn a vegetable from deadly to delectable? And how can a wholesome carrot be dangerous in the first place?
The carrots we buy in grocery stores are certainly not poisonous. The carrot, native to Afghanistan, is a root that has been grown and eaten for thousands of years. The typical orange variety was developed in 17th century Holland. Carrots are a good source of carotene, the compound that our bodies convert into Vitamin A.
This innocuous, nutritious vegetable is nonetheless dangerous to those people whose bodies react to it as a foreign invader. These people have immune systems that respond to carrots in ways that are usually reserved for illness-causing germs. No one really knows why this happens, but food allergies are becoming more common and seem to be on the rise in the industrialized world.
The cause of this proliferation may be excessive cleanliness. Today's western children are exposed to fewer microbes not only because of the lack of dirt and germs in the foods they eat, but because they are more socially isolated than children in developing nations. Research has shown that children who attend daycare have fewer allergies than children who remain at home. Furthermore, both children and adults use antibiotics to combat microbes in their environments. In sterile environments, immune systems lack enemies, and may attack food proteins as if they were germs.
Our bodies are protected from germs by the antibodies that constantly roam the blood system looking for foreign invaders. For allergic people, antibodies target food proteins moonlighting as allergens. When antibodies detect an allergen, a reaction occurs. The body's response to an allergen can cause a variety of symptoms from facial swelling to serious anaphylactic shock. In carrots, several proteins can cause a reaction.
Everyone knows that cooking carrots renders them mushy. A little heat breaks down the carrot's cell walls, and turns this crunchy vegetable into perfect baby food. Heat, in fact, makes many vegetables more palatable. In their natural state, plants have ways to avoid being eaten. These defense mechanisms are called secondary compounds and can be poisonous to the eater. Most common crop plants have long since lost these harmful effects, and cooking some toxic wild plants can break down their toxins, making them edible.
When carrots are cooked, the potentially allergenic proteins within them unravel, rendering them safe from targeting by the immune system. According to a recent study in The Journal of Allergy and Clinical Immunology, these denatured carrot proteins can no longer bind to the posse of antibody scouts, and when antibodies cannot recognize allergens, a strong immune response does not occur. The same study found that cooked carrot protein can still activate a milder immune response that causes a less dangerous reaction. Some participants who ate cooked carrots did not swell up and suffer breathing problems, but did get rashes from the second type of immune response. Because of this, researchers recommended that people allergic to carrots avoid carrots in all forms, even though heating reduces risk.
Don't run to the crisper and dump those carrots just yet, though. Not many people have bonafide food allergies. The FDA estimates that only about 1.5 percent of adults and six percent of children have some kind of food allergy. Children outgrow most allergies, and allergic adults are typically only allergic to a few foods. Allergies to carrots are most common in Europe, where up to 25 percent of people with a food allergy need to avoid this orange root. Some experts say that food allergies develop in adults because of previous sensitivity to pollen; the patient may become allergic to a variety of plants that contain proteins similar to those found in the pollen. For example, celery, which is related to carrots, mugwort, certain spices and birch pollen all contain the same allergenic carrot proteins that some people just can't stomach.
—–
Got a question for us? ASK!
About the Author
Discussion