Health
Is there ever going to be a male birth control pill?
- asks Margaret from University Heights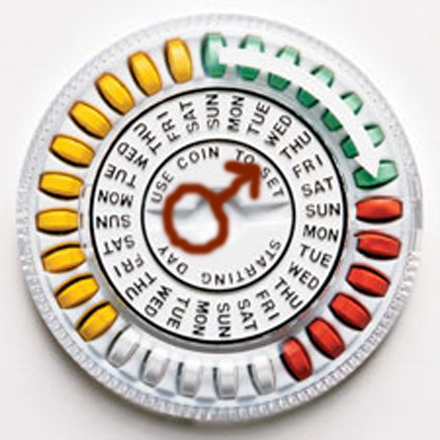 How successful will male birth control pills be? [CREDIT: HEALTH.COM]
It's Friday night. You're meeting your best girl, Lorraine, down at the River Bottom Jamboree at eight. But, before deciding what to wear, you want to make sure your sperm count is as low as it can be, just in case you and Lorraine decide to go "parking."
So you find yourself immersed from the waist down in scalding hot water, eyeing a thermometer as the mercury bobbles around 116 degrees Fahrenheit. When the temperature dips, you tighten your jaw and add a bit more boiling water, hoping the heat will sufficiently stop your sperm production. Forty-five excruciating minutes later you rise-up out of the tub, rosy cheeked and temporarily infertile, staving off fatherhood for another night.
Sound familiar? No? Well, men have done this, and continue to do so, since at least the fifth century B.C. when the Greek physician Hippocrates noticed that applying heat to male genitals lowered fertility. It would seem that if men are willing to endure such tortures, it means they want more control over the baby making process. They may soon get it.
While modern medicine – in the form of intrauterine devices, cervical caps, diaphragms, patches, pills, and sponges – has contributed to an age of reproductive control for women, it has largely left the procreating male in his cave.
Hot bath option excluded, men have but two realistic options for preventing unplanned pregnancies: wearing a condom or simply turning the tap off forever. Within a few years, however, men in the U.S. may have the added alternative of using a hormonal contraceptive that would lower or eliminate their sperm count by raising the body's level of testosterone.
Testosterone levels in the blood determine how much sperm a man will produce. In a healthy male, the testes receive hormonal signals from the pituitary gland directing them to increase sperm production. As they follow their orders, the testes release testosterone and the hormone inhibin into the blood where they are detected by the pituitary gland and hypothalamus. At high levels, inhibin and testosterone cause the pituitary to turn off its signal to the testes, which causes the sperm count to drop, testosterone levels to sink, and the "negative feedback" loop to begin all over again. The result of this cycle is a steady, continuous level of sperm.
A hormonal male contraceptive would work by artificially raising the level of testosterone in the blood, thereby tricking the pituitary gland into thinking that plenty of sperm has been made, causing it to turn off the testes' sperm production. As a result, the number of sperm in the body drops, and the chances of an egg being fertilized after sex are reduced.
Studies indicate that, if they reach the market, male hormonal contraceptives will lower sperm counts to less than 1 million sperm per milliliter, the threshold that defines male infertility, thereby far surpassing condoms and even the female pill in its reliability. In clinical trials, men have regained normal sperm counts within six months of terminating the treatment. Despite the possibilities, researchers predict that whether or not men will seize this new control over their fertility will depend on how the hormones are administered.
As with hormone treatments for women, there are many options for how to get the drug into the body. At the moment, researchers are experimenting with injections, a daily pill, and a temporary hormone-releasing implant placed just beneath the skin. It remains unclear, however, which would be most effective.
In addition, increasing testosterone levels can cause some of the same negative side effects that women who use birth control commonly endure, such as acne and weight gain. A marketed version of hormone treatment for men will likely include a combined dose of progestogen and testosterone in order to balance out potential side effects.
So it's true, a hormonal birth control for men is closer than ever to being a reality, but men, don't get out of the tub just yet.
Editor's Note: This story was first published on January 22, 2007. It was selected to reappear here by our editorial staff while we are away for summer vacation.
About the Author
Discussion