Health
Is coffee good or bad for your health?
Asks Alex from Philadelphia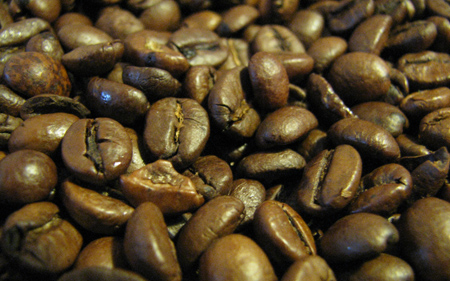 Roasted coffee beans
My alarm jolts me awake at 8 a.m. I am not fully cognizant but I know my first order of business: head to the kitchen. I open the refrigerator door and remove a bag from which a rich aroma emanates. I scoop several tablespoons of Colombian grinds into a black Krups machine, press the 'On' button and wait as the smell of fresh brew starts to perk me up. After taking my first sips, I am energized and ready to start my day.
Drinking coffee has become a crucial part of the daily routine of more than 50 percent of Americans, including myself. But is this habit bad for our health, or does it do a body good?
Several recent studies indicate that this popular beverage actually has an array of health benefits. "Coffee has been demonstrated to reduce the risk of several common medical illnesses—the most important of these is Type 2 diabetes, but also suicide, some forms of cancer and neurodegenerative disorders such as Parkinson's disease and Alzheimer's disease," says Dr. Peter Martin, director of the Vanderbilt Addiction Center and researcher for the Institute for Coffee Studies (funded in part by the coffee industry).
In a 2005 review of nine studies, researchers found that when people imbibed four to six cups of java per day, versus only two or fewer, their risk for Type 2 diabetes decreased by almost 30 percent. The number decreased by 35 percent when people drank more than six cups per day.
Caffeinated and decaffeinated coffee provided similar results. This suggests that a component of coffee other than caffeine may have beneficial effects on blood sugar levels, says Robert van Dam, professor at Harvard School of Public Health and lead author on the study.
Though the precise mechanism underlying the association between coffee and diabetes is not well understood, a 2003 study in The Journal of Nutrition found that a bitter tasting white powder (called dicinnamoylquinide) formed after roasting coffee may be responsible. The researchers reported that this chemical attached to and dampened the activity of certain protein receptors in the brain, enhancing insulin activity in rats and decreasing their risk for Type 2 diabetes.
In another study, researchers found that through a different mechanism this same chemical reduced patients' cravings for highly addictive substances like cocaine and heroine. This chemical binds to opioid receptors in the brain, which regulate the experiences of pleasure and pain.
Caffeine, the most famous component of coffee, is also one of the more controversial ingredients in this popular beverage. It causes an increase in the activity of the neurotransmitter dopamine, which largely accounts for both caffeine's stimulating effects and its ability to diminish feelings of depression. Caffeine essentially wakes the brain up, helping a person get through the day. After the caffeine wears off, however, it may have a depressive effect on a person's mood.
Some researchers have found that the caffeine in a cup of joe has considerable negative health effects. One study published in a 2006 issue of the Journal of the American College of Cardiology indicated that coffee decreases the flow of blood to the heart. Other studies have found that caffeine in coffee can also cause heart palpitations, increased blood pressure and stress. In addition to these effects of coffee, van Dam points out that pregnant women should limit their caffeine intake because fetuses are sensitive to the drug.
Based on these studies, coffee may improve a person's mood (at least temporarily) and risk for certain diseases — good news for coffee addicts like me. But it also appears to have some harmful effects. The ultimate verdict on coffee is still out.
Related on Scienceline:
Is vitaminwater good for you?
The debate over "probiotic" yogurt
Foraging for wild food in New York City parks
About the Author
Discussion