Health
Online Help for Eating Disorders
The right kind of Web support could help patients with eating disorders.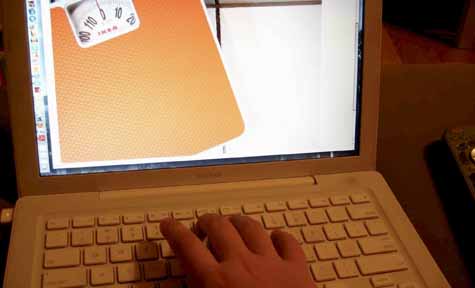 People with eating disorders could find some help on the Web. [Credit: Molika Ashford]
Stephanie, a 16-year-old from Montgomery County, Pa., has suffered from just about every eating disorder imaginable, including anorexia, bulimia and binge eating disorder. After completing almost four months of an intensive schedule of residential, day and evening treatment groups over a year ago, she has cut back to fewer therapy sessions, but her symptoms—binge eating and sometimes forcing herself to throw up—continue.
While she no longer receives support through group therapy, Stephanie, whose last name is omitted for privacy purposes, visits online forums that promote recovery. "I like to talk to other people who understand exactly what I'm talking about," she wrote in an e-mail. Stephanie has avoided pro-disease sites, where many online users interpret eating disorders as lifestyle choices rather than illnesses. These sites often promote the calorie restriction that occurs in anorexia or the cycle of bingeing and purging that is practiced by most bulimics.
Pro-disease sites have long been considered harmful by professionals in the eating disorder treatment field, but a recent study has concluded that the right type of online communication—focused on encouraging recovery instead of promoting eating disorders as a lifestyle choice—could model the group treatment experience that has helped Stephanie and others feel less alone.
The study, conducted by Dorette Wesemann and Martin Grunwald at the University of Leipzig in Germany and published in September's International Journal of Eating Disorders, analyzed postings on a pro-recovery bulimia forum. The researchers found that the majority of discussions focused on recovery in a way that could serve a function similar to the face-to-face self-help groups that are a common component of treatment for eating disorder patients.
Almost 80 percent of the forum's discussions were "problem-oriented threads," where one user posted a question related to the disorder, her emotions or where to get help and other users responded. Forty-three percent of the posts were created between 11 p.m. and 4:59 a.m., when users would be most isolated and without other supports.
"To speak openly about the illness can be helpful for patients," Wesemann wrote in an e-mail. "Health-related online services can be a first step or starting point toward coping with the illness and searching for information and professional help." Still, it's hard to evaluate which types of communication on these recovery-based forums provide positive support and which do not, she explained.
The site that she and Grunwald studied is maintained by the German Research Initiative for Eating Disorders. In contrast to pro-recovery sites like this one, pro-disease sites are generally run not by formal organizations but by individuals who want to create a space to share images and videos that promote extreme thinness and provoke pro-disease conversations. Images feature famously thin celebrities or women who are at advanced stages of the disease, equating this appearance with beauty. Communication between users may involve praise for losing weight, calorie calculations and tips on how to purge after eating. One "thinspiration" video that has received over 150,000 views on YouTube cycles through images of slender women while flashing words like "perfection" and "willpower" and ends with the statement, "You can NEVER be too thin!"
Pro-disease sites can be a dangerous place, especially for isolated individuals who have only recently developed a disorder, according to Lynn Grefe, chief executive of the National Eating Disorders Association, which runs a pro-recovery site. "One of the first places they go when they're sick is to [pro-disease] sites," she said. "They go to those sites so they can talk to people . . . who are hiding their illness as well."
"[Pro-disease sites] seem pointless to me," Stephanie wrote. "The people that write on them sometimes have no clue what they are talking about."
Requests for interviews with the owners of several pro-disease sites were not granted in time for publication.
Even pro-recovery sites may sometimes be damaging by promoting an obsession with eating disorders for some users, according to Wesemann. But if they provide information about support services and present anorexia and bulimia as real diseases, pro-recovery sites can bring together sufferers who do want to recover. A key to helpful, recovery-driven Internet communication, Grefe and other experts agree, is professional monitoring, like the kind done on the site Wesemann studied, and reinforcement of positive messages.
On her association's pro-recovery site, Grefe said, "We're trying to say, 'Don't be ashamed, you have an illness.' . . . That's what we need to be doing."
Despite the influence of pro-disease sites, pubic outcry against them and research into positive online communication suggest a promising future for web-based support. "If we can as a society be stressing that this is not fun and this is not a lifestyle choice," Grefe said, "hopefully abuse will stop."
Related on Scienceline:
Can a computer diagnose better than a doctor?
Why are we able to shop securely online?
About the Author
Discussion