Environment
A Brighter Outlook with Shady Coffee
Traditional farming may stabilize Latin American coffee production.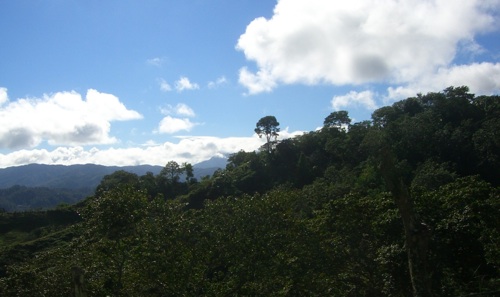 Farms like Alta Gracia and this one in the Dominican Republic produce premium beans while maintaining biodiversity. [Credit: Claudette Banda, flickr.com]
At first glance, Jack's Stir Brew Coffee doesn't stray far from the path beaten by other Greenwich Village coffeehouses.  A look across the muggy, aromatic room to the handwritten menu, though, hints otherwise: Jack's brew comes at a premium, a testament to its eco-conscious origins.  Patrons seem undeterred by the prices, though, and a steady stream of them lines the counter.

Video: Mary Ellen Amato on shade-grown beans, Alta Gracia plantation and Jack's customers.
"People here care where their food comes from, and that includes their coffee," explains Mary Ellen Amato, manager at Jack's.  Jack's beans come from Alta Gracia, a small plantation owned by author Julia Alvarez in the Dominican Republic that produces shade-grown coffee.  Translated as "high grace" in Spanish, Alta Gracia employs traditional farming methods that demand extra time and attention, according to Amato, and yield smaller batches at harvest.
Alta Gracia's approach may seem expensive, and in the short term it is.  But surprisingly, Alta Gracia and other Latin American growers using traditional farming techniques may experience greater economic stability.
Research from the University of Michigan offers an explanation: most Latin American coffee crops are uniquely vulnerable to the extreme, transient events accompanying climate change, such as fierce storms, intense heat waves and droughts. However, coffee grown by traditional methods – in particular, shade-grown coffee like that at Jack's – is much less vulnerable to these violent climatic outbursts.
"In a shade-grown coffee system, a canopy of trees covers the coffee bushes and acts like a blanket," explains ecologist Brenda Lin, who led the research.  "It holds in heat during the night and keeps it out during the day."  Shade-grown systems also make farmers less economically vulnerable, says Lin, because they grow crops such as avocados, yucca and bananas with the coffee, providing sustenance and a source of income independent of the coffee crop.
Despite these advantages, shade-grown coffee farms are declining in parts of Latin America, says Lin, whose research was recently published in the journal BioScience.  Clearing away the canopy, which is standard practice in commercial coffee operations, increases yields in the short term because more sunlight reaches the coffee bushes.  These shortsighted management strategies are unlikely to pay off, however, since they leave crops more vulnerable to extreme weather phenomena, Lin and her colleagues found.  "Under the types of environmental change we'll be going through … farmers will need to get creative to protect their crops," cautions Lin.
Other experts agree with Lin's findings but are concerned about the viability of traditional coffee farms.  "The question is, can these shade-grown systems persist?" explains Chris Bacon, agricultural ecologist at the University of California, Santa Cruz.  "Often the price premiums afforded by shade-grown certification don't cover the costs of producing the coffee."
Production costs are steep because maintaining a variety of crops – the "shade" aspect of shade-grown – requires year-round labor, extra farming equipment and constant attention, since traditional farms often eschew herbicides and pesticides.  These factors, combined with smaller coffee batches, all mean slimmer profits for the farmers.
To remedy the price disparity, Bacon suggests local governments offer financial incentives for increasing biodiversity, water conservation and carbon sequestration – all positive byproducts of shade-grown farming – as well as invest in rural infrastructure.  But he warns that these solutions would ultimately raise coffee prices.
Would a price increase give coffee connoisseurs the jitters?  Barth Anderson, co-founder of Barrington Coffee Roasting Company in Lee, Mass., which specializes in organic beans, doesn't think so.  "Coffee is a luxury, and people are willing to pay more for a cup with great, complex character," he says.  "Invariably, the quality of a cup of coffee corresponds to the stewardship of the crop…The highest [flavor] scores consistently come from coffee farms that employ traditional farming methods."
Back at Jack's, a respect for shade-grown coffee is cultivated among employees like Amato, who have been trained in the philosophies of traditional coffee farming.  "Seeing the process from crop to cup really makes you value every single bean," says Amato.
And that appreciation seems to extend to customers, as well.  The first weekend in October was Jack's busiest in five years, Amato says, despite the sluggish economy.  Shrugging, she says, "I think people just get it."
But to get it here at Jack's, they'll have to wait in line.
Related on Scienceline:
Is coffee good or bad for your health?
What are tropical glaciers and why do they matter?
Gardening in the Bronx.
About the Author
Discussion