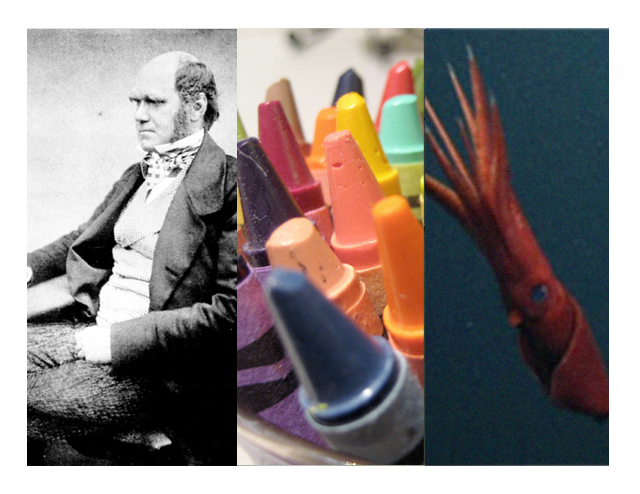 [Image Credits, left to right: Wikimedia Commons, Matt Doucette, and Montery Bay Aquarium Research Insitute]
Each week, the Scienceline staff combs through the web to find the smartest, coolest and newest stuff for you to read. See what we've got this week!
From Francie Diep:
I've spent not a small part of this summer obsessed with an online archive of Darwin's letters. First came his charming, funny pro-con list for whether to marry. One hand, "only picture to yourself a nice soft wife on a sofa with good fire, & books"—on the other hand, wives represent such a "terrible loss of time"! In fact, "how should I manage all my business if I were obliged to go every day walking with my wife." Who knew walks with one's wife were such a heavy responsibility?
Later, Darwin's family life fell to harder times when his ten-year-old daughter died. He wrote about his grief and about his little girl's sweet and energetic character. She liked to look up place names on a map and compare, word for word, two editions of the same book—shades of her father.
Scholars have found more than 15,000 of Darwin's letters scattered among public and private collections, reports the BBC. The Darwin Correspondence Project has more than 7,000 online now and doesn't expect to finish until 2022.
From Rose Eveleth:
Everyone has pretended to fly at some point, right? Now you can see what it would look like if you were to fly over Earth. If you put your fist in the middle of the video you feel like Superman. Not that I'm doing that in my office right now or anything…
Ever wonder what a glacier sounds like? No? I bet you're wondering now though. Never fear, here it is.
"Is it just my eyes, or are the paper wrappers on the blue, indigo, and cerulean crayons the exact same color?" We may never know, but we do know what the different crayon colors look like to a spectrophotometer!
From Rachel Nuwer:
Blogger Ed Yong on indiscriminate squids: "Better to ejaculate on everybody and ask questions later."
We are not born scientists, says science writer Matthew Francis — we become them.
Just in time for "Contagion" and flu season, a new study reveals that the deadly 1918 Spanish influenza was silently circulating amongst the public up to four months before the death toll started.
About the Author
Discussion