Blogs
We need food, not ethanol
Our misplaced confidence in biofuels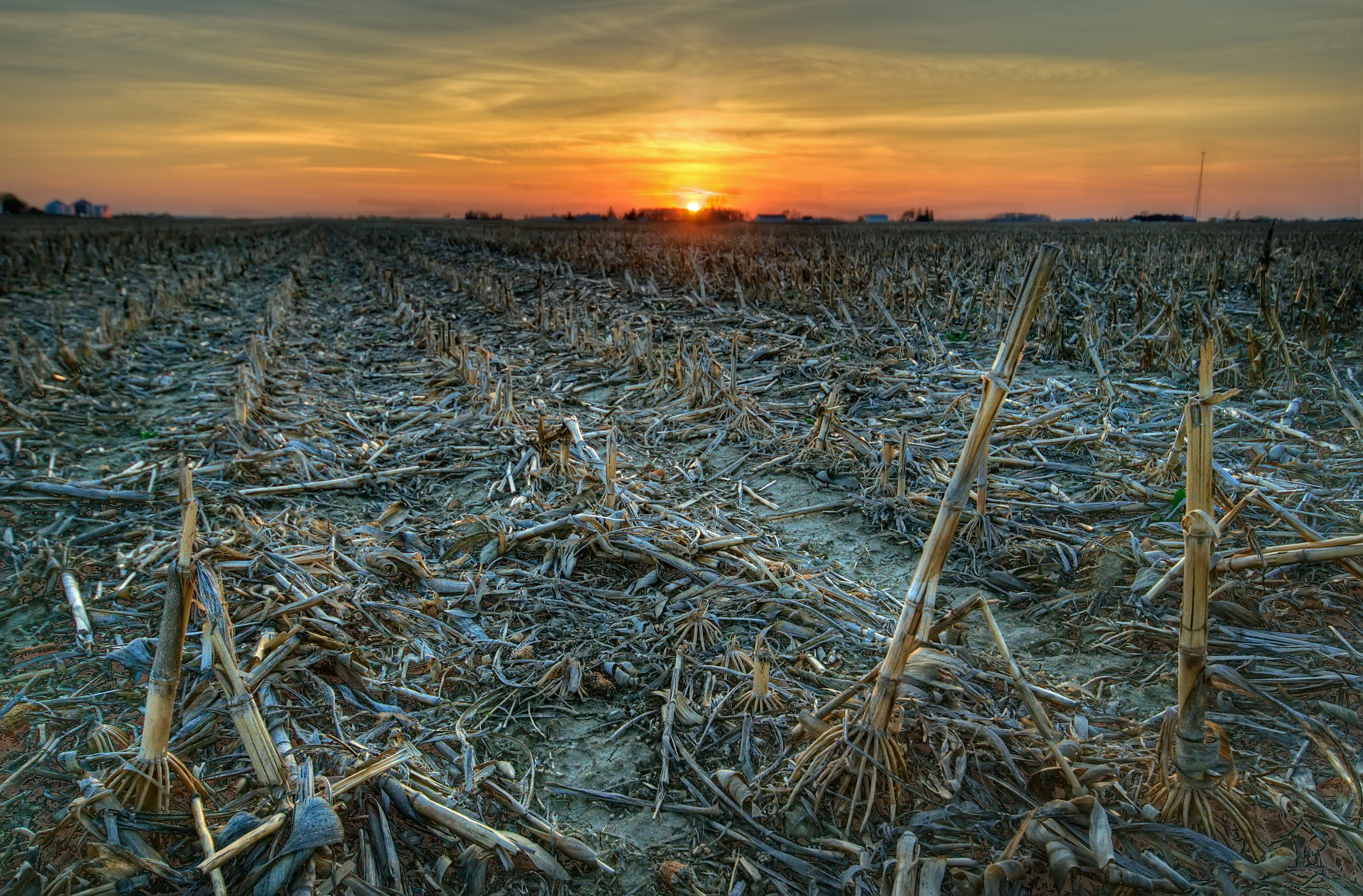 The sun may be setting on ethanol production. [Image credit: Flickr user Cathy]
Last winter, I was in the sub-basement of the library at the University of Minnesota, with two state maps stretching 10 feet across spread out on the table in front of me. One was from the 1990s, the other a century older. Growing up on the Wisconsin border, the Minnesota I knew was nothing but farm fields growing food, interrupted only by the Twin Cities and their suburbs. But the map from the state's early years showed a different landscape. Back then, carbon-storing forests covered most of Minnesota.
Today it's mostly cornfields with ethanol fuel plants sprouted in between. Farmers used to grow corn and other crops to sell as food for families and livestock, but in the last decade, selling it for ethanol has become too lucrative to refuse. In 2013, thanks largely to surging demand from ethanol plants, U.S. farmers snagged an average of $6.15 per bushel of corn — up from $1.96 in 2005.
The federal government has encouraged ethanol use since 1992, but it really took off as an alternative to gasoline in 2005, spurred by the fines and mandates of the newly adopted Renewable Fuels Standard. The current version of the standard requires 36 billion gallons of renewable fuels to be blended with gasoline by 2022, which the U.S. Environmental Protection Agency predicts will be about 7 percent of the total fuel use.
Though these policies were well intended at the time, research now shows that the land we're using to grow plants for biofuels would be better used for crops to feed hundreds of millions of undernourished people around the world. The World Resources Institute, a non-partisan environmental policy group, released a report in January calling for an end to biofuel production. Its argument is that we can no longer spare agricultural land for fuel crops that don't produce enough energy to justify the investment. Government subsidies aimed at propping up the ethanol industry to make it competitive with gasoline cost more than $20 billion, mostly in the form of federal tax cuts. But it still wasn't enough to make the renewable fuel worth it.
From the time the seeds are planted to the time it burns out of your exhaust pipe, ethanol only converts 0.15 percent of the sun's radiation into energy. Next generation solar panels, on the other hand, can convert 16 percent of solar radiation into electricity, according to the institute's report.
The fact that ethanol isn't worth it highlights other options we already have. The best thing about harnessing energy directly from the sun is that we can put solar panels on land that can't be used for agriculture — in deserts and on top of buildings, for example. And wind turbines can turn in between fields of crops, as they already do in southwestern Minnesota and many other rural areas. We could even confine biofuel crops like switchgrass to roadsides, or backyards. If people are going to insist on staying in the energy-profligate suburbs, we could at least make their valuable land worth something instead of wasting it on the great American lawn.
A few decades from now, I imagine filling our world with carbon storing and energy generating opportunities in every crevice, like a patchwork quilt of sustainability. In this world, we'll cover as much of the land with forests and natural habitat as we can. After that, we'll use the rest of the space for agriculture, which by then will be even more efficient than it is now (and mostly hydroponic, I hope). Then, we'll tuck ourselves into densely packed, energy efficient cities. Dutifully organizing our land is the best way to protect it, and ourselves in the process. But we have to make these plans now before we ruin the earth with foolish policies.
By 2050, the world population may grow from its current 7.2 billion to 9.5 billion. To keep up, according to the World Resources Institute, we will have to increase crop calories by 70 percent from 2006 levels. That's a very technical way of putting it, but the way I see it is this: 805 million people go hungry today. If we can't feed everyone now, how are we going to do it with 2 billion more people at the table? We need land for food, and farmers are willing to cultivate it for us.
When I reported on agriculture stories in Minnesota, the farmers I talked to felt pressured into growing crops for biofuels. They wanted to grow food as their families always had, they told me, but the heavily subsidized prices they were getting from ethanol producers were just too good to resist. Let's stop promoting biofuels as the solution to our energy future, and use that land to grow food instead.
About the Author
Discussion