Life Science
The squirrel-saving stuntwoman
Actress, stunt double and squirrel rescuer Adair Moran plans to open New York City's first mammal rehabilitation center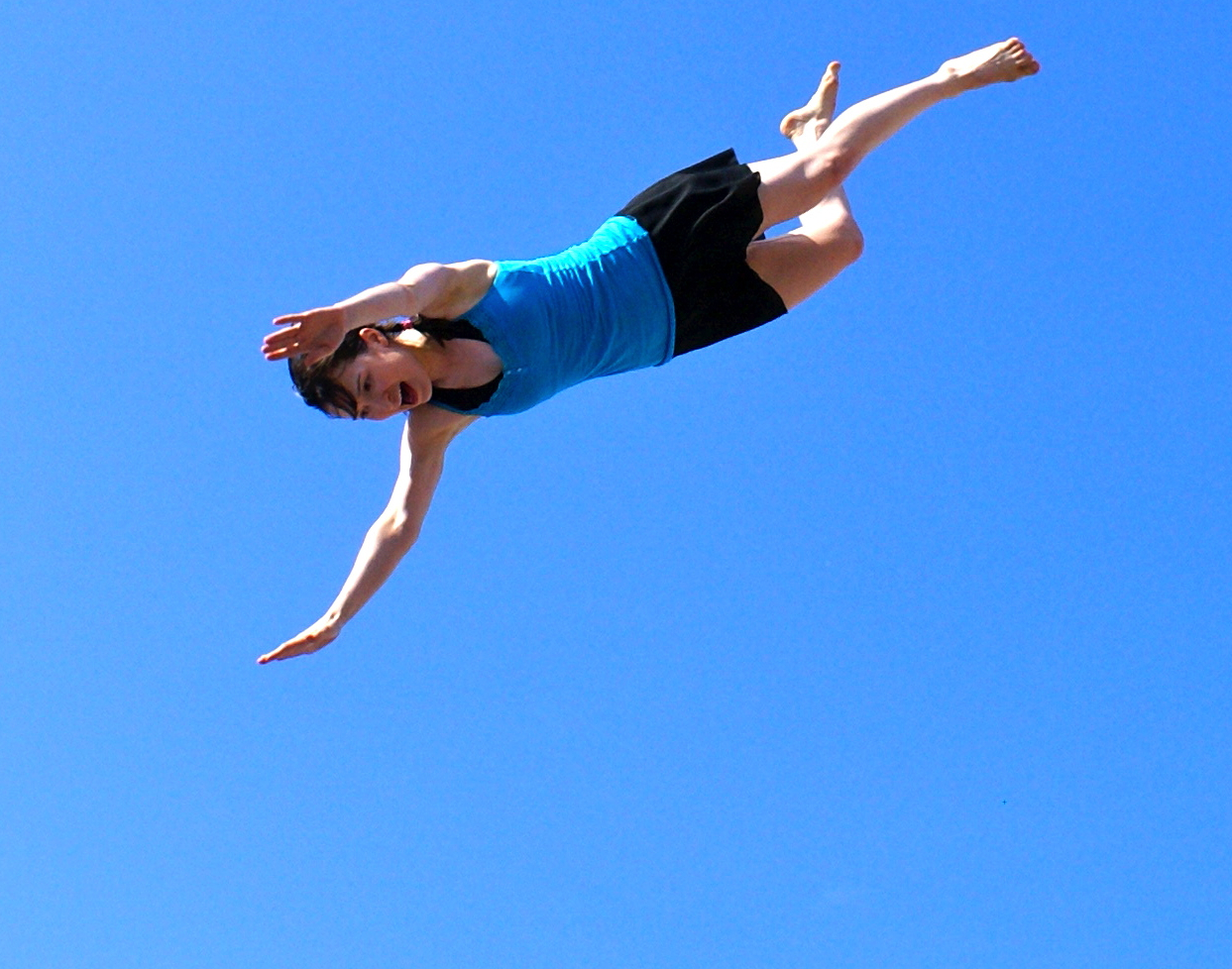 As she (safely) leaps from a 30-foot rooftop and strikes a superman pose, this stunt-performing squirrel hero becomes a flying squirrel herself. [Image credit: Nick Moran]
When she's not force-feeding stubborn, squirmy squirrels or bathing orphaned baby opossums in her cozy Bronx apartment, Adair Moran can be found dangling from ceilings or jumping from rooftops dressed like a young Bruce Wayne (a.k.a. Batman).
While caring for baby squirrels and other furry critters may very well be the cutest job description ever, wildlife rehabilitation work rarely comes with a paycheck. To pay the bills, Moran relies on her acting career. But she's no ordinary actress. As a stunt double, she performs outrageous physical maneuvers that most people would never even dare to attempt. Leaping from rooftops, being set on fire, falling down stairs, catapulting through the air, and pretend-fighting on camera is all in a day's work for Moran. Soon, she hopes to pull off an even more unlikely trick: opening the first center in New York City to rehabilitate injured squirrels, rabbits and other small mammals.
Before she came to New York City, Moran lived in Kansas City, Missouri. She grew up with her mother, Victoria Moran, a vegan activist who has authored several books about ethics, animal issues, health and spirituality. Moran not only grew up on an animal-free diet, but she also spent much of her childhood caring for animals, especially injured birds and stray dogs. Every time she stumbled upon a wounded or orphaned creature, she'd carefully pick it up and carry her new patient home to her mother. "We were definitely a big animal household when I was growing up," said Moran.
When she was nine, Moran enrolled in acting classes and started performing in local plays. At 17, she moved to New York hoping to find acting opportunities. Within a few months, Moran got her big break when she was cast as Ramona in the touring theatre production Ramona Quimby. Her acting career took off from there. She went on to perform on stage in "The Hunchback of Notre Dame," "The Diary of Anne Frank" and "A Christmas Carol." Her first stunt job was for "Meet Dave," a movie starring Eddie Murphy. She also did stunt work for the television series "Gotham" (a spinoff on the fictional city from "Batman"), "Law & Order" and "Royal Pains."
Although she still took in the occasional pigeon, Moran never intended to become an animal rehabilitator in New York. But the city's wildlife seemed to have other plans. As her husband, actor Nick Moran puts it, "injured animals are attracted to her. They just come to her."
"I just seemed to keep finding injured birds on the street," said Moran. "I'd been bringing these birds home, and I wanted to learn more about how to care for them, so I decided to get my New York State wildlife rehabilitator's license." Earning that license not only helped her learn how to take care of injured pigeons, but it also put her name and contact information on a public list of all licensed animal rehabbers in New York. When she checked off the box next to "accepts mammals" on her registration form, she had no idea what she was getting herself into.
Enter the squirrels. "I was completely overwhelmed with calls about baby squirrels," she recalled. Apparently licensed wildlife rehabbers in New York City tend to leave that little box empty on their registration forms. There were enough bird rehabbers around, but very few people were willing to care for the city's wingless wildlife.
So Moran's apartment quickly became a squirrel nursery. Most of them came to her because they either fell out of their nests or were pushed out by mothers who deemed them defective. After the initial influx of squirrels, Moran began receiving baby opossums and cottontail rabbits, often victims of road collisions or dog attacks. She still took care of some birds, but the mammals had quickly taken over her life.
To get more hands-on training as a rehabber, Moran volunteered at the Wild Bird Fund, where she met other people who shared her concern about the lack of mammal caretakers around the city. So Moran and two fellow rehabbers decided to found Urban Utopia Wildlife Rehabilitation, a non-profit organization and New York City's first mammal rehabilitation group.
If all goes according to plan, Urban Utopia will soon be the city's second wildlife rehabilitation center and the only exclusively for mammals. Before the Wild Bird Fund opened its $90,000 bird rehabilitation center in Manhattan in 2012, New York City was one of the few major U.S. cities without any such facility. "There's just such a need for care," said Rita McMahon, founder of the Wild Bird Fund. McMahon's center treated roughly 1,500 birds the first year. By 2014 they were up to 3,100 and had an annual budget of $370,000. "The need will keep increasing," said McMahon. "We would welcome someone else opening a center, but that's really hard to do."
Until Urban Utopia can afford a center, Moran will continue to keep the animals mostly at her apartment. The baby squirrels don't take up much space, so they stay inside in cardboard boxes and cat carriers. The other animals stay out in the back yard in larger, stacked cages her husband built for her. During the colder months, these cages remain vacant, broken down and stored away. Between December and April, she rarely has patients. The newborn critters arrive with springtime, and by autumn, her home is bustling with squirrel babies. Last year she had 38 animals in all, with more than half of them arriving in the fall.
Right now the Urban Utopia crew is working to gather donations, win grants, and plan fundraisers to raise money for the center they hope to open in Manhattan. Though they've raised more than $10,000 so far, most of that money was spent on animal care, and Moran says they "do not have anywhere near the amount of money needed to run a fully-functional center."
In the meantime, they're working to open a temporary center somewhere in Manhattan either next spring or fall — the busiest times of the year. When they can open this center really depends on how much quickly they can raise the necessary funds. The temporary center will cost at least $8,000, not counting their ongoing operating costs, Moran said. She added that the "biggest hurdle" is finding an affordable location that will allow animals inside.
Moran hopes this temporary wildlife center will help bring more attention — and more donations — to Urban Utopia. "That'll be a good steppingstone to eventually get a full-time center," she said.
Those interested in helping Urban Utopia reach their goal can donate through their website or check out their fundraising events.
About the Author
Discussion